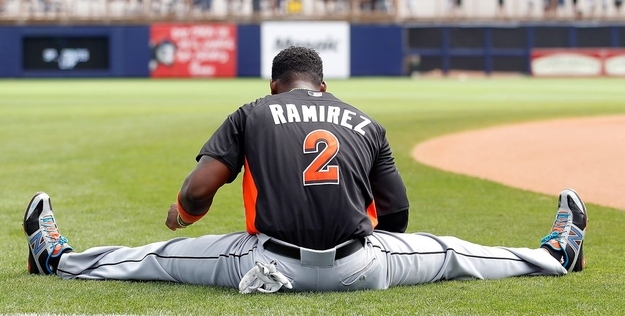 Miami is audacious, if nothing else. That city, as a whole — gaudy, extravagant, bright, with hotels that look like what you see through a kaleidoscope, bearing names like "The Fountainebleau." (This is a real place. I've been there. There were many gently slanting floors.) This identity finally began to sprinkle onto its sports teams in 2010, when the Miami Heat recruited LeBron James and Chris Bosh and became the MIAMI HEAT, goliaths, stacked decks, The Throne of basketball.
Prior to 2011, the Marlins were not audacious. They were the opposite of audacious. They wore teal. They lost 75 games or more in all but two of the franchise's seasons, and in those two they mysteriously, efficiently won World Series. They had Mariana Trench payrolls. Nobody talked about the Marlins unless they had to. And they represented the great state of Florida, not Miami. Teams named after states are, by rule, less cool than teams named after cities, or bridges, or multiple cities. (The Los Angeles Angels of Anaheim, everyone!) The Marlins were not cool.
How things change.
Over the course of months, by means of a few pivotal trades and free agent signings and the construction of a stadium with the most absurd and overembellished home-run-celebration mechanism of all time, the Marlins have become riveting entertainment, a swag factory. Is it a coincidence that it happened after they moved to Miami? NO, AND STOP IT.
What do we have to work with in the ballistic space-ballet that is the Marlins? We have:
1. Ozzie Guillen, the Napoleonic shouter who managed the White Sox to a World Series and also into plenty of bench-clearing brawls and sustained Twitter quarrels.
2. Hanley Ramirez. Just last season, Hanley was the Marlins' franchise centerpiece, a young and potent shortstop who put together a .300/.378/.475 season in 2010 before struggling with injuries in 2011. Then the Marlins brought in:
3. Jose Reyes, another shortstop(!) and one of the best at the position (.337/.384/.493 in 2011). Better than Hanley. And he'll be getting paid $106 million over the next six years. So Hanley moves to third base. He's not terribly happy about it. It doesn't end there.
4. CARLOS ZAMBRANO. Why would you bring in Carlos Zambrano, after his 4.82 ERA 2011 and that time he razed his own dugout, Charlie Sheen-style and then threatened to retire? Because you're the Marlins, and the 30-year-old man-child's got swag, that's why. He joins a rotation anchored by
5. Josh Johnson, whose shoulder may or may not work properly ever again, and
6. Mark Buehrle, whose fastball tops out at 87 miles per hour. He has a career 3.83 ERA, so it's not as though he hasn't found ways around this limitation, but that doesn't make it any less hilarious of a constraint.
7. Leo Núñez and Mike Stanton changed their names! Nuñez is now Juan Carlos Oviedo, and Stanton is Giancarlo Stanton. GIANCARLO STANTON. It's his birthname, so kudos, and it's also dripping with swag in a way that "Mike" isn't, really, unless you go by Michael, and your last name is Jordan, and you have a penchant for sticking your tongue out. Apparently his mother calls him Cruz? And he calls himself "the man of a million names"? Could this be any better?
8. And they'll be the second team to appear on The Franchise, which is the baseball equivalent of the NFL's Hard Knocks. (Fitting, since Guillen is the baseball equivalent of Rex Ryan.)
9. The concert they held when they rebranded themselves the Marlins featured a live performance by Pitbull.
And the best part about all this? They probably won't even be that good! Finishing .500 isn't so bad when you're having this much fun.