"Modern Family"'s Co-Creator May Part Ways With Fox In Protest Against Fox News
"I look forward to seeing #ModernFamily through to the end and then, sale or no sale, setting up shop elsewhere."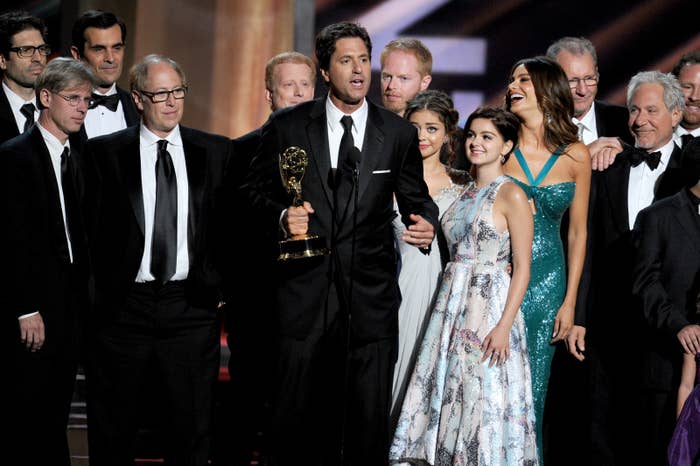 Steve Levitan, one of the co-creators of Modern Family, said that he plans on parting ways with production company 20th Century Fox in protest against Fox News and their coverage of Donald Trump's immigration policies.

"I look forward to seeing #ModernFamily through to the end and then, sale or no sale, setting up shop elsewhere," Levitan tweeted Tuesday afternoon. (Although Modern Family airs on ABC, it is produced by 20th Century Fox.)
Levitan sent out a series of tweets Monday night and Tuesday afternoon after Judd Apatow called for Fox employees and showrunners to speak up about the news division's coverage of Trump's controversial immigration policies. (Both Fox News and 20th Century Fox are part of the 21st Century Fox media empire.)
Since April, at least 1,995 immigrant children have been separated from their parents and families because of the Trump administration's zero tolerance policy. Trump has incorrectly stated that the policy was created by Democrats, and members of both political parties have condemned the policy.
"Fox Studio has been a wonderful home for most of my career - so many amazing people there who share the concerns about @FoxNews but aren't in the position to speak out," Levitan wrote on Twitter.
"I have no problem with fact-based conservatism (such as WSJ), but @FoxNew's 23-hour-a-day support of the NRA, conspiracy theories and Trump's lies gets harder to swallow every day as I drive onto that lot to make a show about inclusion."
While Levitan said he plans on leaving the company after Modern Family goes off the air, Fox News won't stay a part of the 21st Century Fox organization for much longer. Disney and Comcast are competing to purchase the company, which means that in the next year, 20th Century Fox, which produces Modern Family, among other TV shows, will be separated from Fox News. (Fox News, the Fox network, and the sports channels will form a company called New Fox, still run by Murdoch.)
After he wrote his tweets, Levitan released a statement that appeared to give him more room.
"I have great respect for Dana Walden, Gary Newman, Peter Rice, and everyone at 20th Century Fox Studios who have all treated me so well for two decades," Levitan said in a statement to the New York Times. "For now, I will take some time to see where those people land, and at that point, make a decision about my future."
BuzzFeed News has reached out to representatives for Levitan for further comment. A spokesperson for 20th Century Fox said the company had no comment.
CORRECTION
Levitan tweeted that he may leave 20th Century Fox when his deal expires. An earlier version of this story said the show may leave.