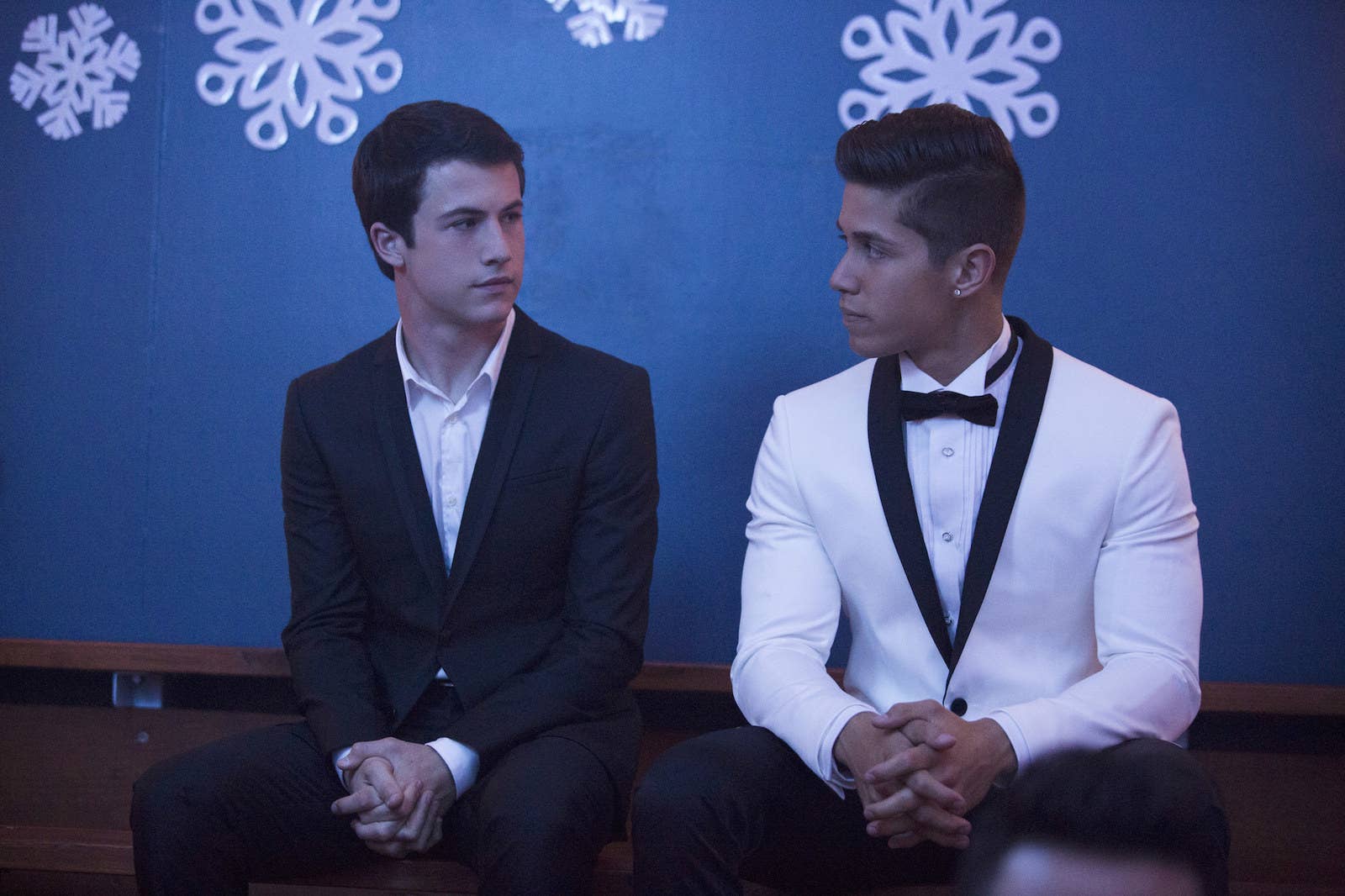 It didn't take long for the 13 Reasons Why fandom to agree on one thing about the new Netflix series: Jeff Atkins deserved better.
The character, played by 22-year-old actor Brandon Larracuente, is a jock at Liberty High School who befriends Clay Jensen (Dylan Minnette), his classmate and tutor. Jeff is not a main character on the series and appears in fewer scenes than the rest of the cast, but his untimely death in 13 Reasons Why devastated viewers.
"I'm going to quote a meme that I saw: Jeff was just an innocent boy who wants to play baseball, get his grades up, and help Clay with women," Larracuente told BuzzFeed News of his beloved character. "That's it, that's all he wanted to do. He was an innocent soul."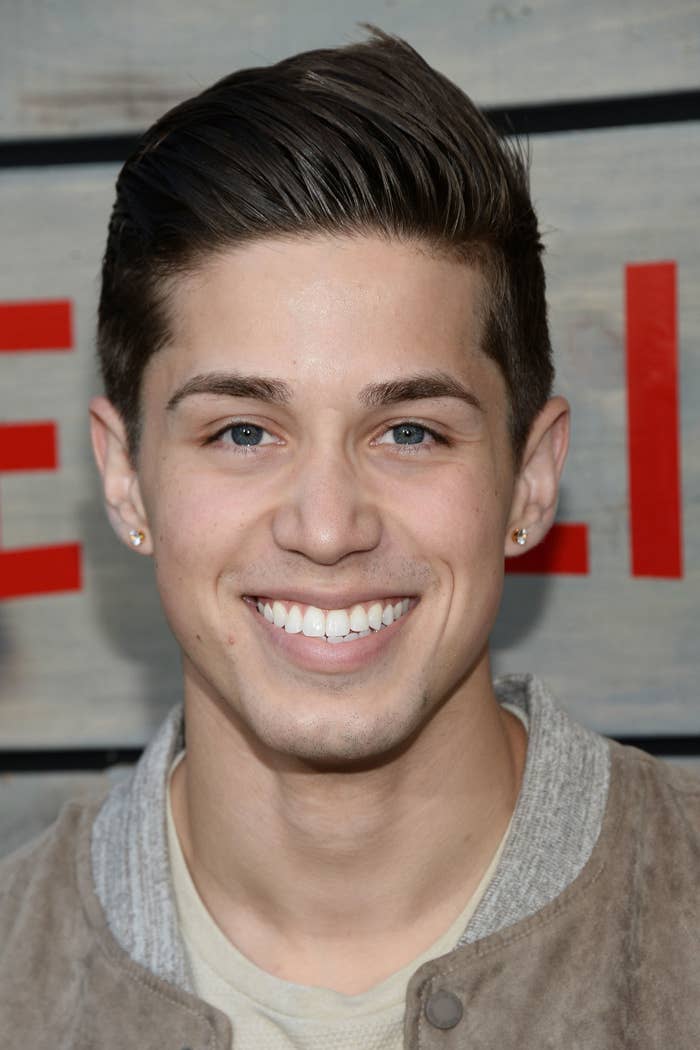 Jeff is arguably one of the only decent high schoolers at Liberty High. Instead of bullying, he takes a vested interest in Clay's happiness and well-being. Their relationship transcends the school library where they meet for tutoring; yes, Clay helps Jeff with his schoolwork, but Jeff helps Clay with his dating life and social skills.
"It's so easy to follow the crowd and become a follower, just like everybody else who was against Clay, but it takes a bold person not to," Larracuente said of Jeff. "It's cool to be cool, but it's even cooler to stick up for people who don't have a voice."
While Jeff's storyline is an adored part of the Netflix series, his character does not exist in Jay Asher's original novel, which the show is based on. That gave Larracuente a unique opportunity to shape Jeff and "mold him into whatever he wanted him to be."
"When I was developing Jeff, I just pretended like it was me going through Clay's experiences and did what I'd wanted somebody to do for me: stick up for me," the actor said. "I could see myself in Clay." Having also been bullied when he was younger, Larracuente drew on his real-life experiences. "I've been there in those instances where you don't just know what to do. You know what you want to do, you know what's right, but your heart gets in the way or your fear gets in the way," he said. "I was bullied to an extent in high school and growing up. I knew what it felt like to feel like you're alone and like the world is against you. … Any scenes when Clay was doubting himself were kind of difficult for me."
Larracuente didn't have any hesitations about getting involved with the series because of "the message and what it stood for."
"This is something that I want to be a part of because it's such a strong and sensitive topic that I feel like many people try to sugarcoat," he said. "But this is real-life stuff that's happening every day.
Playing the role of Jeff Atkins has catapulted Larracuente into the spotlight more than ever before, but the New York native who moved to Florida at the age of 10 is no stranger to the acting world. In addition to appearing in some minor roles on TV shows like Nickelodeon's Every Witch Way and NBC's Constantine, Larracuente also played Ben Rayburn on Bloodline, another Netflix original series. Ben is the son of leading character John Rayburn (Kyle Chandler). But that was all before he became everyone's favorite character on 13 Reasons Why.
On the series, Jeff gently nudges Clay along, asking him to fill out the "Oh My Dollar" Valentine's Day survey that could lead to a date, and encouraging him to go to the school dance. He even pushes Clay to be more forward with Hannah (Katherine Langford) and helps him attempt to get closer to possibly eventually date her.
But from the beginning, Larracuente knew his character's fate: Jeff is killed in a car accident. "It was bittersweet," the actor remembered. "I looked at it like, 'OK, how do I make my impact before my death?' I served my purpose on this Earth, on this show, before my time was done."
The fatal night begins when Jeff attends a party and goes out for a beer run. He reassures Clay that he only had "two beers two hours ago" and had been drinking soda ever since. Viewers eventually discover that another classmate, Sheri (Ajiona Alexus), hits a stop sign on her way home and knocks it down on what ends up being the same corner where Jeff gets into the car accident that ends his life. Since the sign had gone missing and Sheri fails to report it to the police because she's afraid to get in trouble, Jeff didn't know to stop. Another car ran into his, and Clay heard the crash from a nearby park. After walking over to the accident, Clay is the first person to find Jeff, in the driver's seat.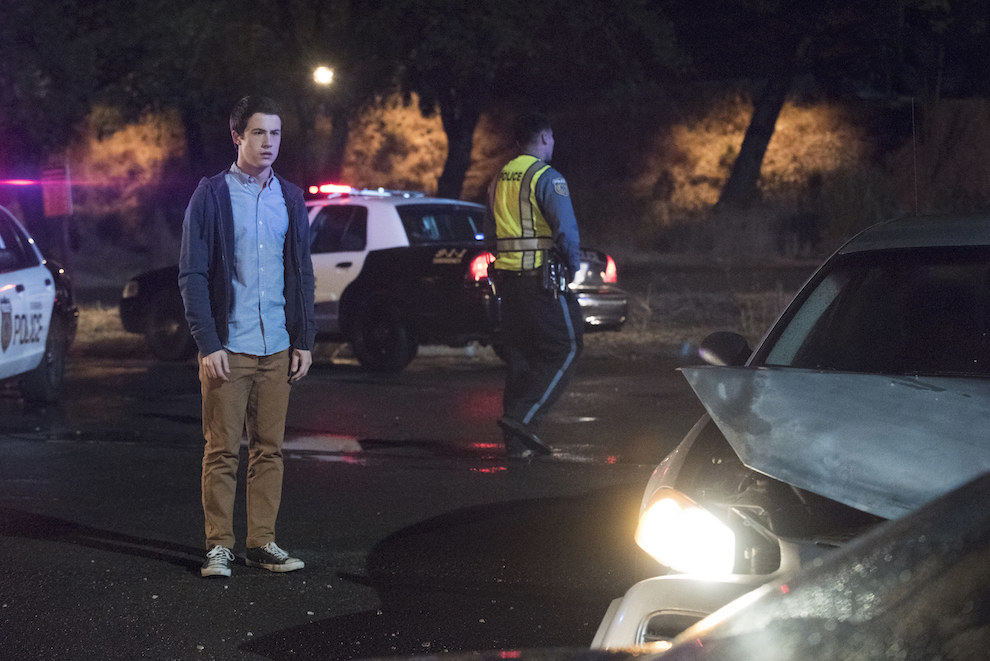 "That was a huge controversy in the series: Was Jeff drinking and driving? Did he have enough beers that caused him to have the accident?" Larracuente said. "Many people believe, Oh, I've only had just a few beers, I can go drive. But no. The message that we're trying to put across to the world is it doesn't matter how many beers you have — not one, not two. One beer is too many. There's just no excuse to drink and drive."
Jeff's car accident was one of the show's more traumatic events, but Larracuente said filming that moment wasn't nearly as difficult as making the scenes in the show that depict rape and suicide. "I couldn't imagine what they went through," Larracuente said, talking about Katherine Langford and Justin Prentice, who plays Bryce. "The car accident scene wasn't hard for me to film because I had to just kind of lay there. But it was definitely weird and a little chilling to watch myself in that predicament once the show came out."
A lot of 13 Reasons Why fans think Jeff deserved a better ending than the one he got. As such, there have been countless tweets in Jeff's honor. From memes to petitions and even fan-made merchandise like T-shirts, sweatshirts, and phone cases, Larracuente said he's seen all the "Jeff deserves better" content online. "I'm glad that fans were able to connect with the character," he said. "It really means the world to me."
Despite all the praise received in playing Jeff, Larracuente noted that he's also seen some cyberbullying in the comments sections of 13 Reasons Why actors' social media accounts since the show's release.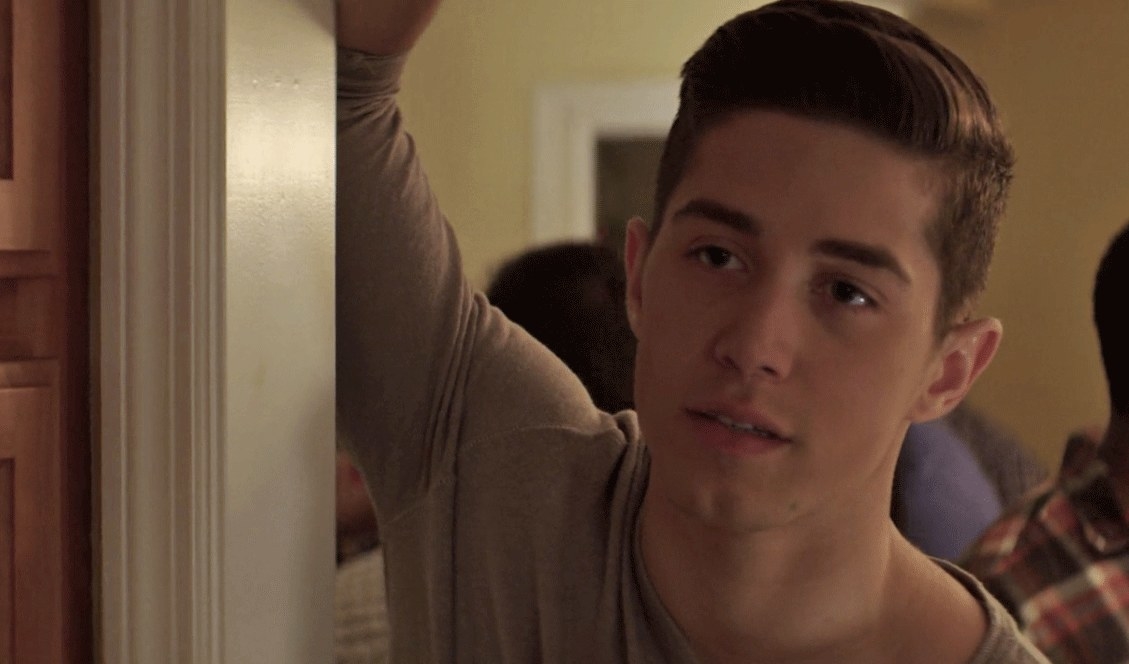 "There are fans who stick up for us on social media, and I see the hatred back and forth with these fans attacking each other," Larracuente said. "That's not the message we were trying to portray. We were trying to portray love and kindness and peace. We are all fighting our own battles in some way or fashion. Kindness is so underrated."
Aside from these heated discussions from fans on social media, the actor said the overall feedback he's received about Jeff since the show premiered on March 31 has been overwhelmingly positive (hence the viral #JeffDeservedBetter hashtag). He hasn't seen much of the backlash against the series from critics who say it glamorizes suicide and ignores mental illness. "With good there's gonna come bad, but we know where our hearts are," he said.
"I never realized the magnitude or the impact my character would have," said Larracuente. "Periodically, I do like to go through my inbox on Instagram or Twitter and look at messages from fans, and I noticed that a lot of them write to me and say, 'Hey, you might not ever see this but you've impacted my life in more ways than you could imagine.' With every single person that watches, we hope that they can leave the show with a life lesson learned."