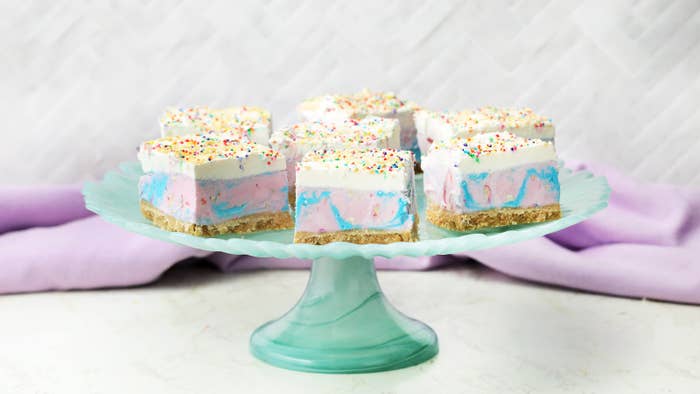 Servings: 9

INGREDIENTS:
8 ounces animal crackers
1/2 cup melted butter
1 1/2 quart container Kroger Deluxe Ice Cream Unicorn Swirl
1 cup heavy whipping cream
Crushed cookies, for garnish
Multicolored sprinkles, for garnish
PREPARATION:
Line an 8-by-8-inch baking dish with parchment paper, allowing extra parchment to hang over the edges.

Place animal crackers in a food processor. Process until broken down into fine crumbs. Place in a bowl and mix in melted butter. Transfer mixture to the baking dish and press down into a flat, even layer.

Remove Kroger Deluxe Ice Cream Unicorn Swirl from the freezer and let warm up for 10 minutes. Scoop ice cream onto the cookie crust. Use a spatula to spread the ice cream into a flat, even layer.

Pour heavy whipping cream into a bowl. Use a hand mixer to beat cream until soft peaks form. Spread whipped cream on top of the ice cream layer.

Sprinkle with crushed cookies and sprinkles.

Freezer for 4 hours until set and frozen.

Remove from freezer, slice, and serve.