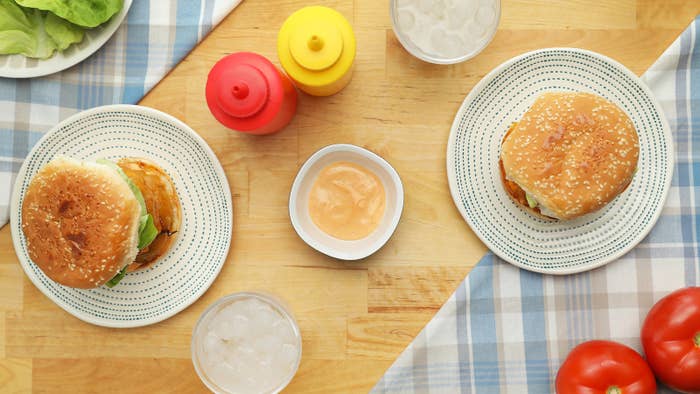 THE ULTIMATE BACON DOUBLE CHEESEBURGER
Servings: 2
INGREDIENTS:
Burger Sauce
1⁄4 cup mayonnaise
11⁄2 teaspoons pickle juice
2 teaspoons ketchup
1 teaspoon yellow mustard 1⁄4 teaspoon onion powder 1⁄4 teaspoon garlic powder 1⁄4 teaspoon smoked paprika
Burger
4 pieces of Kroger bacon
4 homestyle beef patties
4 slices Kroger Natural cheddar cheese 2 Private Selection buns, toasted
2 slices red onion
2 tomato slices
2 leaves of butter lettuce
PREPARATION:
Burger sauce: Mix together all ingredients until smooth.

Heat a skillet over medium heat and add the bacon. Cook bacon for 3–4 minutes on each side, until cooked through. Take bacon out of the skillet and pat off excess grease with a paper towel.

Keep the bacon fat in the skillet and increase heat to high. Add beef patties. Sear the bottom of the patties, about 3–4 minutes, then flip burgers. Immediately lay a slice of cheddar cheese on each burger and cover pan with a lid. Let burgers cook, covered, until cheese has melted and meat has cooked through.

On the bottom of each bun, swipe a generous amount of burger sauce. Place a burger patty on the bun. Crack a piece of bacon in half and lay the two halves side by side on the patty. Stack a second patty on the first, along with another cracked piece of bacon. Layer on the red onion slice, tomato slice, and lettuce. Place on the top bun. Repeat with the second burger. Serve burgers immediately.