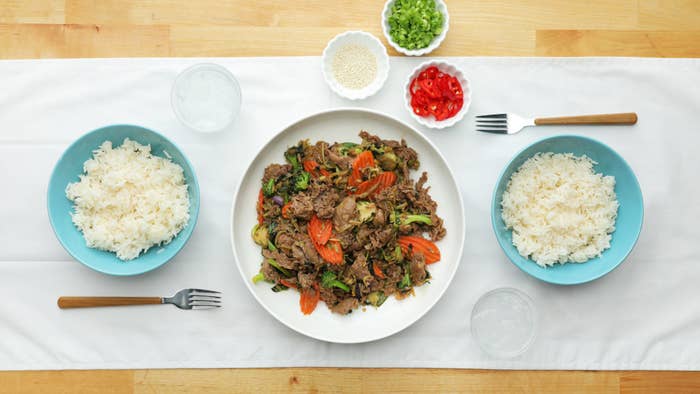 Teriyaki Beef Bowl
Servings: 2
2 tablespoons vegetable oil, divided
3 cloves garlic, minced
2 tablespoons minced ginger
4 scallions, sliced, whites and greens separated
1 package Kroger Beef Shaved Steak
11⁄2 tablespoons soy sauce
2 teaspoons rice vinegar
1⁄2 teaspoon kosher salt
1 Kroger Teriyaki Stir Fry Kit
2 packets Kroger 90 Second Jasmine Rice, prepared according to package instructions
Sesame seeds, for garnish
Sliced red chilis, for garnish (optional)


Heat 1 tablespoon of vegetable oil in a large skillet over medium-high heat. Add garlic, ginger, and the whites of the scallions. Stir fry for 1–2 minutes.
Push aromatics to the side of the pan and spread out Kroger Beef Shaved Steak. Let beef brown slightly before continuing to stir-fry. Add in soy sauce, rice vinegar, and kosher salt. Stir-fry until beef is cooked, then remove from pan and set aside.
Add another tablespoon of vegetable oil to the pan. Add in the vegetables from the Kroger Teriyaki Stir Fry Kit (setting aside the teriyaki sauce). Stir-fry vegetables for about 5 minutes, until tender. Add steak back into the pan and pour teriyaki sauce over everything. Stir-fry for another 2 minutes, then remove from heat.
Place Kroger 90 Second Jasmine Rice in bowls. Top each with beef and vegetables.
Garnish with the sliced scallion greens, sesame seeds, and optional sliced red chilis.