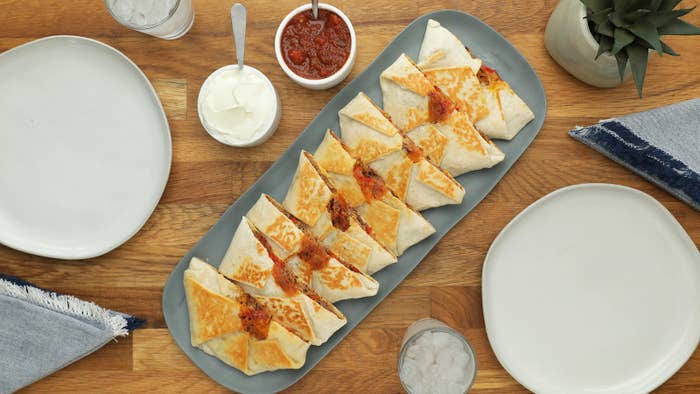 TACO-DILLA WRAPS
Servings: 4
INGREDIENTS:
1 package Kroger Beef Barbacoa
1 tablespoon olive oil
1 red bell pepper, cut into very thin strips 1⁄2 yellow onion, cut into very thin strips 3⁄4 teaspoon salt
4 Kroger burrito-sized flour tortillas
1 can Rosarita Traditional Refried Beans 4 Kroger Taco Shells
1 cup shredded cheese
Sour cream
Herdez Roasted Salsa Roja
PREPARATION:
Microwave Kroger Beef Barbacoa according to package instructions. Separate beef from cooking liquid. Use two forks to shred beef, then toss with a tablespoon or two of cooking liquid to moisten the meat. Set aside.

Heat 1 tablespoon olive oil in a skillet over medium heat. Saute bell pepper and onions with the salt for 5–7 minutes until translucent and slightly browned. Set aside.

Lay out a whole-wheat tortilla. In the center, spread 2 tablespoons of refried beans. Crack a taco shell in half and lay it flat on top of the beans. Top with a 1⁄3 cup barbacoa, a few onions and peppers, and a 1⁄4 cup shredded cheese. Repeat with the rest of the tortillas and meat.

Fold each taco wrap: Fold the top edge of the tortilla down over the burger. Working clockwise, fold the next edge in, then work your way around the tortilla until it has been completely folded and there are 5 pleats.

Heat a skillet with a small drizzle of vegetable oil. Place each taco wrap, seam side down, in the pan and cook for a few minutes until browned. Flip and brown on the other side.

Serve taco wrap with sour cream and Herdez Roasted Salsa Roja.