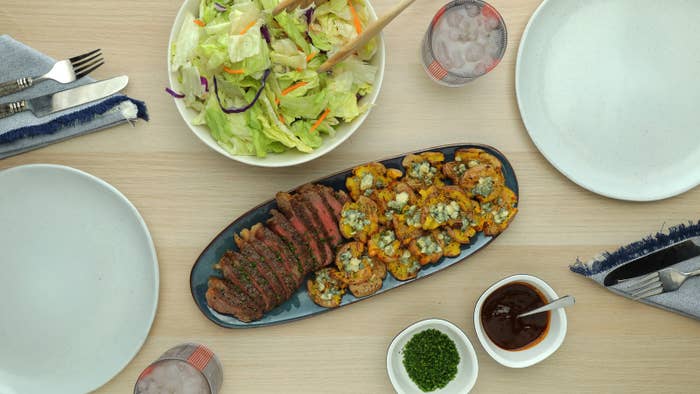 STEAK & SMASHED POTATOES
INGREDIENTS:
1 package Private Selection Petite Potatoes with Herbes de Provence 3 tablespoons melted butter
1 cup Private Selection Blue Cheese Crumbles
3⁄4–1 pound strip steak
Chopped chives, for garnish
PREPARATION:
Preheat oven to 425oF.
Follow instructions to cook Private Selection Petite Potatoes in the microwave.

Grease a baking sheet. Transfer cooked potatoes to baking sheet and press on each potato with a fork to smash. Brush with melted butter and sprinkle with herbs from the seasoning packet. Bake for 15 minutes. Sprinkle potatoes with blue cheese and bake for another 2 minutes.

Generously sprinkle steak with salt and pepper. Heat an oiled cast-iron pan over high heat. Sear steak, 3 minutes on each side, or until cooked to desired temperature. Let rest for 10 minutes. Slice against the grain, garnish with chives, and serve with smashed potatoes.