SHEET-PAN BRATS & PEPPERS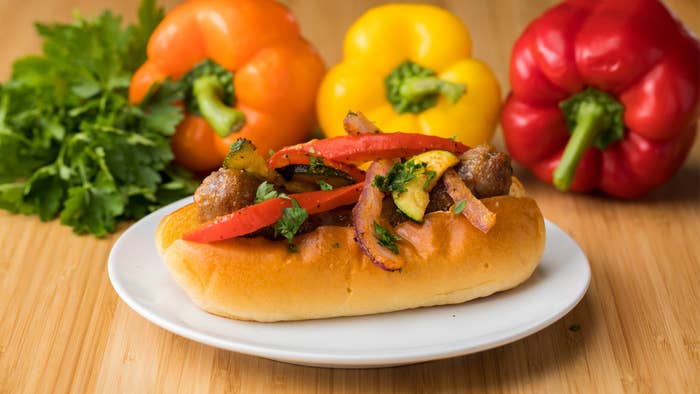 Servings: 5
INGREDIENTS
:
Brats
1⁄4 cup Kroger Dijon mustard 1⁄4 cup brown sugar1 teaspoon cayenne2 teaspoons kosher salt1 package Johnsonville Brats Beer
Vegetables​:
3 Kroger Tri-Colored Bell Peppers, sliced 2 zucchini, slicedHalf a red onion, sliced1 teaspoon smoked paprika1 teaspoon garlic powder1 teaspoon black pepper1 tablespoon kosher salt, divided2 tablespoons olive oil3 tablespoons parsley, chopped5 hot dog buns, for serving (optional) Kroger Brand potato salad, for serving
PREPARATION:
1. Preheat the oven to 400°F.2. Brats: In a large bowl, combine mustard, brown sugar, cayenne, and 2 teaspoons of salt.Add the Johnsonville Brats Beer and coat them fully with the mixture. Set aside.3. Vegetables: In another large bowl, combine bell peppers, zucchini, red onion, paprika,garlic powder, black pepper, 1 teaspoon salt, and olive oil. Mix well and pour onto a parchment-lined baking sheet, leaving a small circle in the middle for the sausages. Place sausages in the center of the tray.4. Cook in oven for 15–20 minutes or until sausages reach 165°F when tested with a meat thermometer. (If sausages need more browning, place on a separate tray and broil on each side for 2 minutes.)5. Remove from oven. Serve brats in hot dog buns if desired, then top with the veggie mixture. Garnish with chopped parsley.6. Serve with a side of Kroger Brand potato salad and enjoy!