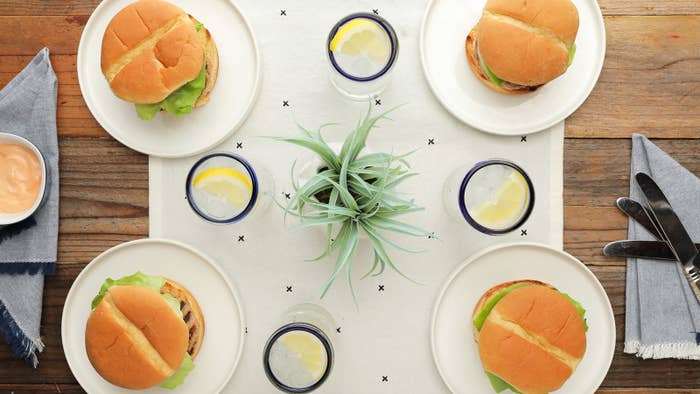 SESAME GINGER TURKEY BURGER
Servings: 4
INGREDIENTS:
1 pound Kroger ground turkey
1 tablespoon Kroger Sesame Ginger Marinade 11⁄2 teaspoons sesame seeds
1 teaspoon salt
1 pineapple
1 red onion, cut into 1⁄2-inch rounds
4 Ballpark buns
1⁄2 cup mayonnaise
1 tablespoon hot chili sauce
1 head butter lettuce
PREPARATION:
Mix together ground turkey, Kroger Sesame Ginger Marinade, sesame seeds, and salt. Shape mixture into 4 burger patties. Set aside.

Slice top and bottom off of the pineapple. With the pineapple standing up on the bottom side, slice off all of the rind. Turn the pineapple on its side and slide it into 1⁄2-inch thick rounds. Place the rounds flat on the cutting board and use a small circular cookie cutter to punch out the core and create a ring.

Heat up a grill to medium-high heat. Place the turkey burgers, pineapple rings, red onion, and buns on the grill. Cook the turkey burgers for 3–4 minutes on each side, until meat is fully cooked. Grill the pineapple, red onions, and bun until each has grill marks. Take everything off the grill when finished cooking.

Whisk together mayonnaise and hot chili sauce. Spread spicy mayonnaise on the bottom of each bun. Layer a turkey burger, pineapple ring, piece of butter lettuce, and red onions on each bun. Serve!