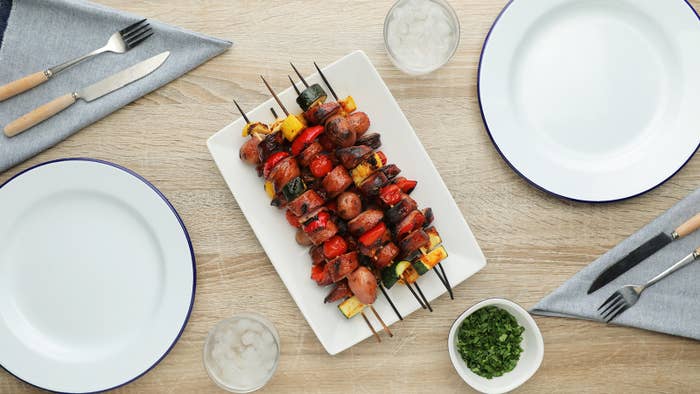 SAUSAGE AND VEGGIE SKEWERS
Servings: 6
INGREDIENTS:
1⁄4 cup olive oil
2 tablespoons Simple Truth Organic Apple Cider Vinegar
2 tablespoons Kroger Clover Honey
2 cloves garlic, minced
1 tablespoon smoked paprika
2 teaspoons salt
1 teaspoon pepper
1 Simple Truth Polish Pork Kielbasa
Half a red onion, large dice
1 cup cherry tomatoes
2 zucchini or summer squash, cubed
1 red bell pepper, diced large
1⁄2 pound Private Selection​TM Petite Red​ Potatoes, cut into large cubes and boiled until tender Minced parsley, for garnish
PREPARATION:
In a small bowl, whisk together the olive oil, apple cider vinegar, honey, garlic, smoked paprika, salt, and pepper. Set aside.

Slice Simple Truth Polish Pork Kielbasa into 1⁄2-inch coins and place in a bowl. Add red onion, cherry tomatoes, zucchini or summer squash, bell pepper, and potatoes to the same bowl. Drizzle with olive oil, sprinkle with salt, and toss well.

Thread the kielbasa and vegetables onto bamboo skewers.

Heat up a grill to medium-high heat. Place skewers on the grill. Brush with the sauce. Grill for 4–5 minutes, then flip skewers and grill the other side. Brush with sauce again. Remove skewers from the grill.

Garnish skewers with minced parsley and serve!