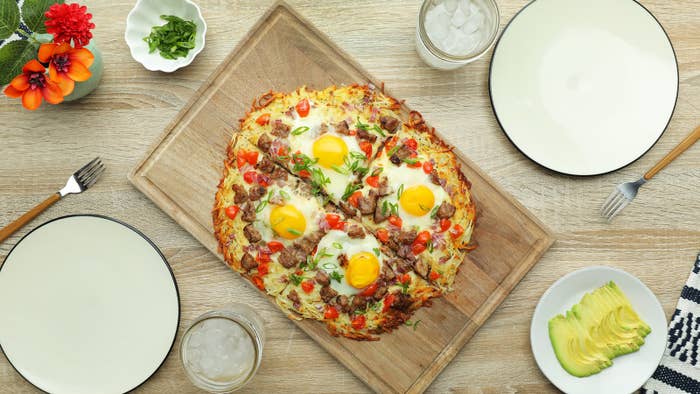 HASH-BROWN PIZZA
Servings: 4
INGREDIENTS:
1 (20-oz) bag Simply Potatoes Shredded Hash Browns
4 Kroger Traditional Pork Sausage Patties
1⁄2 cup diced red onion
11⁄2 cups shredded mozzarella
1⁄2 cup diced tomato
4 eggs
2 scallions, thinly sliced
1 avocado, sliced
PREPARATION:
Preheat oven to 400oF.

On a parchment-lined sheet tray, spread hash browns out into an even oval shape. Lightly drizzle hash browns with olive oil, salt, and pepper. Bake hash browns for 15 minutes, until top begins to slightly brown. Remove from oven and set aside.

Heat a skillet over medium heat. Add Kroger Traditional Pork Sausage Patties and cook all the way through, about 3–4 minutes per side. Let sausage cool, then dice.

In the same skillet, saute diced red onion for 2–3 minutes, until softened. Set aside.

Spread mozzarella over hash brown pizza. Top with sausage, red onion, and diced tomato. Crack the eggs on top. Cover tray with aluminum foil** and bake for 15 minutes or until eggs are cooked.

Right before serving, sprinkle pizza with scallions. Arrange avocado slices on top. Slice and serve!
**If foil touches the top of the pizza, tent foil using small glass jars in the corners of the tray.