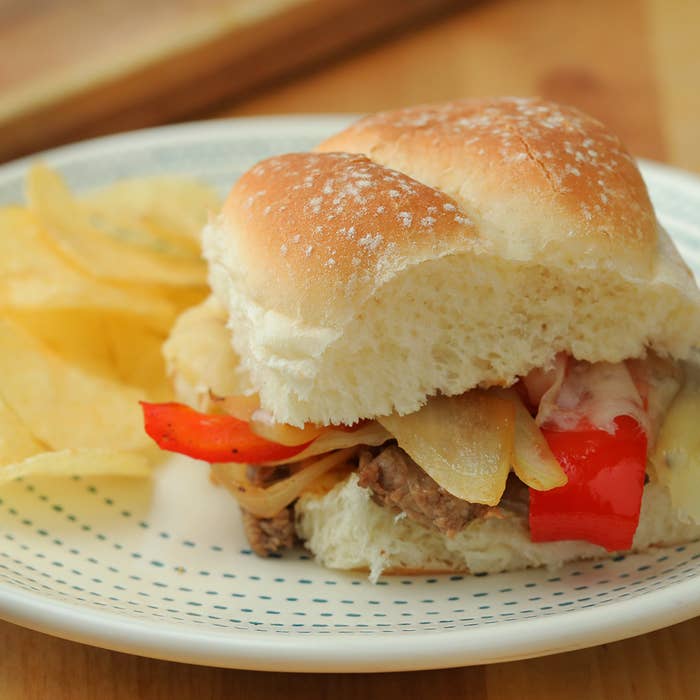 CHEESY STEAK SLIDERS
Servings: 12
INGREDIENTS
1 red bell pepper

1 white onion

4 teaspoons olive oil, divided

1 teaspoon salt

1⁄2 teaspoon pepper

1 package Kroger Brand Beef Shaved Steak

1 tablespoon Kroger Brand Au Jus Gravy Mix

2 tablespoons water

12 Alfaro's Slider Rolls

12 slices Private Selection TM Provolone Cheese

PREPARATION
Preheat oven to 350°F/175°C.

Slice red bell pepper and white onion into thin slices. Heat 2 teaspoons olive oil in a pan over medium-high heat. Sauté pepper and onion with the salt and pepper for about 5 minutes, until browned and softened. Remove from pan and set aside.

Heat the other 2 teaspoons olive oil in the same pan. When hot, add in the Kroger Brand Beef Shaved Steak. Spread steak out in the pan to sear. Once seared, flip steak to the other side. In a small bowl, whisk together Kroger Brand Au Jus with 2 tablespoons water. Pour mixture over steak and toss to coat. Remove steak from heat and set aside.

Open slider buns and lay out on a sheet tray. Place a little pile of steak on each bun, followed by a little pile of pepper and onions. Drape a piece of Private Selection TM provolone on top of each.

Place tray in oven for 5 minutes, until cheese melts. Place top bun on each and serve.