Slow Cooker Sausage Bolognese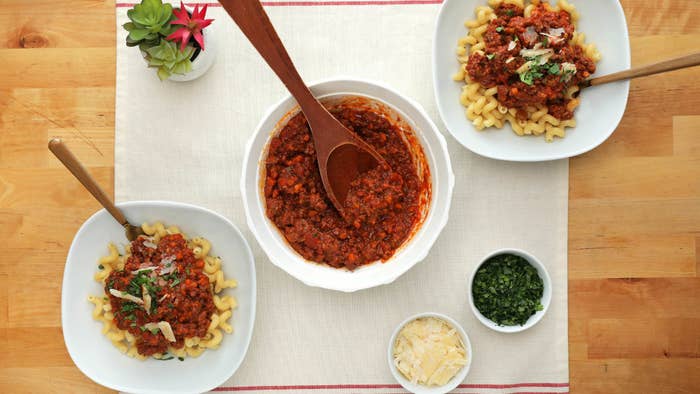 Slow Cooker Sausage Bolognese
Servings: 6
Ingredients:
2 tablespoons olive oil
Half a yellow onion, diced
2 carrots, peeled and diced
2 celery stalks, diced
4 garlic cloves, minced
11⁄2 pounds Kroger Mild Italian Sausage Links
1 (28-ounce) can crushed San Marzano tomatoes
1⁄2 cup red wine
1⁄4 cup milk
1 sprig oregano
2 bay leaves
1 tablespoon kosher salt
1 teaspoon ground pepper
1 teaspoon sugar
1 pound cooked Private Selection Cavatappi, for serving
Shaved Parmesan, for garnish
Minced parsley, for garnish
Preparation:
Heat olive oil in a skillet over medium-low heat. Add onion, carrots, celery, and garlic.

Cook until vegetables are softened and starting to take on a little color, about 7 minutes.

Set vegetables aside.

In the same pan, add the sausage by squeezing the meat out of the links. Gradually

break up the sausage while cooking, until fully cooked. Remove sausage from the pan

using a slotted spoon to leave the fat behind.

Place sausage, vegetables, crushed tomatoes, red wine, milk, oregano, bay leaves, salt,

pepper, and sugar in a 4-quart slow cooker. Stir to combine. Cook on high for 2 hours.

Pour bolognese over cooked Private Selection Cavatappi and toss to combine. Garnish with shaved Parmesan and minced parsley.