Simple Apple Tart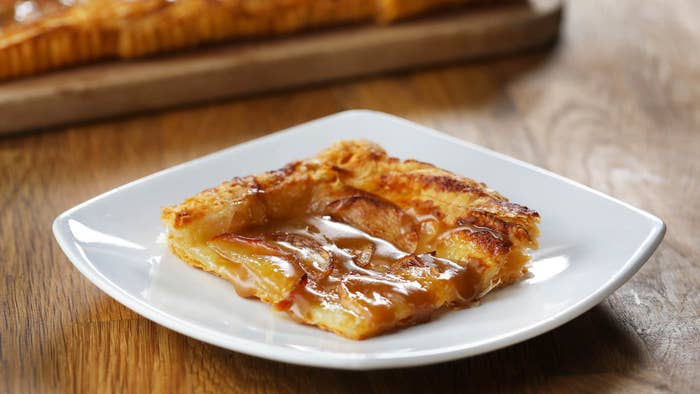 Servings: 8

Ingredients:
Tart
2 sheets defrosted puff pastry
1 egg, whisked
2-pound bag Simple Truth Organic Gala Apples 1⁄2 cup sugar
5 tablespoons butter, cut into small cubes
Caramel
1⁄4 cup butter
3⁄4 cup brown sugar
1⁄4 cup heavy cream
1 teaspoon vanilla extract 11⁄2 teaspoons flaky salt
Preparation:
Tart: Preheat oven to 400oF (375oF for convection ovens).


Unfold puff pastry sheets on a parchment-lined sheet tray. Lay sheets side by side and

brush a line of whisked egg on the seam that will overlap. Move the pastry to overlap the other by 1 inch. Use a rolling pin to slightly roll out the sheet about an inch farther (this will also seal the seam between the two sheets).

Cut Simple Truth Organic Gala Apples into thin slices. Arrange apples in 3 rows across the pastry dough, leaving a 1-inch border. Sprinkle sugar evenly over the apples, then scatter the cubes of butter on top. Fold the edges of the pastry over and crimp with a fork.

Place in oven and bake for 25 minutes, until pastry is a deep golden brown.

Caramel: Melt butter in a small pot. Whisk in brown sugar and let bubble for a minute. Stir in heavy cream and vanilla extract. Whisk continuously for 2 minutes, until caramel comes together. Stir in flaky salt and remove from heat.

Drizzle tart with caramel.
Slice and serve!