Sheet Pan Chicken Parmesan Dinner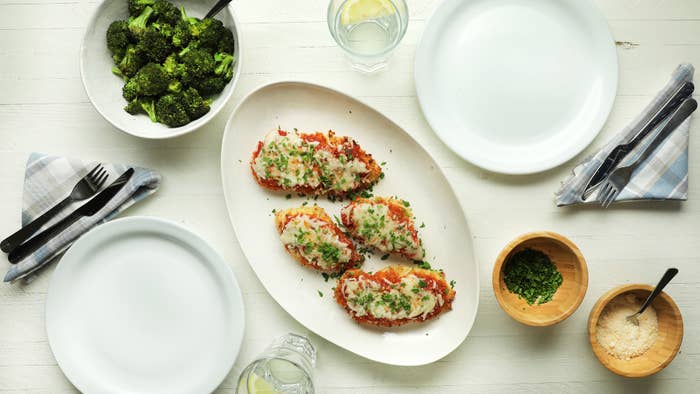 Sheet Pan Chicken Parmesan Dinner
Prep: 25 min
Cook: 20 min
Total: 45 min
Serves: 4
Difficulty: Medium
Ingredients:
2 Simple Truth Organic Boneless Skinless Chicken Breasts
1 cup panko bread crumbs
¾ cup grated Parmesan cheese, divided
1 teaspoon dried oregano
1 teaspoon garlic powder
1 teaspoon kosher salt, plus more for seasoning chicken and broccoli
2 eggs, whisked
2 broccoli heads, separated into florets
Olive oil
½ cup marinara sauce
¾ cup shredded mozzarella
Minced parsley, for garnish
Directions:
Preheat oven to 450ºF. Line a baking sheet with parchment paper.

Cut chicken breasts in half so that they open like a book, then finish cutting all the way through to make 4 thinner breasts. Season both sides with kosher salt.

In a shallow dish, mix together panko bread crumbs, ¼ cup grated Parmesan, dried oregano, garlic powder, and 1 teaspoon kosher salt. Place whisked eggs in another shallow dish.

Coat chicken in egg, then coat in bread crumb mixture, making sure that there are no bare spots. Place coated chicken on one side of the baking sheet. Use a brush to lightly pat chicken with a light coating of olive oil.

Bake chicken for 8 minutes.

While chicken is baking, prepare broccoli. Place florets in a bowl. Coat evenly with olive oil and season with kosher salt. Remove sheet tray from oven and spread out broccoli on the other half of the sheet tray.

Place tray back in the oven and bake for another 8 minutes. At this point, chicken should be lightly golden brown. Remove tray and transfer the cooked broccoli to a separate dish.

Spread a few spoonfuls of marinara sauce on each piece of chicken, not completely covering the chicken to the edges but leaving a little edge of chicken peeking out. Sprinkle evenly with more shredded Parmesan, then with a heavy sprinkle of shredded mozzarella. Bake for 3 minutes or just until cheese is melted. Remove from oven.

Garnish chicken with minced parsley and serve with the broccoli.