Rustic Peach Tart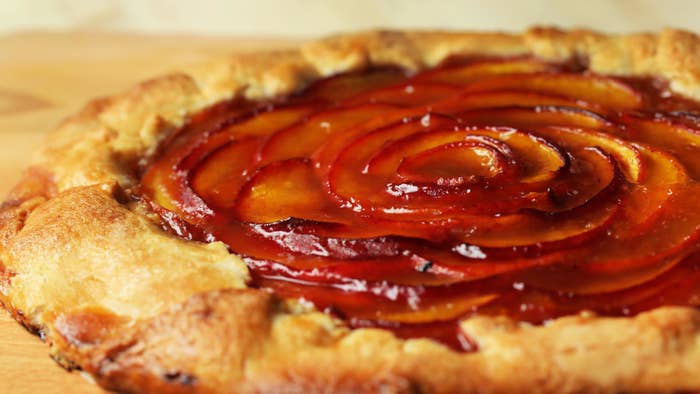 Rustic Peach Tart
Servings: 8
Prep time: 30 minutesCook time: 50 minutesTotal time: 1 hour 20 minutes
Ingredients:
Dough
1¼ cups all-purpose flour
4 tablespoons unsalted butter, diced small
¼ cup shortening
4 tablespoons sugar
¼ teaspoon kosher salt
3–6 tablespoons ice water
Tart Filling
¼ cup packed light brown sugar
Juice of half a lemon
1 teaspoon pure vanilla extract
1 tablespoon cornstarch
½ teaspoon ground cinnamon
⅛ teaspoon kosher salt
3 cups thinly sliced peaches
1 egg, whisked
1 tablespoon granulated sugar
2 tablespoons apricot jelly
Preparation:
Dough: In a food processor, add flour, unsalted butter, shortening, sugar, and kosher salt, then pulse until the butter is in pea-size bits. Slowly drizzle in the water one tablespoon at a time, while pulsing, until the dough comes together. Flatten dough into a disk, wrap in plastic wrap, and place in the refrigerator for an hour.
Tart filling: Preheat the oven to 350ºF. Lay parchment paper down on a rimmed sheet tray and spray with nonstick cooking spray.
In a medium bowl, combine the light brown sugar, lemon juice, vanilla extract, cornstarch, cinnamon, and kosher salt with a wooden spoon.
Toss the peaches in the sugar mix and fold with a wooden spoon until well combined.
Remove the tart dough from the refrigerator, and on a very well-floured surface, use a rolling pin to roll out the dough into a 16-inch circle.
Roll the dough over the rolling pin to prevent it from breaking, then transfer the dough to the sheet tray.
Place the peaches in the center of the tart dough, creating a spiral that leaves 2 inches of dough around the edge.
Fold the edges of the tart up and over the peaches, pinching closed any gaps that may form. Pour any remaining liquid from the peach bowl into the tart. Brush the tart dough with the whisked egg and sprinkle with the sugar.
Bake tart for 40-45 minutes or until the edges of the tart are golden brown.
Gently brush the peaches with the apricot jelly while the tart is still hot.
Allow the tart to cool completely on a wire rack before transfering to a serving dish.