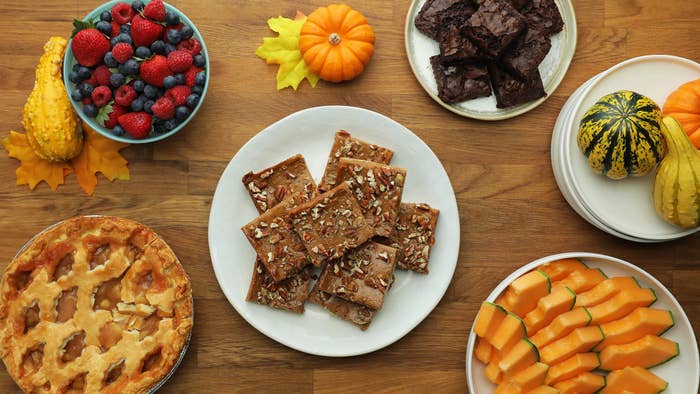 Pumpkin Pie Bars
Servings: 16
Ingredients
:
1 pre-made pie crust
1 (15-ounce) can Kroger 100% Pure Pumpkin
1 (12-ounce) can evaporated milk
2 eggs
3⁄4 cup sugar
11⁄2 tablespoons pumpkin pie spice
1 teaspoon kosher salt
1⁄2 cup chopped pecans
Preparation:
Preheat oven to 350oF.

Prepare an 9x9-inch square baking pan. Spray with cooking spray and then line with

parchment, so the excess parchment hangs over the two sides.

Press the crust down into the bottom of the pan evenly.

Bake crust for 8 minutes, until edges begin to turn golden brown. Remove from oven and set aside.

Filling: Whisk together all ingredients until smooth. Pour onto crust. Bake for 25 minutes.

Remove the pan from the oven, evenly sprinkle on the chopped pecans, and return the pan to the oven. Bake for another 10–15 minutes or until filling is set.

Remove from the oven and let cool completely. Refrigerate for 2 hours. Slice and serve!