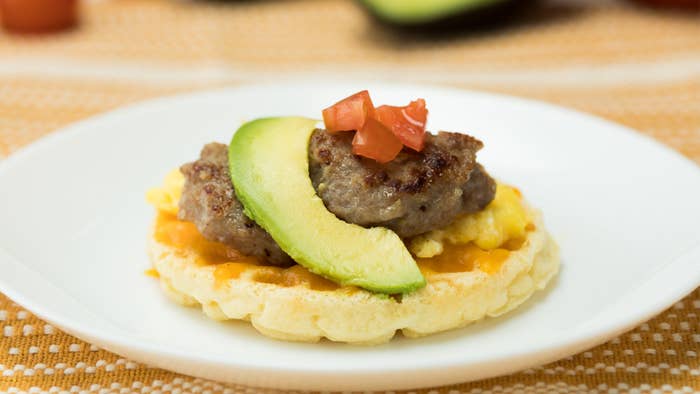 Servings: 2
Ingredients:
2 Kroger Homestyle Waffles
1⁄4 cup shredded cheddar cheese 1 teaspoon vegetable oil
2 breakfast sausage patties
2 eggs
1⁄4 teaspoon salt
2 teaspoons butter
Avocado slices, for garnish
Diced cherry tomatoes, for garnish
Preparation:
Preheat oven to 375oF.

Place Kroger Homestyle Waffles on a small sheet tray. Top each waffle with shredded

cheddar cheese. Bake for 2–3 minutes, until cheese is melted and waffles are hot.

Remove from oven.

Heat vegetable oil in a small skillet over medium heat. Add sausage patties. Cook for

about 3–4 minutes, then flip and cook for another 3 minutes or until sausage is cooked

through. Remove from pan and cut each sausage in half. Set aside.

Wipe out the skillet. In a small bowl, whisk together eggs and salt. Heat butter in skillet

over medium-low heat. Add whisked eggs and scramble until eggs are cooked. Remove

from pan.

Build tacos: Place some scrambled eggs on a waffle. Add 2 sausage halves and a slice

of avocado. Top with diced tomatoes.