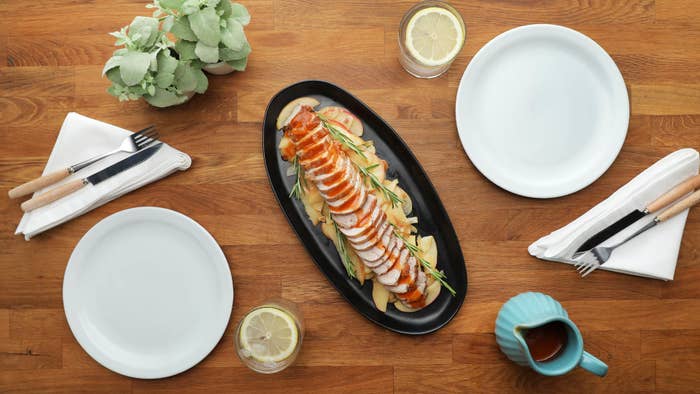 Instant Pot Honey Apple Pork Tenderloin
Servings: 4–6
Ingredients:
1 pork tenderloin
1 tablespoon plus 2 teaspoons vegetable oil, divided
Half a yellow onion, thinly sliced into half moons
3 garlic cloves, thinly sliced
1 1⁄2 teaspoons kosher salt
2 tablespoons apple cider vinegar
2 Gala apples, thinly sliced, from a 2-pound Simple Truth Organic Gala Apple bag 1⁄4 cup chicken broth
1 sprig rosemary
Sauce:
1 tablespoon unsalted butter 1 tablespoon flour
1 cup chicken broth
2 tablespoons honey
1 sprig rosemary, plus more for garnish 1 teaspoon salt
1⁄2 teaspoon paprika
Pinch of cayenne
2 teaspoons lemon zest
Preparation:
Cut pork tenderloin in half and season all over with kosher salt.

Set the Instant Pot to "Saut​é"​ setting and allow pot to heat up. Add 1 tablespoon

vegetable oil. When hot, sear the pork on all sides until very brown. Remove meat from

the pot and set aside.

Add the remaining two teaspoons vegetable oil, onions, garlic, salt, and apple cider

vinegar. Saute for 5 minutes, stirring occasionally, until onions begin to brown. Turn off "Saut​é​" setting.

Add sliced gala apples and chicken broth. Place pork tenderloin pieces on top of the apples and the sprig of rosemary in between.

Put the cover on the Instant Pot. Be sure the pressure valve is set to "Sealing." Use the manual setting to set the timer for 2 minutes.

When the timer goes off, turn pressure valve to "Venting" to release pressure quickly.

**Be sure to read all Instant Pot instructions carefully for safety.

Remove tenderloin and apple mixture, leaving as much liquid behind as possible and discard rosemary sprig. Set aside.
Set the Instant Pot to "Saut​é"​ setting. Add butter and flour, stirring to combine as butter melts. Stir in chicken broth, honey, rosemary sprig, salt, paprika, and cayenne. Let simmer until slightly thickened. Stir in lemon zest and remove sauce from Instant Pot.

Slice pork tenderloin. Arrange apples and onions on a platter. Top with tenderloin. Place a few sprigs of rosemary alongside the pork as garnish. Pour sauce over pork.
Serve!