Instant Pot Creamy Herb Pork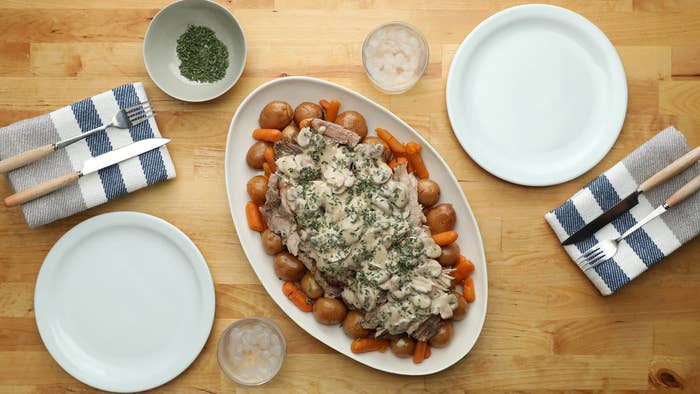 Instant Pot Creamy Herb Pork
Servings: 8
Ingredients:
1 (21⁄2–3 pound) pork shoulder (bone-in or boneless)
Salt and pepper to season
1 tablespoon vegetable oil
1⁄2 cup white wine
1 (24-ounce) bag Private Selection Petite Red Potatoes
1 (16-ounce) bag Kroger Baby Carrots
2 cups chicken broth
3 thyme sprigs, plus extra leaves for garnish
1⁄4 cup butter
1 (8-ounce) container Simple Truth Organic Baby Bella Mushrooms, sliced
1 tablespoon flour
1⁄2 cup heavy cream
Preparation:
Season the pork shoulder generously with salt and pepper on all sides.

Set the Instant Pot to "Saut​é"​ setting and allow pot to heat up. Add the vegetable oil.

When hot, sear the meat on all sides until brown. Remove meat from the pot and set

aside. Turn off the Instant Pot.

Deglaze pot with white wine. Place Private Selection Petite Red Potatoes and Kroger

Baby Carrots in the pot. Nestle the pork shoulder in the middle of the vegetables. Pour

chicken broth over everything and add the thyme sprigs.

Put the cover on the Instant Pot. Be sure the pressure valve is set to "Sealing." Use the

manual setting to set the timer for 50 minutes.

When the timer goes off, allow pressure to release naturally OR turn pressure valve to

"Venting" to release pressure quickly. **Be sure to read all Instant Pot instructions carefully for safety. Be sure Instant Pot is turned off and unplugged before carefully removing the cover.

Remove the pork, vegetables, and liquid (making sure to reserve liquid).

Set the Instant Pot to "Saut​é"​ setting. Add butter and melt. Add mushrooms, toss to coat in butter, then let brown, stirring occasionally. Once mushrooms are browned, sprinkle flour over them and stir. Stir in heavy cream, 1⁄2 cup reserved cooking liquid, and 1⁄2 teaspoon kosher salt. Bring to a simmer for 2–3 minutes, then remove from heat.

Pull meat into large pieces. To serve, put vegetables in a bed on a platter. Top with pork roast pieces. Spoon creamy mushroom sauce over pork. Garnish with thyme leaves. Serve!