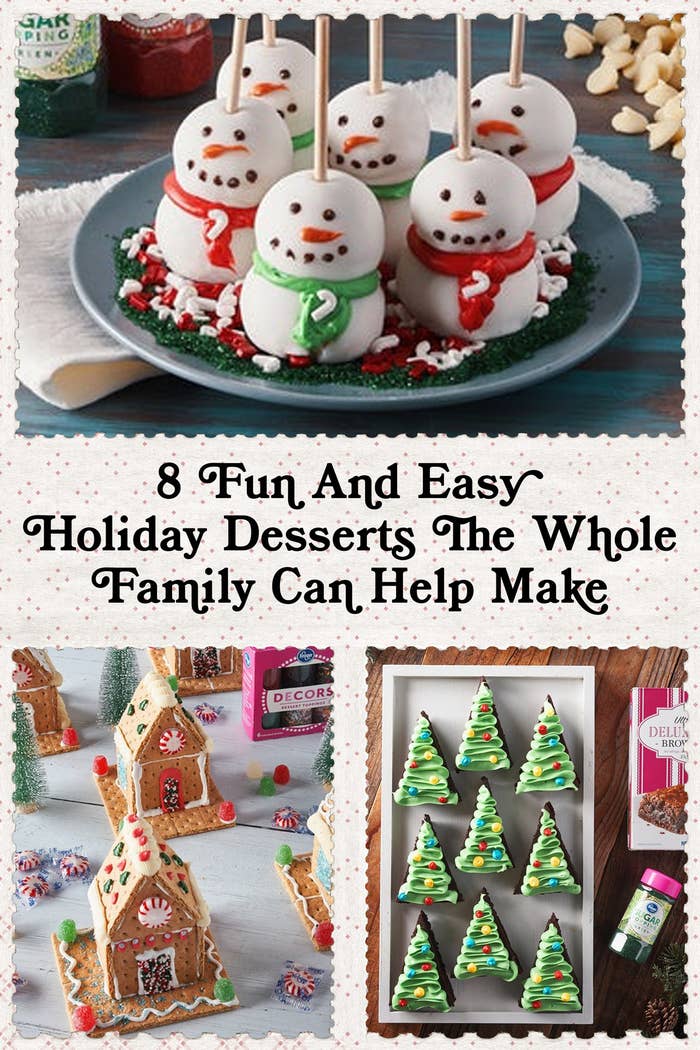 INGREDIENTS
• 1 box of Kroger® Delicious Wicked White Cake Mix
• 16-ounce container Kroger® Rich & Creamy Vanilla Frosting
• 11.5-ounce bag of Private Selection™ White Chocolate Chips
• Red and green sprinkles
• ¼ cup Private Selection™ Dark Chocolate Chunks
• ¼ teaspoon Kroger® Red Food Coloring
• 10–12 skewers
DIRECTIONS
1. Bake cake according to instructions on box. Bake and cool completely before continuing.
2. Crumble the cake in a large bowl until no large chunks remain. Add half of the frosting to the bowl of cake crumbs and mix together. If the mixture is still crumbly and not sticking together, add more frosting as needed.
3. Roll all of the cake mixture into 2-tablespoon balls and refrigerate on a baking sheet while preparing the chocolate.
4. Melt white chocolate in a small bowl in the microwave. Remove 2 tablespoons of the white chocolate and dye it with food coloring to make the snowman's nose. Melt the dark chocolate in another small bowl and set aside.
5. Carefully secure a cake ball to a skewer and dip in the white chocolate. Set on a wire rack to cool and repeat with the remaining cake balls.
6. Stack 2 finished cake balls on each skewer and decorate with melted chocolate to resemble a snowman. Allow to set fully before serving.
2.
Candy Cane Crispy Rice Treats
3.
Mini Graham Cracker Houses
5.
Gingerbread Cinnamon Rolls
INGREDIENTS
Cinnamon rolls:
• ½ cup Kroger® Dark Brown Sugar
• 2 teaspoons Kroger® Ground Cinnamon
• 1 teaspoon Kroger® Ground Ginger
• ¼ teaspoon Kroger® Ground Allspice
• 2 tablespoons Kroger® Salted Butter Sticks, melted
• 1 can Kroger® Buttermilk Jumbo Biscuits 8 Count
• 1 can Kroger® Bleached All-Purpose Enriched Flour
Glaze:
• 2 cups Kroger® Confectioners Powdered Sugar
• 1 teaspoon molasses
• ½ teaspoon Kroger® Ground Cinnamon
• 1–2 tablespoons Kroger® Vitamin D Whole Milk
DIRECTIONS
1. In a small bowl, combine brown sugar, ginger, allspice, and cinnamon. Set aside.
2. Remove biscuits from can and press together into a square. Dust with flour if needed and roll the square into a large rectangle. Spread melted butter over the entire surface and sprinkle with the spiced brown sugar mixture. Roll the rectangle into a log and cut 6–8 rolls. Place on a lined baking sheet and bake on 350ºF for 12–4 minutes, or until lightly browned.
3. While the rolls bake, whisk the powdered sugar, molasses, cinnamon, and milk together until smooth to make the glaze.
4. Remove from oven and cool for 5 minutes before glazing. These are best eaten the day they are made!
6.
Gingerbread Spiced Cookies With Maple Glaze
7.
Raspberry and Chocolate Hazelnut Christmas Tree Twirl
INGREDIENTS
• 2 frozen puff pastry sheets
• ½ cup Kroger® Hazelnut Spread With Cocoa
• ½ cup Kroger® Red Raspberry Preserves
• ¼ cup Kroger® Confectioners Powdered Sugar
DIRECTIONS
1. On a large baking sheet lined with parchment, lay one of the sheets flat. Cut into a triangular shape and spread the hazelnut spread on one half and the raspberry jam on the other.
2. Cut the other sheet into a triangle and place on top. Slice down the sides of the triangle to create "branches."
3. Carefully twirl each branch into a spiral.
4. Bake on 400ºF for 15–20 minutes or until lightly browned.
5. Cool slightly and dust with powdered sugar before serving.
8.
Christmas Tree Brownies
Food prepared by Alexander Roberts and Lacey Wissen
Get your family and friends together, blast some holiday music, and make these recipes and more. Kroger has all the ingredients you need.