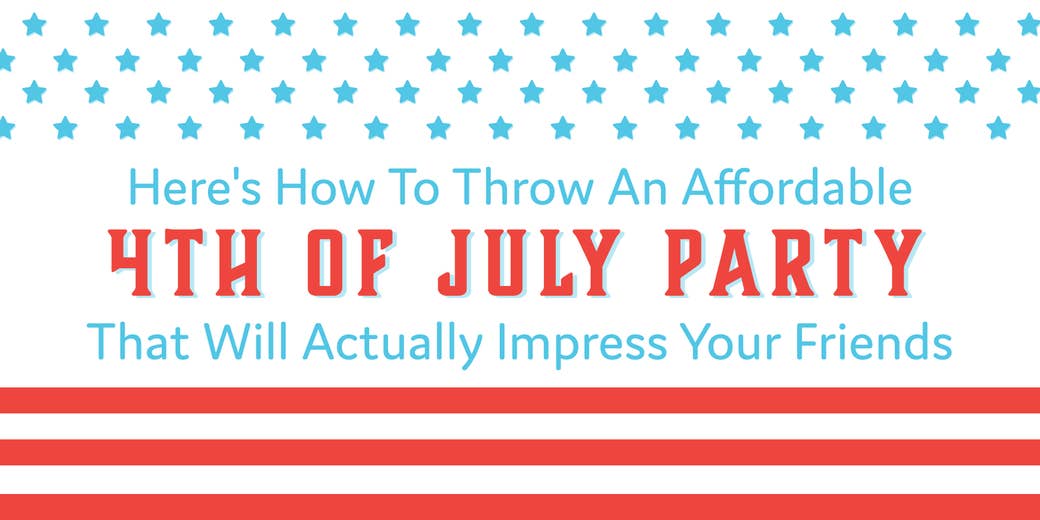 Here's the thing: I love parties. The tiny snacks, the excuse to wear a costume, cornering people and making them listen to stories about my dog. I'm really fun at parties, y'all. But the key factor that separates the party peasants from the party animals is being able to host an impressive party. This takes patience, organized planning, and knowing how to trick your friends and loved ones into thinking you spent a lot of time and money on your party when you really didn't. Now, that's the true sign of a good party planner.
With 4th of July right around the corner, I thought it would be the perfect time to put my party-planning skills to the test. And what's the best part of throwing a party? RULES! But seriously, I had to give myself some guidelines so I wouldn't go completely broke. Don't get me wrong — I like my friends. But not enough to spend my paycheck on a party for them, ya know? The recipes I created were pretty simple, and I used Kroger ingredients that were not only affordable, but totally tasty! Any other supplies had to be purchased from my neighborhood dollar store or were products I already owned. So, after running a couple errands and going on a frantic scavenger hunt around my apartment, I was ready to put my plan into action...

Use leftover cardboard boxes to create a HOMEMADE PIÑATA!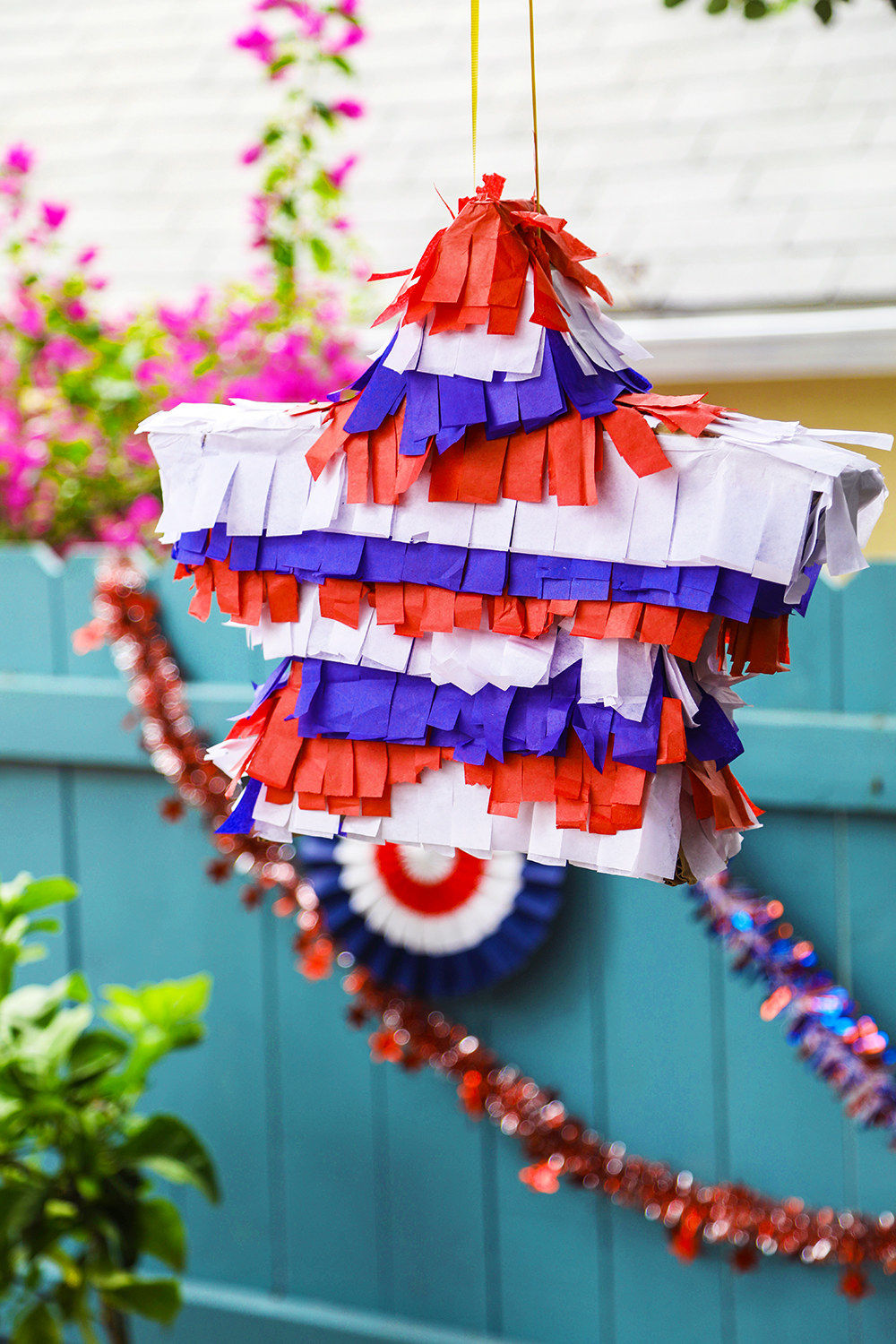 SUPPLIES:
Cardboard
Pencil
Utility knife
Scissors
Tape
Candy for filling
Tissue paper
Glue
Twine/ribbon
INSTRUCTIONS:
Luckily, I order everything online, so I had plenty of cardboard boxes to spare! First, I cut two star shapes from the cardboard. Next, I cut small rectangle pieces that would connect the two stars. I taped the rectangles to the edges of one of the stars, filled with dollar store goodies and Kroger candy, and covered with the other star. I cut slits into tissue paper to make a garland and glued them onto the star. So pretty, right?! Then I hung that sucka from a tree and waited for the guests to knock it down!
Old mason jars + a little paint = festive flower pots!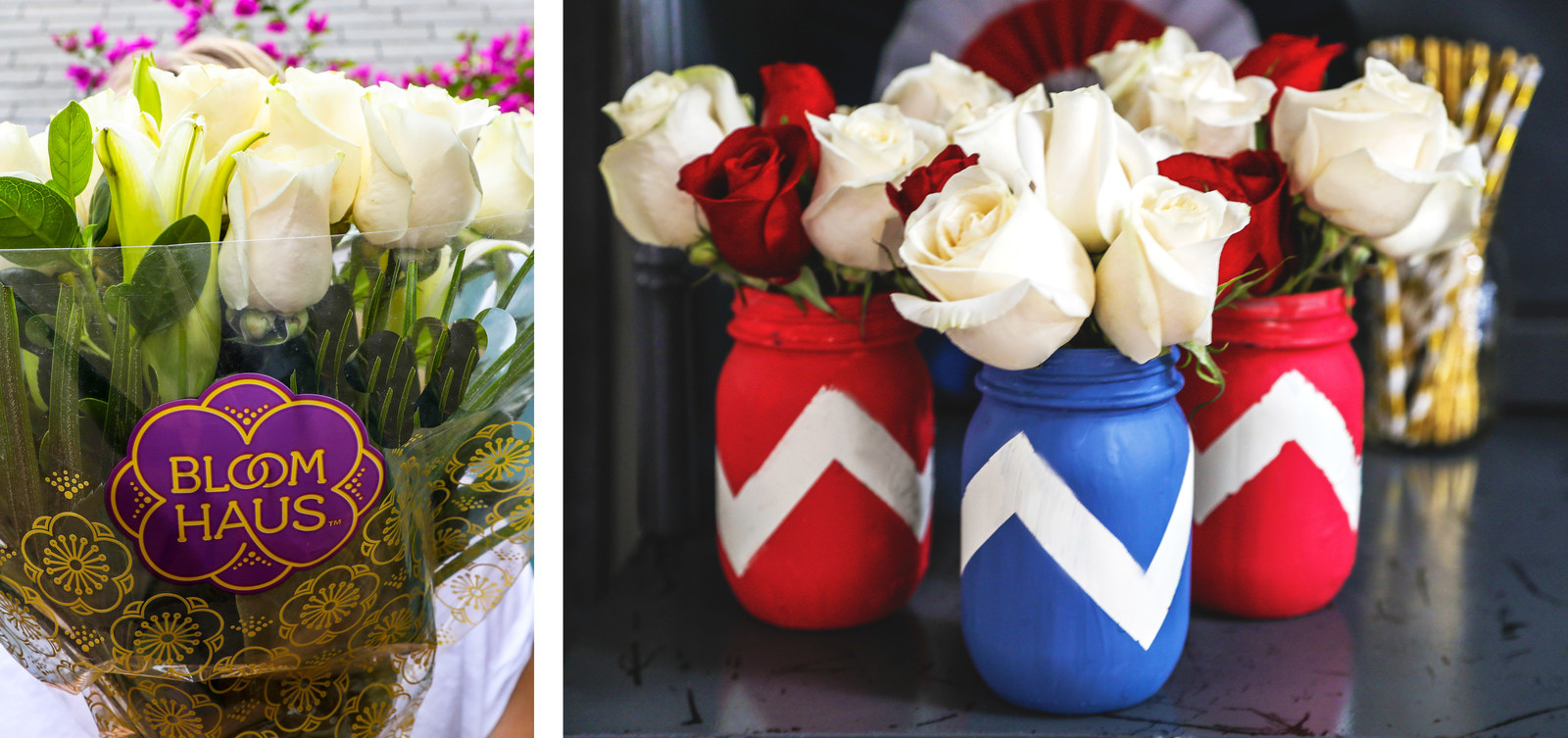 SUPPLIES:
Mason jars
Paint
Washi tape
Bloom Haus Flowers
INSTRUCTIONS:
I painted the mason jars with three coats of white paint and let them dry completely. Then, I placed washi tape in a chevron pattern and painted red or blue on top. I let them dry upside-down because I read online that is what you are supposed to do. ¯\_(ツ)_/¯ Once these little masterpieces were dry, I removed tape, added water, and popped in my beautiful flowers.
HOT TIP: Colorful bandanas are an easy way to step up your silverware game.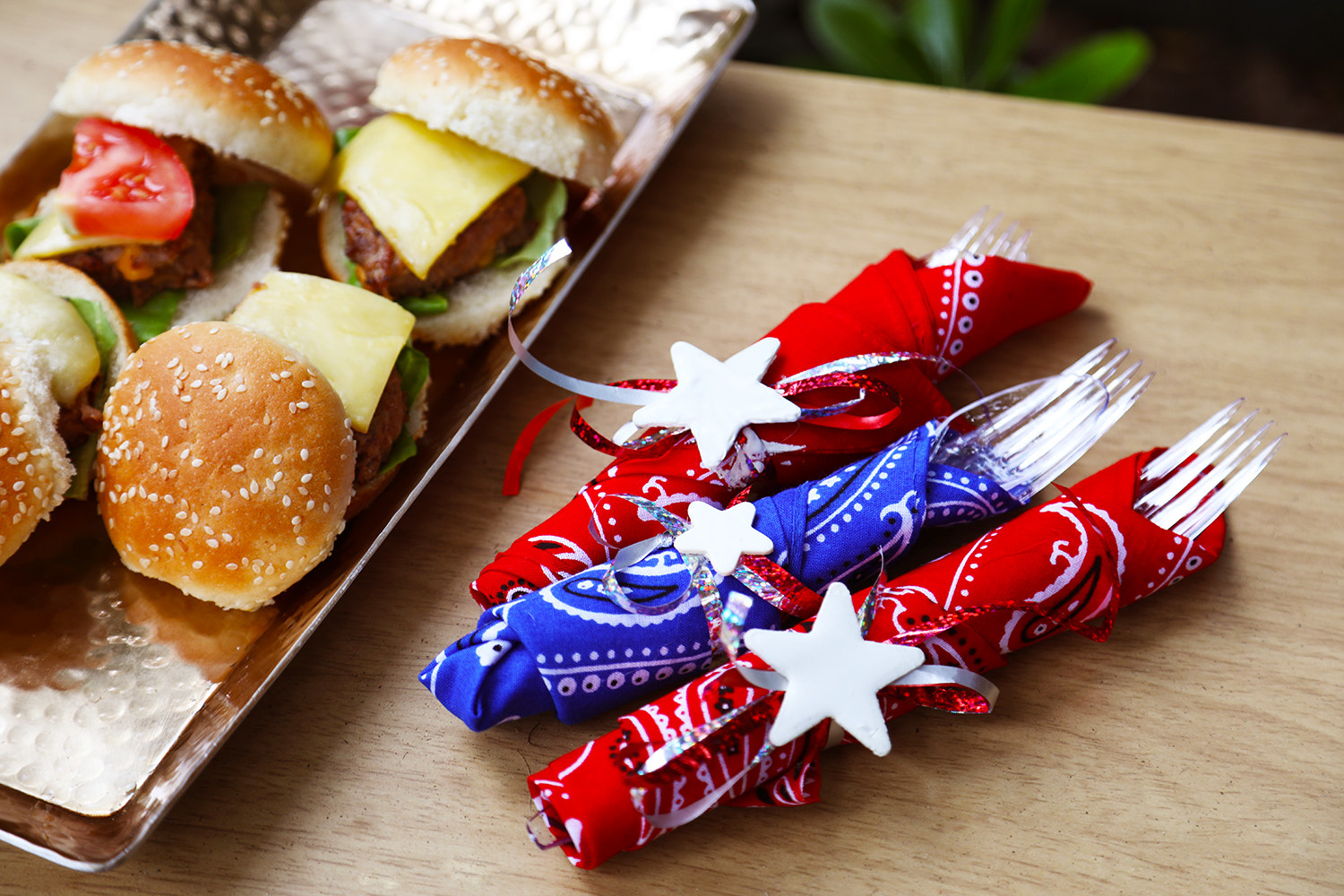 SUPPLIES:
Bandanas
Kroger Plastic Dinnerware Set
Ribbon
Wooden stars (optional)
INSTRUCTIONS:
This couldn't be easier! I wrapped the silverware in blue and red bandanas and locked 'em in with some colorful ribbon. I also painted a few wooden stars and glued them on top for a little extra flair.

Get the party started with some Star-Spangled Punch.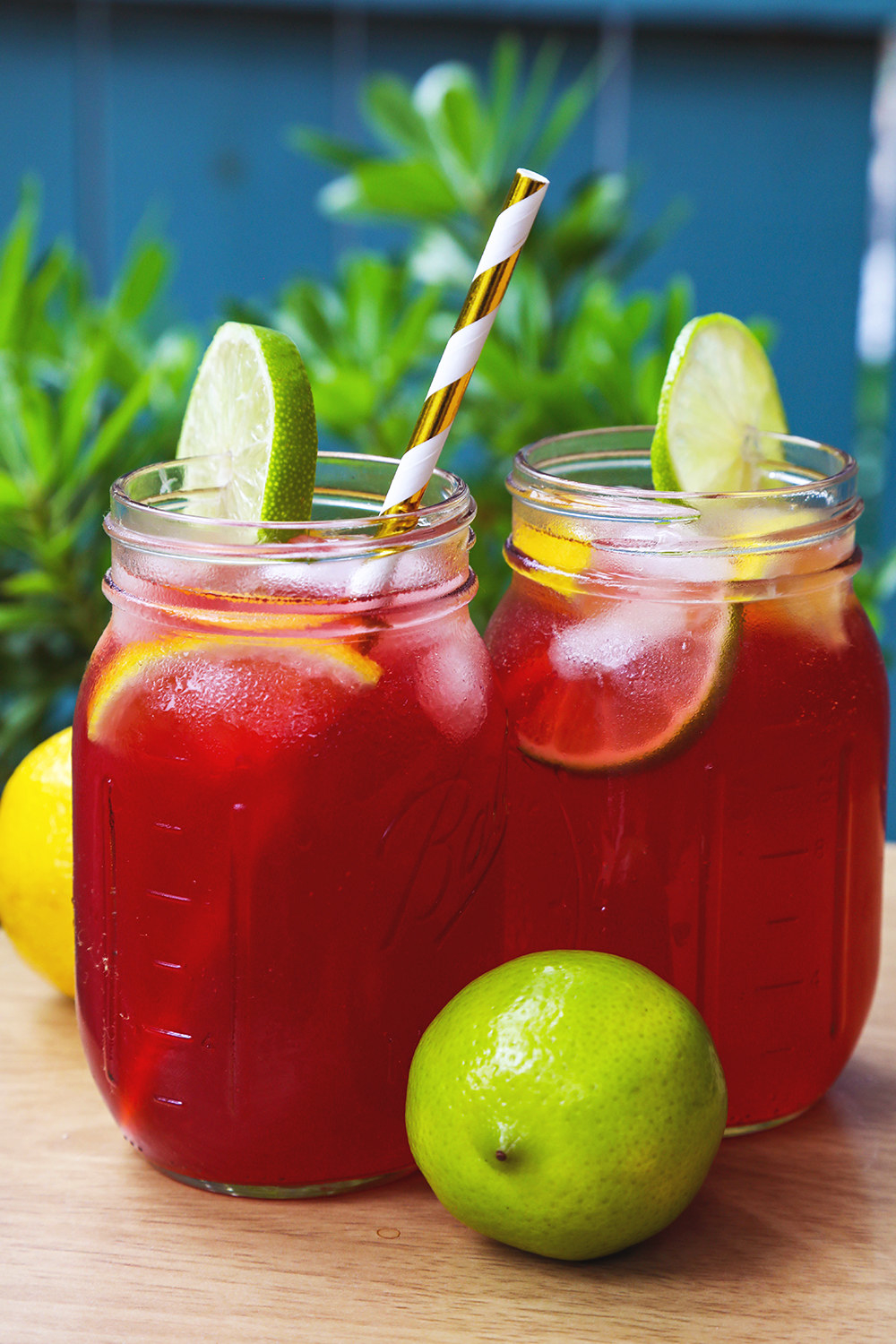 INGREDIENTS:
1 liter fruit punch
1 can Kroger Frozen Limeade Concentrate
½ liter sparkling water
1–2 cups vodka
Lime slices to garnish
INSTRUCTIONS:
This punch was easy peasy! All I had to do was dump all the above ingredients into a pitcher, add some ice, a little garnish, and it was time to drink up. This recipe is also great if you want an alcohol-free option, because all you have to do is remove the vodka and you still have a tasty punch.
Watermelon Feta Salad is the perfect sweet and savory summer app!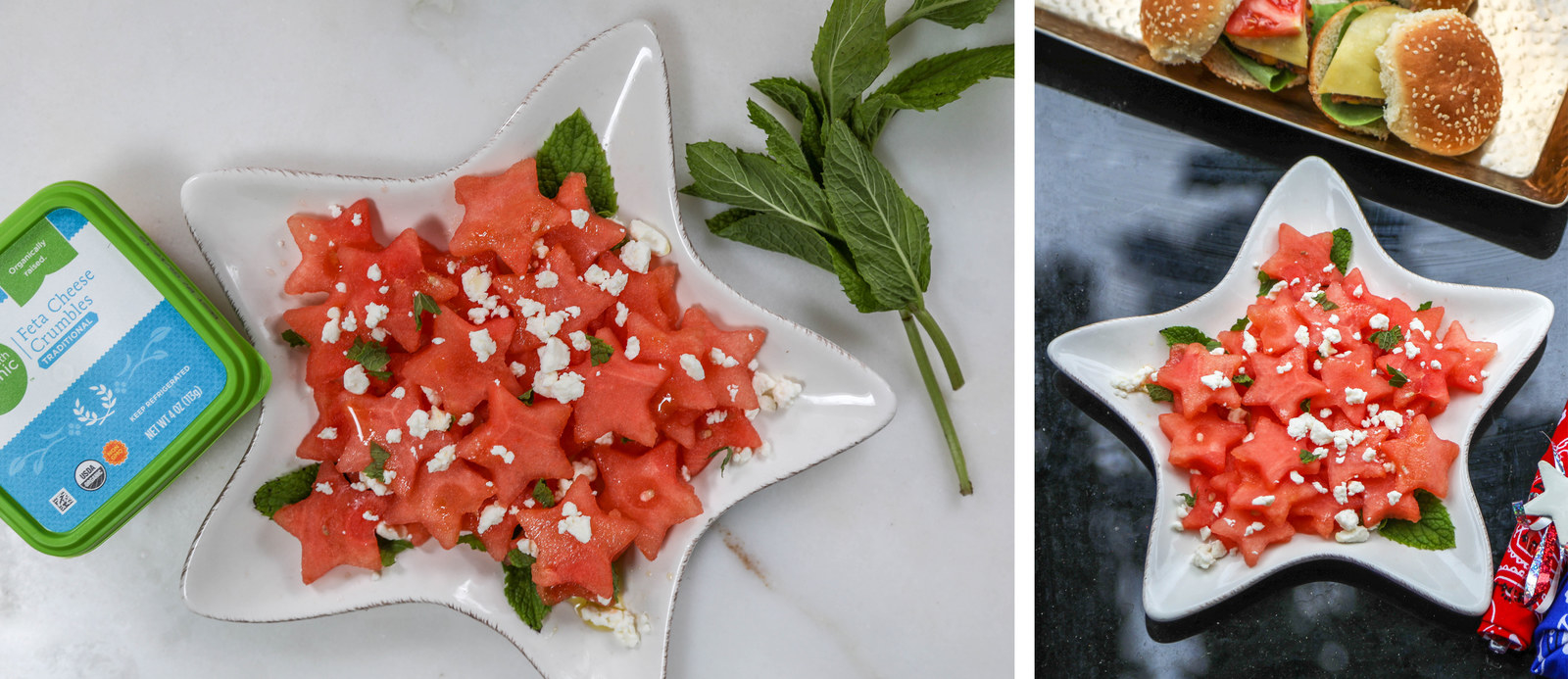 INGREDIENTS:
2 small watermelons
1 tablespoon lemon juice
3 tablespoons olive oil
¼ cup chopped mint leaves
½ cup Simple Truth Organic Feta Crumbles
Salt and pepper to taste

INSTRUCTIONS:
What's better than a bite of refreshing watermelon on a hot summer's day? Watermelon with CHEESE! I used cookie cutters to create watermelon stars, then drizzled them with lemon juice and olive oil. I sprinkled on mint leaves, feta cheese, and added salt and pepper to taste.
Step up your BBQ game with Bacon & White Cheddar Sliders.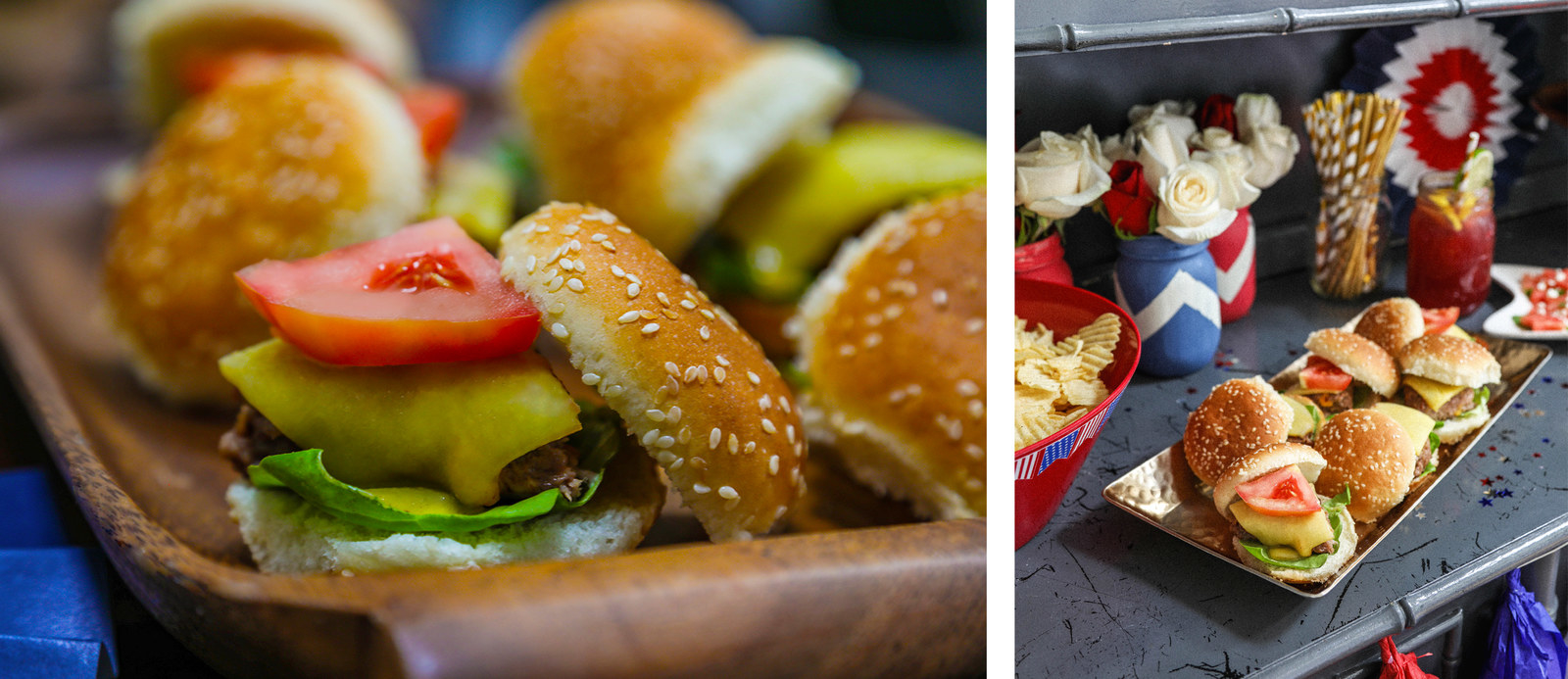 INGREDIENTS:
Private Selection Bacon & White Cheddar Angus Beef Slider Patties
White cheddar cheese
Slider buns
Favorite toppings (I used lettuce and tomato)
INSTRUCTIONS:
C'mon, it's not 4th of July without burgers! I sprayed a sauté pan with cooking spray and added my patties. I cooked them over medium heat for around 5 minutes on each side, then added the white cheddar slices 2 minutes before removing from the heat. I popped the lil' baby burgs into their buns and added my favorite toppings.
These Red, White, & Blue Cupcakes will definitely impress your guests!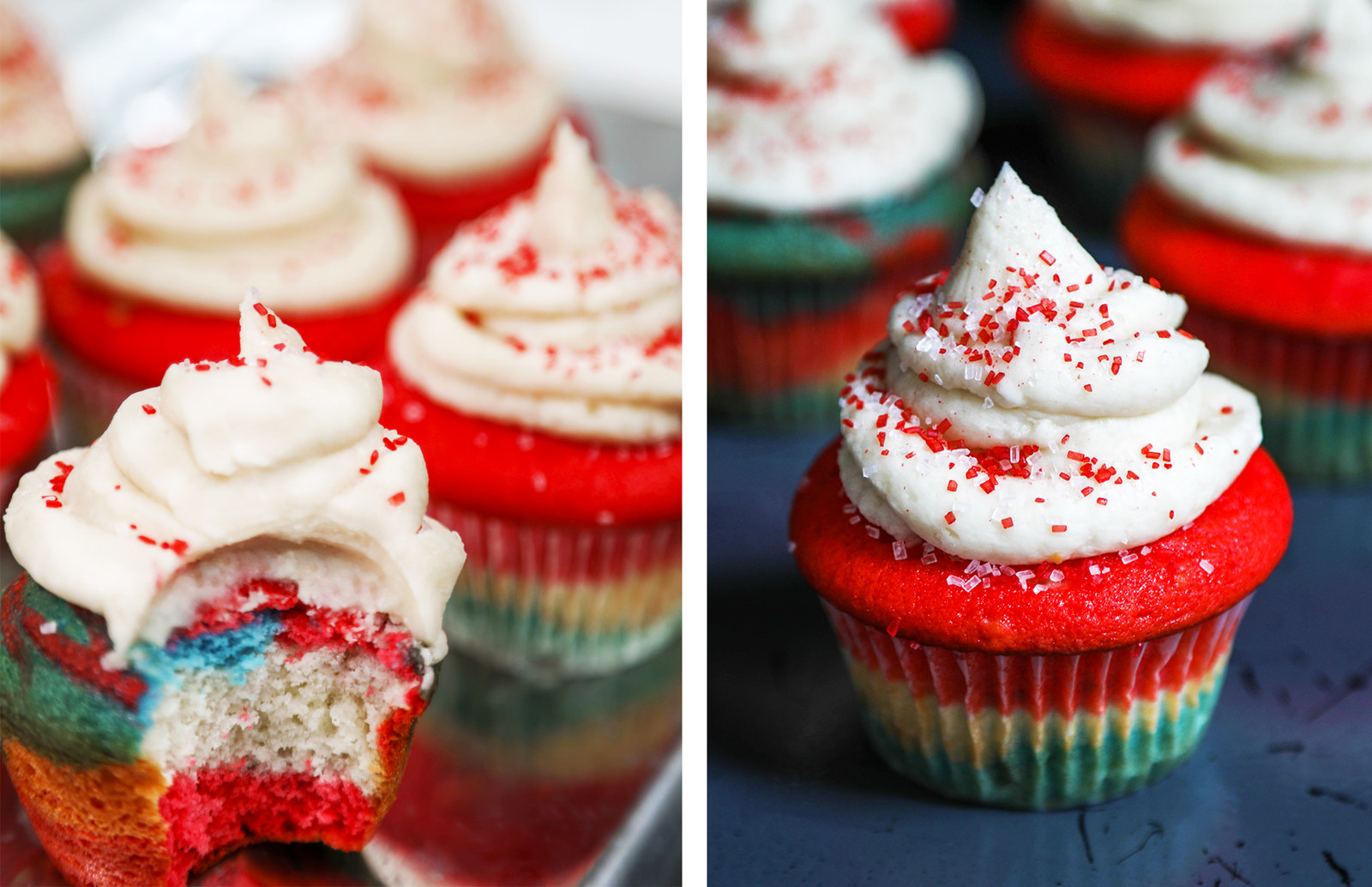 INGREDIENTS:
For Cupcakes:
Kroger White Cake Mix
1 cup water
1/4 cup oil
3 egg whites
Food coloring (red and blue)
For Frosting:
1 cup softened butter
2 teaspoons vanilla
4 cups powdered sugar
1 ½ tablespoons of milk
Sprinkles
INSTRUCTIONS:
Basically I'm a professional baker now, NBD. When Gordon Ramsay sees this post, he will FINALLY accept my application to MasterChef Junior! I mixed batter and preheated the oven according to the box. Then, I poured the batter into three different bowls and added food coloring so that I had separate red, white, and blue batter. I layered a couple tablespoons of each colored batter into the cupcake liners and baked according to the box. Frosting time! I blended together butter, vanilla, sugar, and milk until I reached a spreadable consistency. I used a plastic bag to pipe frosting onto the cupcakes and piled on sprinkles!

WELP, the time had finally arrived, and guests started to show up. MY BIG HOSTESS DEBUT. And everything came together really nicely! I set up a little food station that housed my recipes and some extra snacks (Kroger Prime Rib & Horseradish Chips) for munchin'. I was EVEN able to create garlands with leftover tissue paper from the piñata because I'm crafty AF.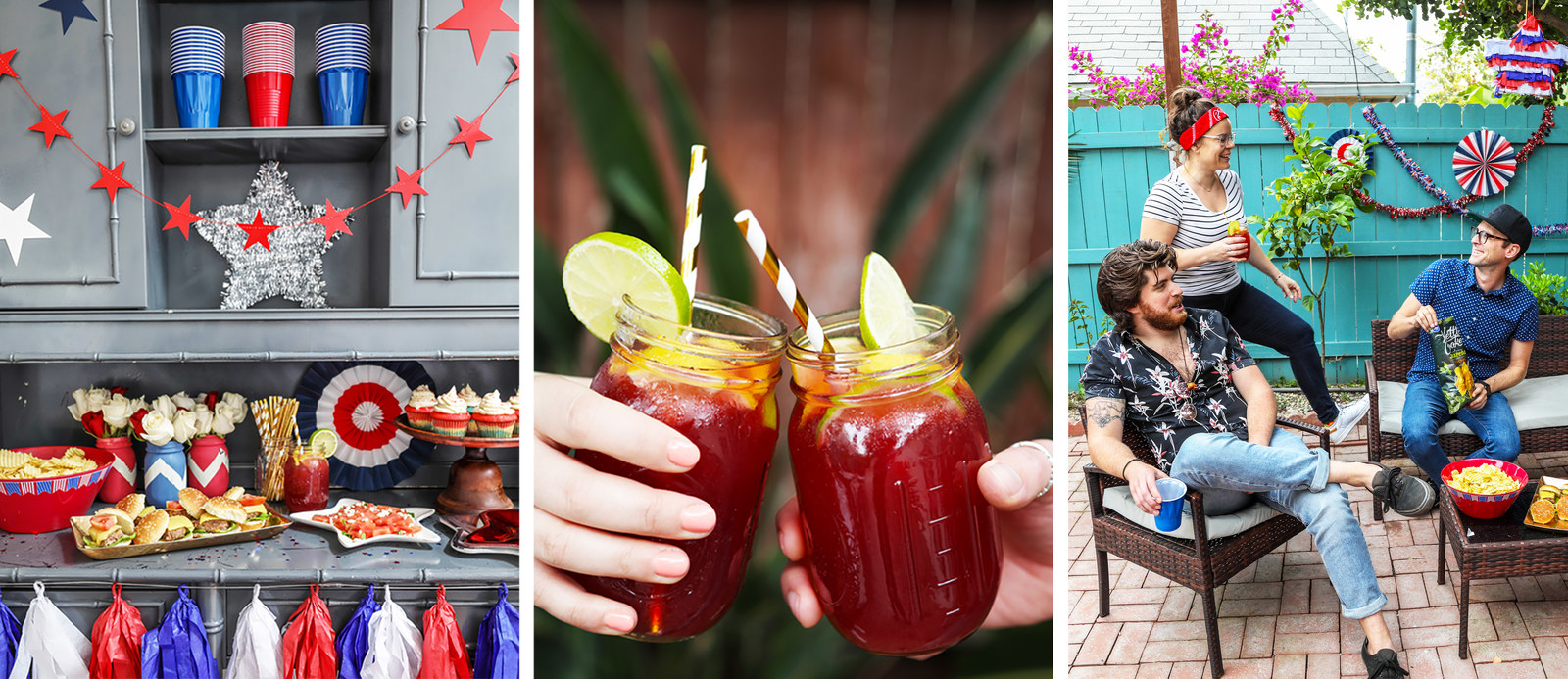 In the end, I followed all my rules, I didn't spend a fortune, and we all had a really fun time! TBH, while I went in with the goal of impressing my friends, I actually ended up impressing myself. Now, grab another glass of Star Spangled Punch, and I'll tell you all about my dog...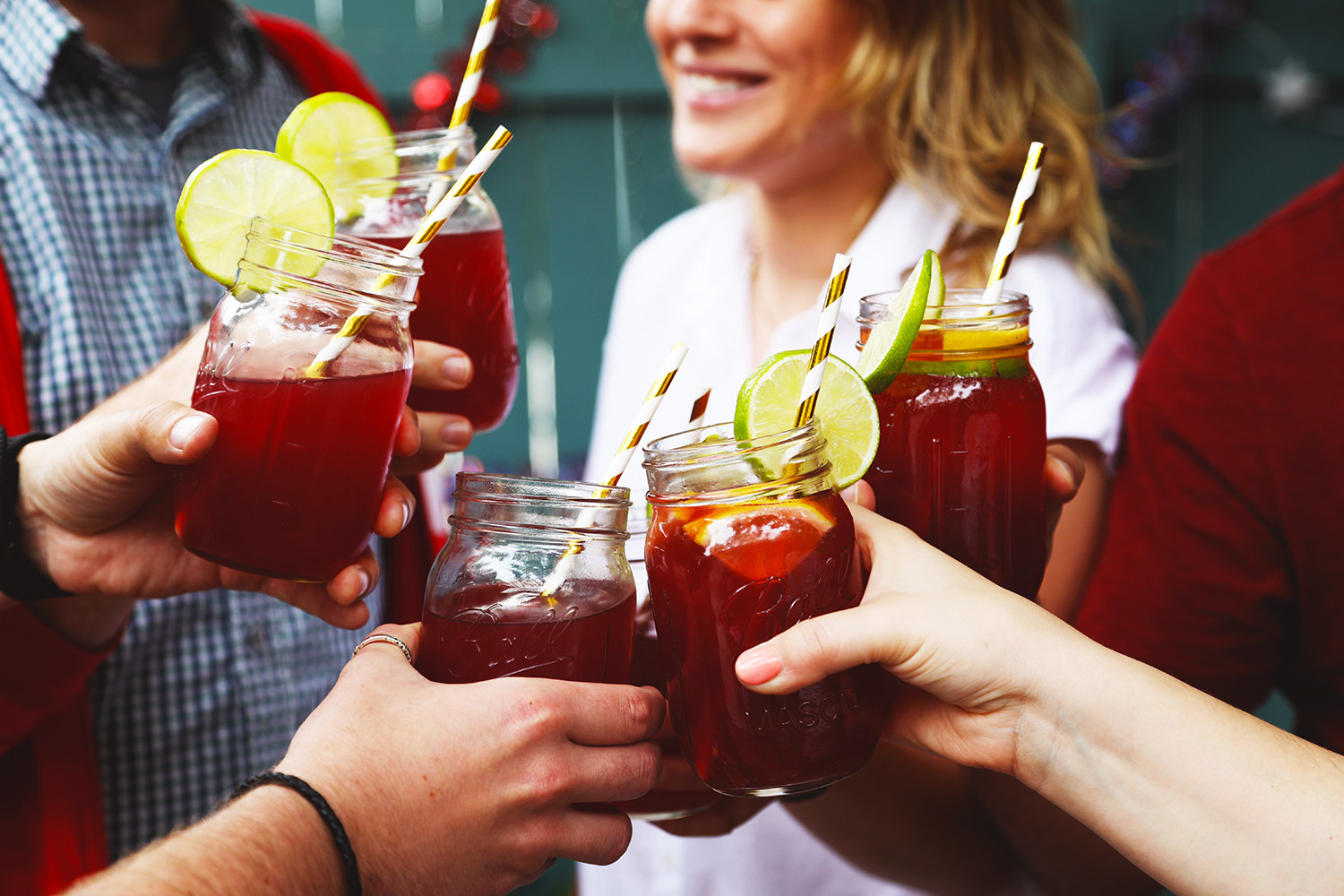 Photos by Eileen Connors / Design by Laura Hoerner

Get your party on this summer without breaking the bank at Kroger!