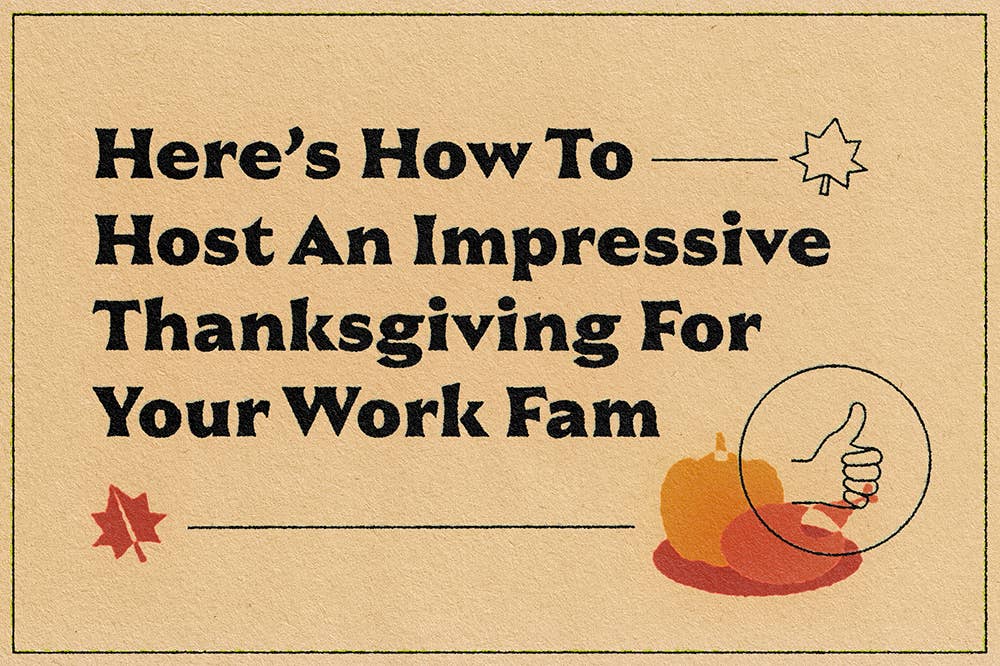 Imagine a cook in a grease-stained apron. They move deftly through their kitchen, mincing garlic with grace and sautéing vegetables to ever-so-slightly browned perfection. They hum along to Rossini's "Barber of Seville" as they pull a crown roast of pork from the oven. Its foil off, the roast's meaty aroma permeates the house, the result of hours of careful planning and baking. It's a meal to make even the most seasoned of chefs' mouths water.
Can you picture them? This cook? Because my food-delivery-app-using, How many ounces are in a pound?-wondering self couldn't before I endeavored to cook an entire Thanksgiving meal for my coworkers. I mean, I didn't even know what mincing was, let alone how to do it to garlic. But I had made up my mind: I would give thanks to my work fam for their hard work this year with a feast...of food...that I...(me)...would cook.
And so, with the much-needed support of Kroger and the fear of disappointing people I see five days a week propelling me, I purchased a roasting pan.

Baby, I know...because I had to run to the nearest store that sold bandages in the middle of slicing my first dish: uh, potatoes. (There was a second cut later, but I'm happy to report it was not as deep.)
I ceased cursing, treated my minor injuries, and exercised more caution moving forward; if I ever hoped to achieve crown-roast perfection, I had to get my head in the game.
I managed to salvage the potatoes and moved on to something else I was very excited to eat make: bacon-wrapped green beans. For these beauts, all I did was wrap a half slice of hickory smoked bacon around a six- or seven-bean bundle; glaze them with a brown sugar, butter, and garlic powder mix; and pop them into the oven for about 20 minutes at 350°F. They smelled so good I was unsure if I could continue cooking without devouring them all, but I somehow stopped myself at just one.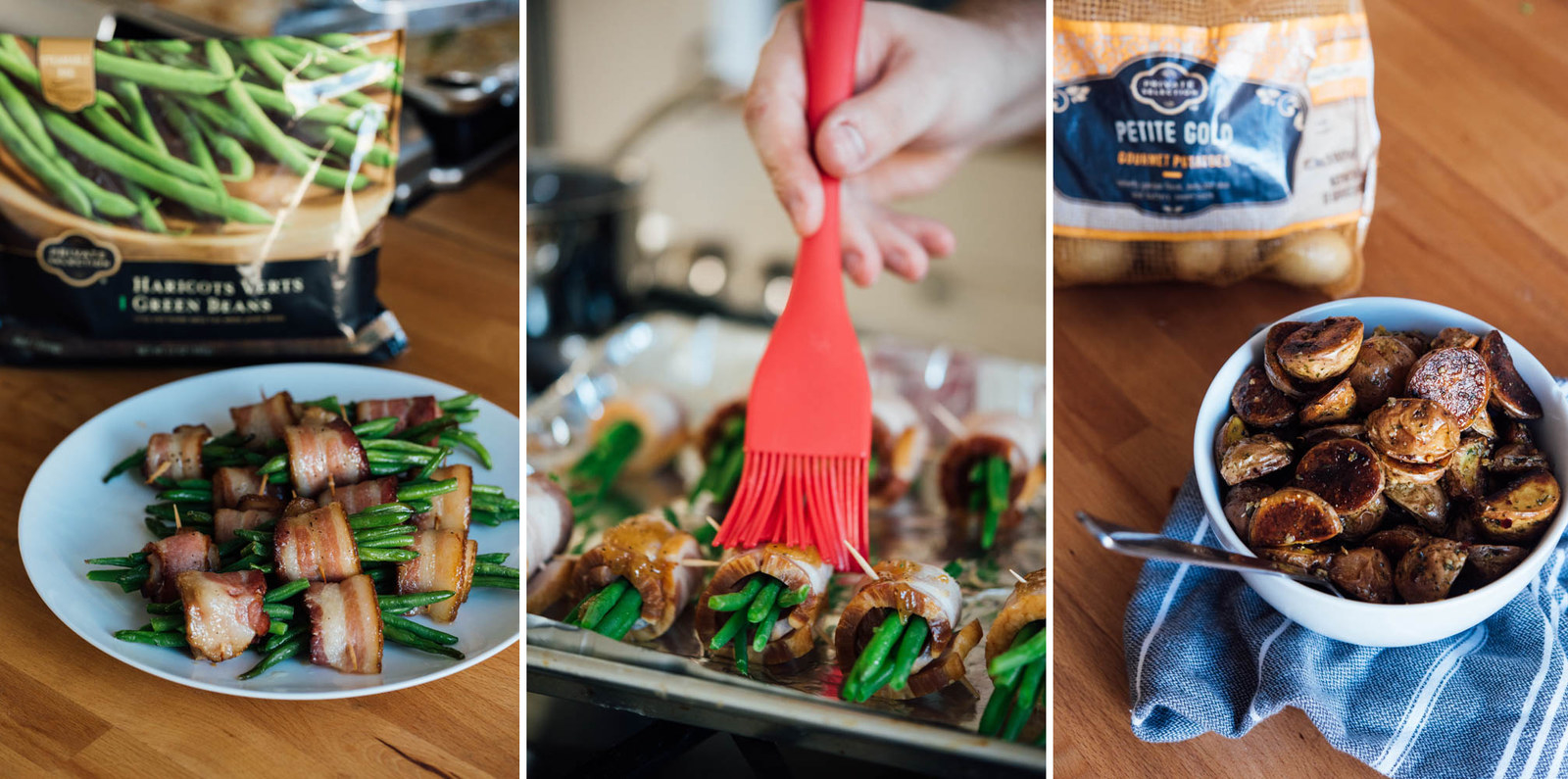 After gaining green-bean confidence, I started on the stuffing. It's by far my favorite part of Thanksgiving, so I wanted to make something special: chorizo and cornbread stuffing. To make things easier for myself, I used a cornbread stuffing mix, so all I had to do was cook some chorizo separately and then mix it in. Unsurprisingly, it was a favorite of the group, and I honestly don't think I can go back to regular stuffing after it.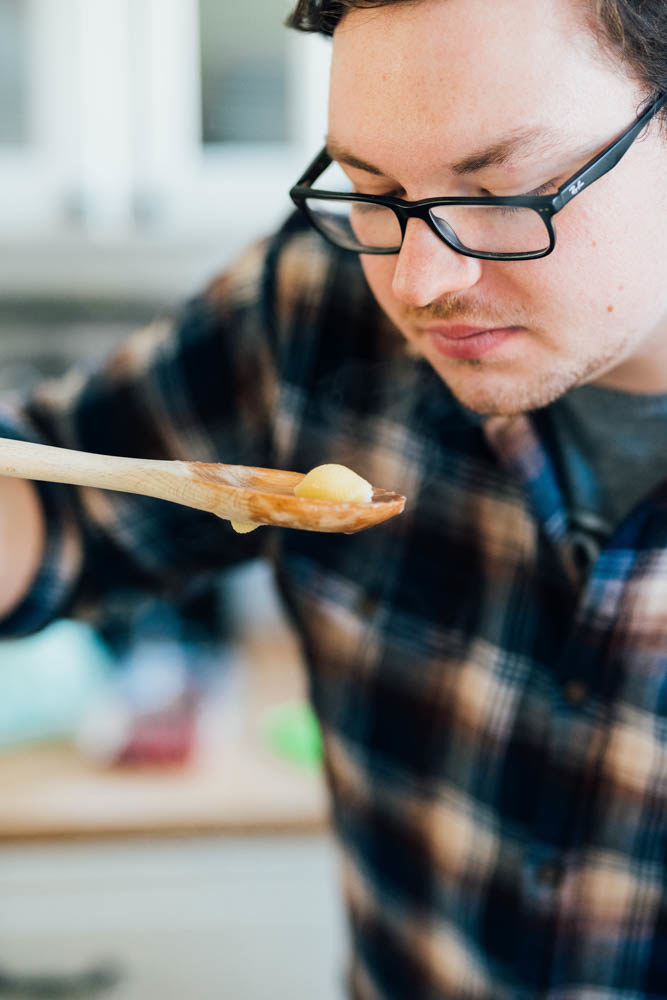 While I did that, my helper coworker, Dana, worked on a spicy cranberry salsa. Since cranberries are a divisive Thanksgiving staple but a staple nonetheless, I figured a slightly spicy and colorful salsa would make the berry more eye-catching and palatable — and I wasn't wrong. I put it out with some pre-meal tortilla chips, almonds, and cashews, and it all disappeared within minutes.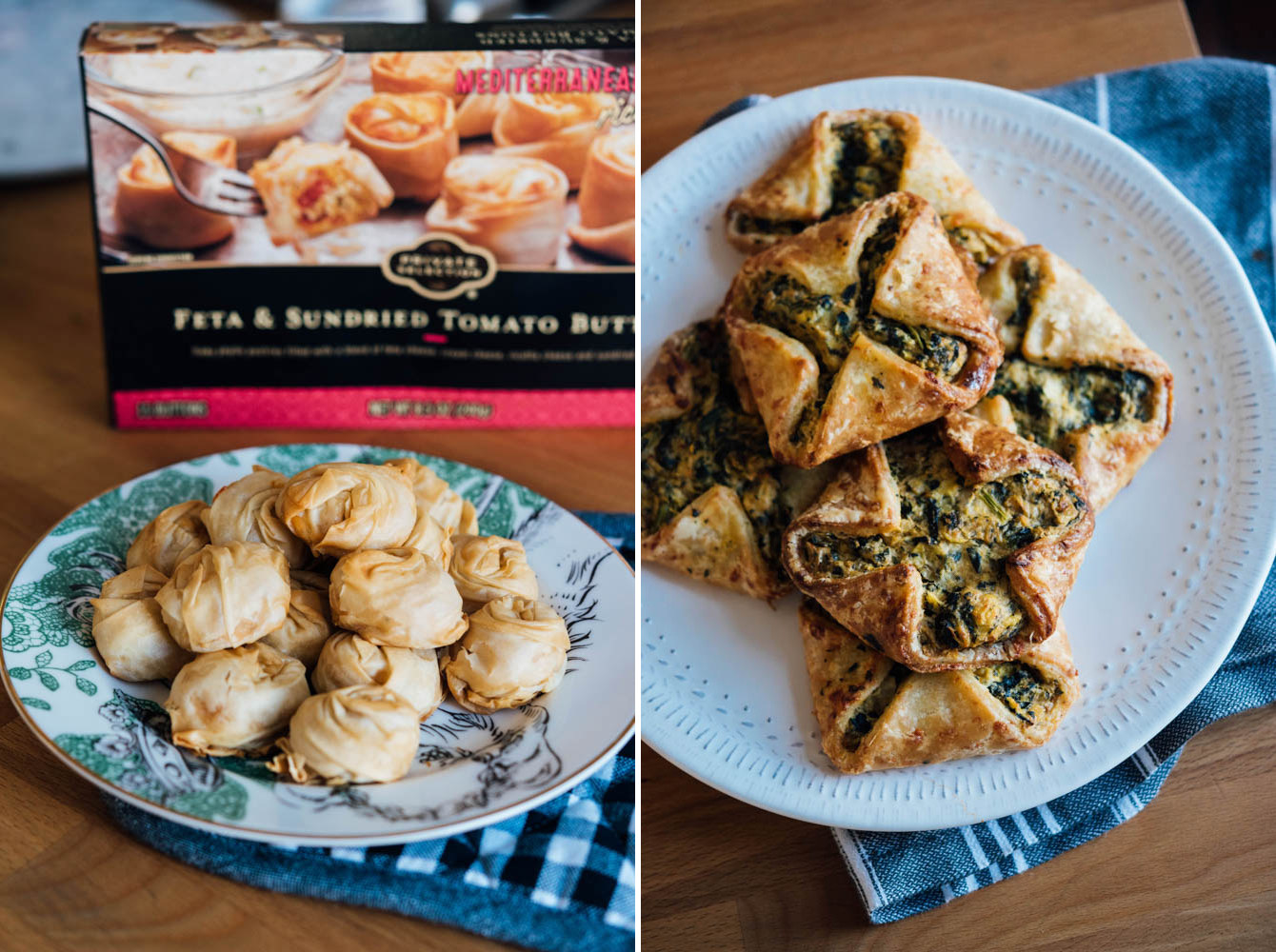 Growing up, my cousin and I always named the turkeys my uncle cooked on Thanksgiving. There'd always be two, so we stuck to famous twosomes (think Romeo and Juliet or Thelma and Louise). In keeping with tradition (sort of), I named my first-ever cooked turkey Wario, after the garlic-obsessed video game character. Because my whole not-knowing-how-to-mince-garlic thing? After watching some online videos, I went from zero to a hundred with finely chopping the herb, and I put it on everything I possibly could — especially my turkey.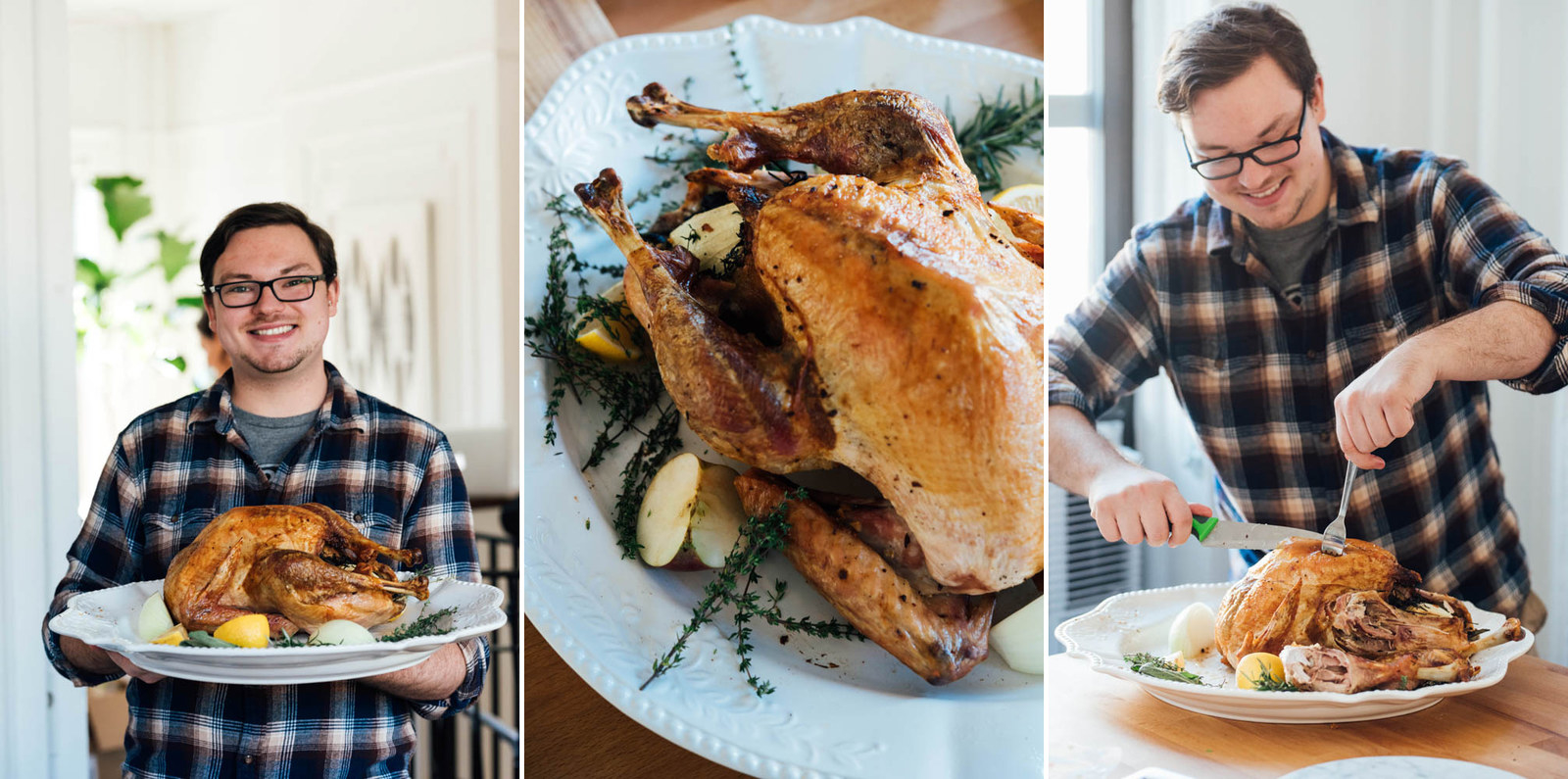 Because it was my first time doing anything like this, I followed a simple, straightforward recipe: After thawing for the requisite amount of time, I removed the turkey's neck and giblet bag (gross, but OK!). Then I seasoned it and stuffed it with a quartered onion, an apple, and lemon plus various herbs. I became unreasonably excited when I got to use the basting brush to lather on the garlic-butter herb sauce. Finally, it was time to roast.

At 325°F, this guy took about three hours to reach a safe internal temp of 165°F (I used a simple meat thermometer to check in on it often). I was nervous about getting my coworkers sick, so I waited 'til it was at about 180°F to remove. This definitely dried out the meat a bit, so I won't let my anxiety best me next time, but it was still delicious and the perfect golden brown hue. Was I becoming someone who actually likes to cook?

With all the food ready, I scrambled to set everything up before everyone arrived. Though I brought some family traditions to my own Friendsgiving (like the secret-recipe punch my grandma makes every year — don't ask what's in it!!!), I was kind of over the traditional cornucopia-and-turkey decor and dark-brown tablecloth aesthetic. Besides, I cooked a late-day "linner" for the work fam, so brighter colors and modern touches better fit the ambience.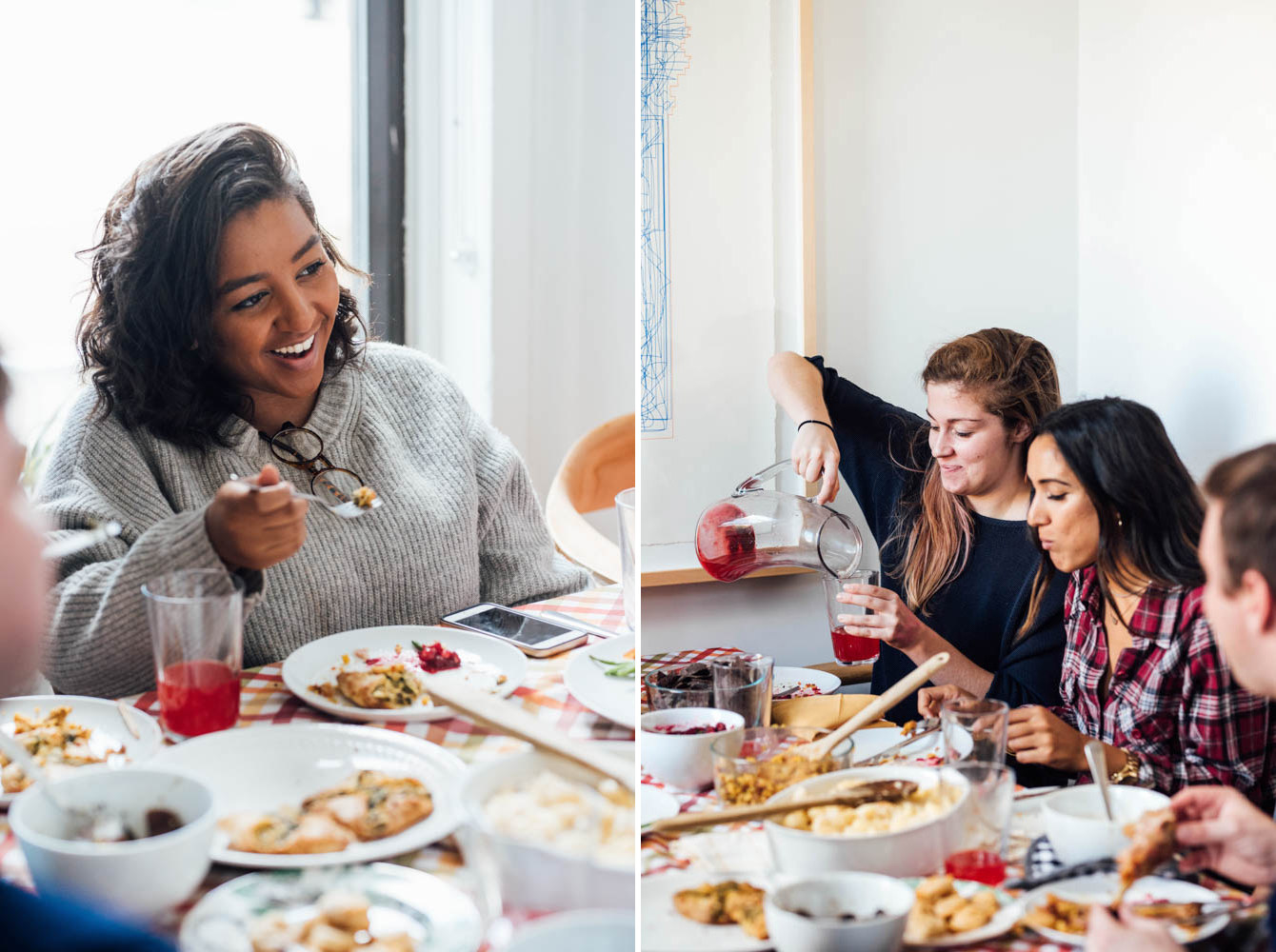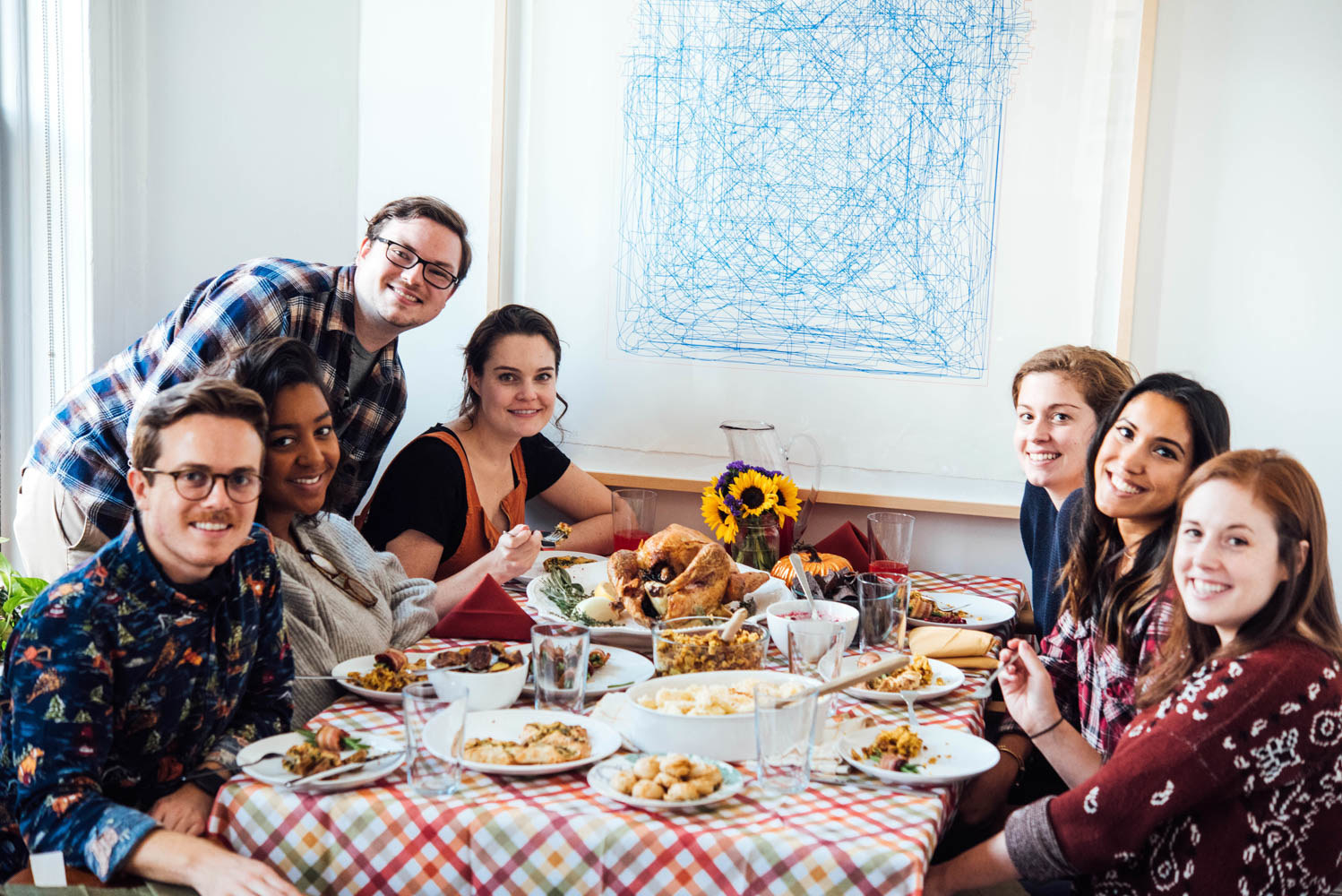 We kept things caj with festive flannels and comfy sweaters, and everyone looked great. (Don't we look great?!) More than anything, I wanted it to feel relaxed and cozy — after all, this was a way to thank my fellow hard workers, so there was no reason to make it too formal or scheduled.

We ate. We joked. And, yes, we gabbed (the only thing hotter than the turkey was the goss). But overall it felt great to be able to do a nice thing for people I enjoy being around.
I think they liked it too.
But wait! Did you think we were done here? Nope. 'Cause what would Thanksgiving be without dessert? Exhausted from cooking everything else, I made sure to have some quick and painless, easy-to-serve desserts ready to go. Before my work fam took off, I tempted their already-full stomachs with a baked lattice cherry pie, macarons, mini cheesecakes, gluten-free brownies, and apple crumble blossoms.

The macarons tasted just as good as they looked, and the finger foods helpfully shaved off some cleanup time later. Some people even loaded their brownies with extra creamy whipped cream (myself included). IMHO, it was the perfect finishing touch to a great meal.
After everyone left, I exhaled deeply before I started cleaning. Had I really just served a whole Thanksgiving meal (with Dana's much-needed help)? I definitely took several shortcuts along the way, but why wear yourself thin when you can both cook great food AND still enjoy the fruits (and meats and carbs and berries) of your labor?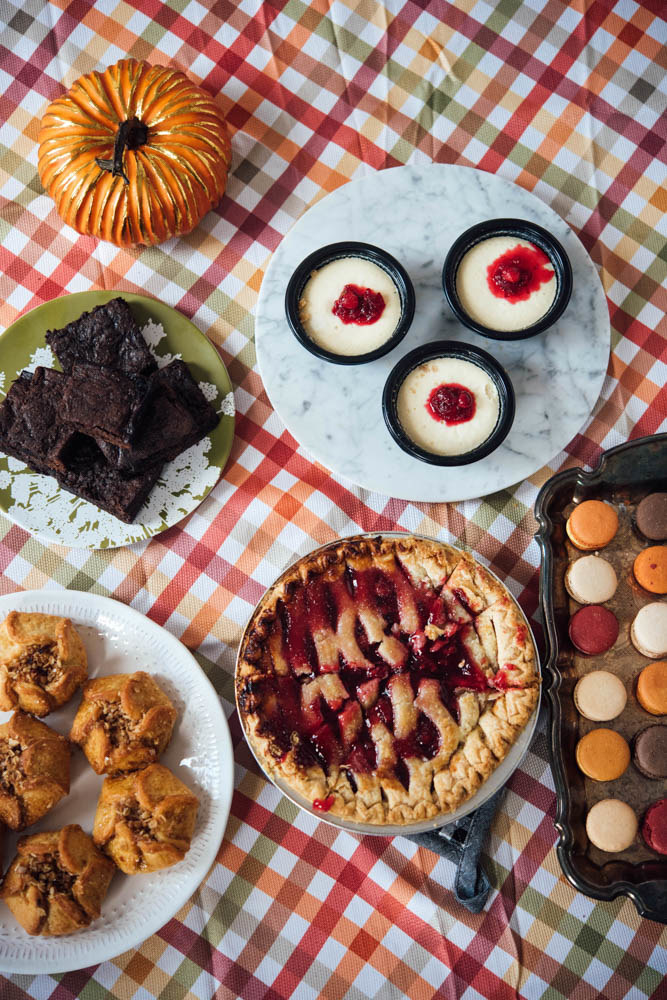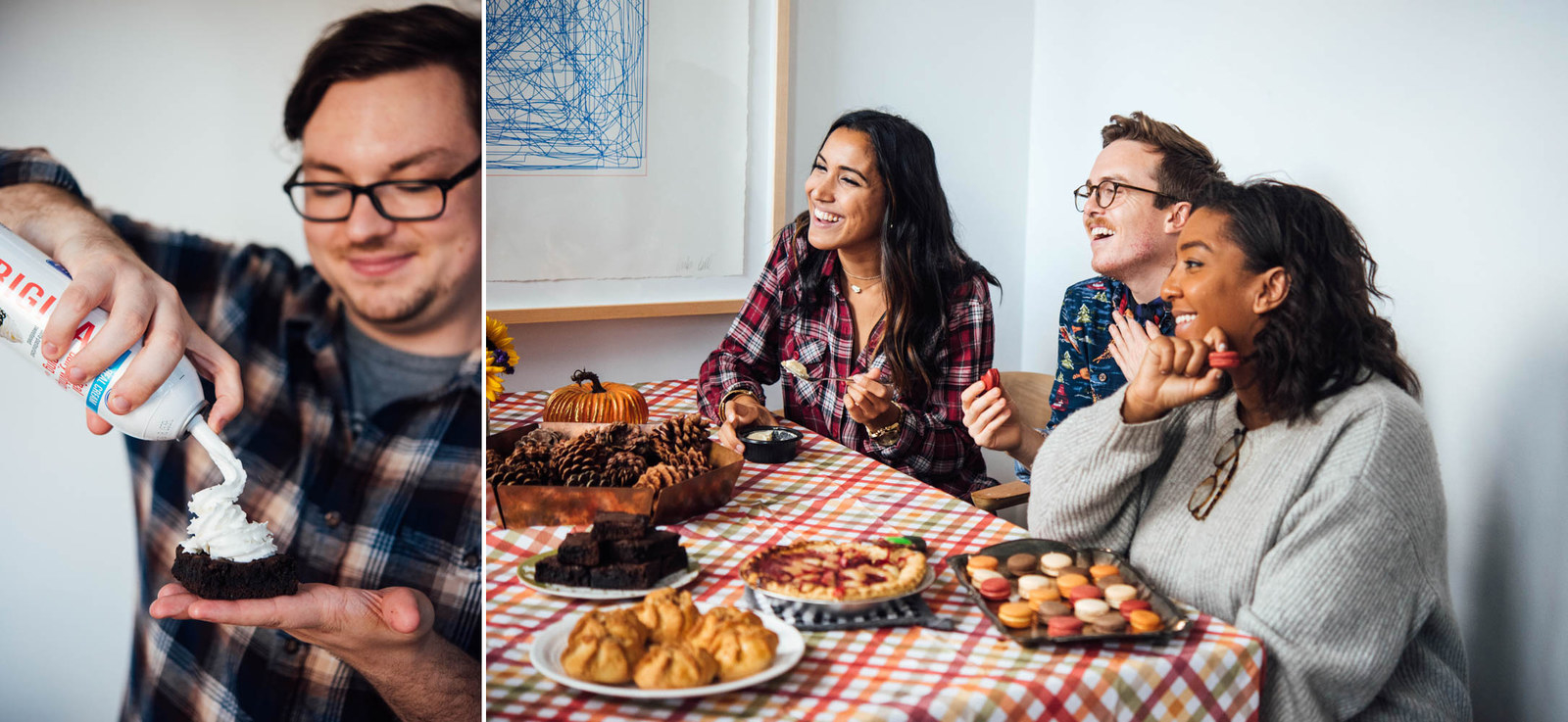 I'm still far from being the crackerjack chef I imagine in my head (what even is crown roast? Whatever, Rossini's "Barber of Seville" is too on the nose, anyway), but my confidence in the kitchen grew considerably after this challenge, and I'm excited to host another party soon.

But maybe next time I'll make it a potluck.
Photography by Taylor Miller / BuzzFeed © 2018
Design by Victoria Reyes
From work fam to chosen fam to biological fam, Kroger is there for all your Turkey Day needs.