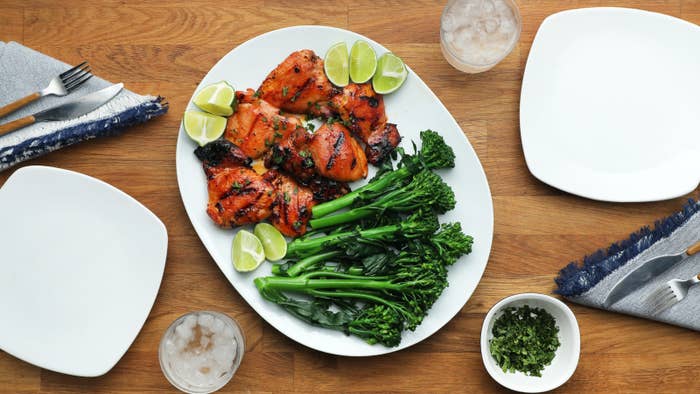 GRILLED HOT HONEY CHICKEN
Servings: 4
INGREDIENTS:
1 tablespoon Kroger​®​ unsalted butter
1 tablespoon red pepper flakes
3⁄4 cup Kroger​®​ ​clover ​honey
1 clove garlic, smashed
1 tablespoon paprika
2 teaspoons Simple Truth Organic​™​ ​apple cider vinegar 11⁄2 pounds Simple Truth™ Chicken Thighs
1 lime, sliced into wedges
Minced cilantro, for garnish
PREPARATION:
In a small saucepan over medium-low heat, melt butter. Add red pepper flakes and let cook until fragrant, about 1 minute. Add honey to the pan and stir to combine. Let simmer on low heat for a few minutes until the honey is spicy to the taste. Add garlic, paprika, and apple cider vinegar. Let simmer gently for 2–3 more minutes. Remove from heat and strain into a small bowl.

Season Simple Truth Chicken Thighs on both sides with salt and pepper.

Preheat grill to medium-high heat (the thermometer should reach about 400°F) and make sure grill is oiled.

Place chicken thighs on grill. Close the lid and grill on the first side for 4–5 minutes. Flip chicken and brush with the hot honey. Grill on the second side for another 4–5 minutes, then flip again and brush with hot honey. Continue to brush until chicken is cooked through. Remove chicken from grill.

Garnish hot honey chicken with cilantro and serve with limes.