Grilled Cauliflower Steaks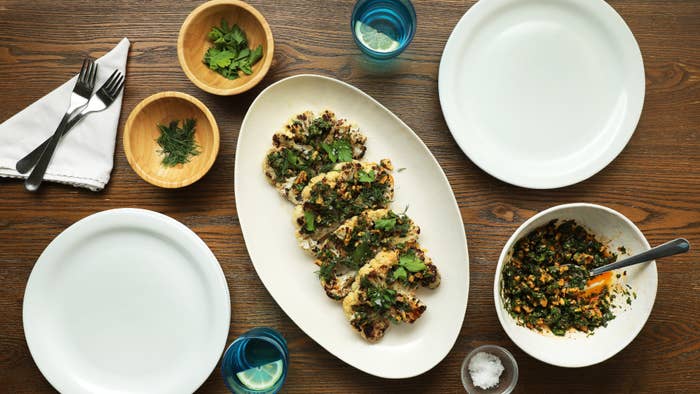 Grilled Cauliflower Steaks
Servings: 4
Ingredients:
1 cup parsley, minced½ cup toasted walnuts, chopped½ cup olive oil, plus more for grilling 1 garlic clove, grated 1 teaspoon smoked paprika 1 tablespoon lemon zest1 teaspoon kosher salt, plus more for seasoning cauliflower ½ teaspoon ground pepper, plus more for seasoning cauliflower 1 teaspoon crushed chili flakes 2 heads Simple Truth CauliflowerDill sprigs, for garnish Parsley leaves, for garnish Flaky salt
Preparation:
Combine parsley, walnuts, olive oil, garlic, smoked paprika, lemon zest, 1 teaspoon kosher salt, ground pepper, and chili flakes in a small bowl. Mix until combined. Set aside.
Slice cauliflower into ½-inch steaks and remove leaves.
Heat grill to medium heat.
Brush both sides of the cauliflower steaks with olive oil, then season with salt and pepper.
Place on grill and cook until golden on both sides and fork-tender, about 10 minutes on each side. If they are not fork-tender yet, close the lid and cook for another few minutes. Transfer to a platter.
Drizzle walnut sauce over cauliflower and garnish with fresh dill and parsley leaves. Sprinkle with flaky salt and serve.