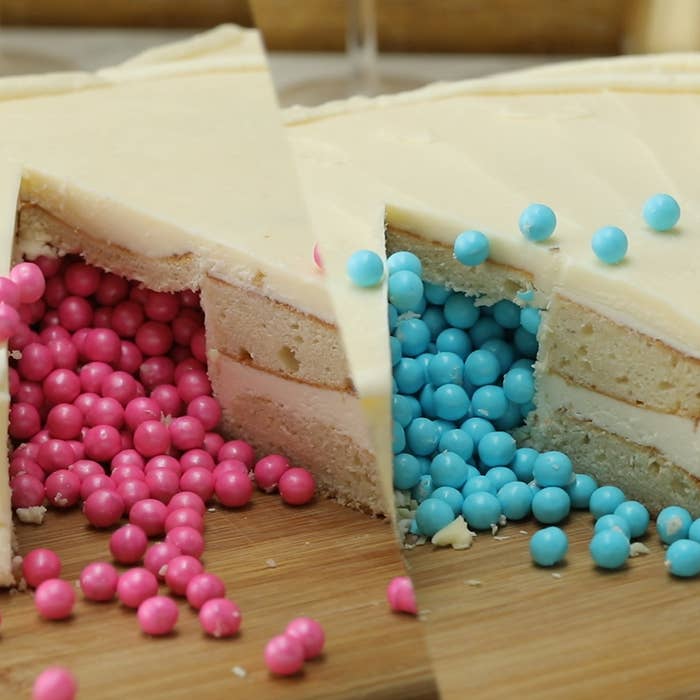 KROGER GENDER REVEAL CAKE
serves 24
INGREDIENTS:
2 cups Simple Truth Organic Unsalted Butter, at room temperature

2¾ cups granulated sugar

2 teaspoon salt

8 egg whites

1 tablespoon plus 1 teaspoon vanilla extract

1¾ cups milk

2 tablespoons apple cider vinegar

1 tablespoon plus 1 teaspoon baking powder

2 tablespoons cornstarch

4 cups plus 2 tablespoons all-purpose flour

Gender-colored candy


VANILLA BUTTERCREAM
4 cups (2 pounds, 8 sticks) unsalted butter, at room temperature

7½ cups (2 1-pound boxes) powdered sugar, sifted

4 tablespoons half-and-half or whole milk

1 tablespoon vanilla

1 teaspoon salt
PREPARATION
Preheat oven to 325℉.

Combine milk and vinegar, then
set aside.

In a large bowl, cream butter
and sugar until light and fluffy. Add whites slowly, making sure to mix
thoroughly before adding more.

Add the milk mixture slowly.
Mixture will look curdled by the end.

In a large bowl, sift flour,
baking powder, cornstarch, and salt.

Add flour mixture in thirds and
mix well until fully incorporated.

Pour batter into greased, lined
9 x 13–inch cake pans. Bake 45–55 minutes until a toothpick comes out
clean.

Allow cakes to cool completely
and freeze 30 minutes before trimming and leveling the cakes (if needed).

Prepare the frosting: Using a
hand mixer, cream the butter until light and fluffy. Add 1 cup of powdered
sugar at a time and mix well before adding the next cup. Add the vanilla
and salt. Mix well, then add the rest of the powdered sugar and continue
to mix. Add ¾ of the milk and beat well. Add remaining milk if the
frosting is too thick.

Once the cakes are cooled and leveled,
begin building.

With a simple template, cut off the
onesie collar and leg holes on both cakes. Reserve the leg-hole cuts to
make sleeves.

On the bottom layer, hollow out
the center of the cake, being careful not to cut more than halfway. Crumb
coat the entire layer and spread enough frosting for the center of the
cake. Set in refrigerator to chill. For the top layer, cut the same hole,
but this time all the way through. Take the center cut out and cut in half
horizontally. Save the top half for a "lid." Top the cake with the second
layer. Crumb coat the cut lid and hollowed-out portion of the cake.

When everything is set, begin
building cake. Fill with gender candy. Place cake lid to seal the candy.

Take reserved cake for the
sleeves and build them on the sides. Crumb coat the entire cake and place
in refrigerator for 30 minutes.

Finish cake with remaining buttercream
and decorate! Allow to cool for at least 30 minutes before serving and
enjoy!