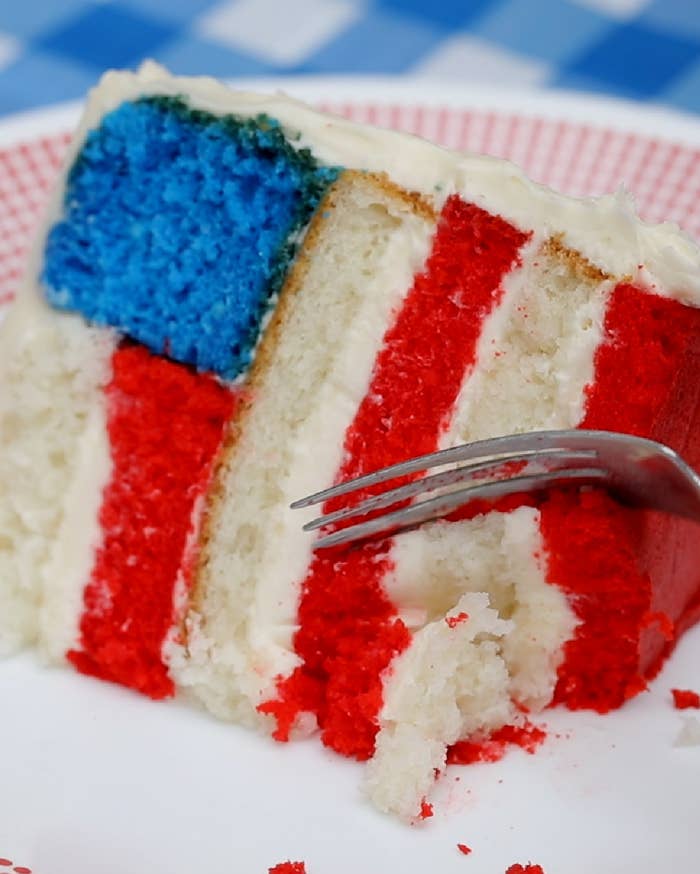 FLAG CAKE
CREAM CHEESE FROSTING
1 1⁄2 cups of butter (3 sticks), room temperature

32 ounces Simple Truth Organic Cream Cheese (3 package), room temperature 9 cups of powdered sugar

1 tablespoon of vanilla extract

11⁄2 teaspoons salt

3 boxes white cake mix 3 3⁄4 cups water

1 cup vegetable oil

1 dozen egg whites

Red and blue food coloring

PREPARATION:
Preheat oven to 350oF.

Grease and line the bottoms of the 8-inch cake pans with parchment.

In three separate medium-sized bowls, combine (1) box of cake mix, 11⁄4 cups of water, 1⁄3 cup of vegetable oil, and 4 egg whites to each box of mix.

With food coloring, color one bowl red and one bowl blue to your desired color.

Pour batters in each pan and bake until the middle springs back when gently pressed and toothpick comes out clean when inserted, 34–38 min.

Allow cakes to cool completely and place in freezer for 30–45 minutes to make cutting the layers easier.

Make the cream cheese frosting: Sift powdered sugar and set aside. In a large bowl, place room-temperature cream cheese and butter and beat until smooth. Add vanilla and salt, then beat again. After everything is fully incorporated, begin adding powdered sugar 1 cup at time, making sure the sugar is fully incorporated before adding the next cup.

Prepare the cakes: Level and cut the red and white cakes into three even layers, then place back in freezer. This will make building the cakes easier.

With a 4-inch cutter, cut out from the center of the blue cake. This will not be used for the finished flag cake.

With the same cutter, cut out a 4-inch layer of the third layer of the red and white cake. This will be used to fill the center of the voided blue cake. The remaining of the red and white cake will not be used for the final cake. Keep chilled for easy cake building.
Build the cakes: Layer the full red and white layers with a thin layer of frosting in between, about 3⁄4 a cup.
Add the blue layer with the center missing and insert red and white layers, alternating the colors. Crumb coat the entire cake and shill 30 minutes before final coat of frosting.
Add remaining cream cheese frosting as desired and enjoy!