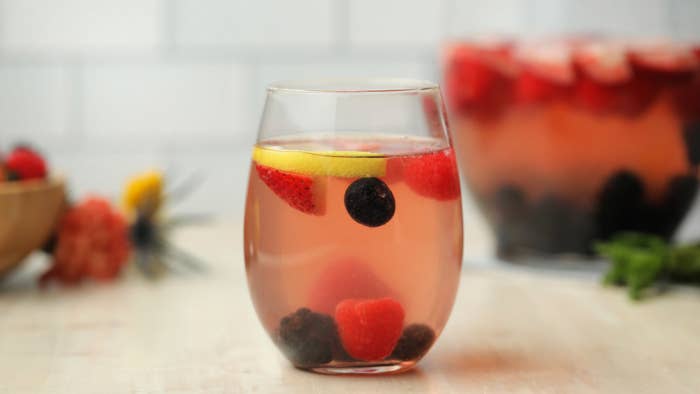 Berry and Rosé Summer Sangria
Prep: 10 minutes
Cook: 10 minutes (plus 1 hour refrigeration)
Total: 1 hour 20 min
Serves: 8
Difficulty: Easy
Ingredients:
Simple Syrup
½ cup sugar
½ cup water
4 strips lemon rind
2 mint sprigs

Sangria
Half batch:
⅔ cup raspberries
⅔ cup blackberries
⅔ cup Simple Truth Organic Blueberries
1 cup quartered strawberries
1 bottle Simple Truth Rosé
½ cup lemon juice
2½ cups soda water

Directions:
Simple syrup: In a small pot over high heat, combine sugar, water, lemon rind strips, and mint sprigs. Stir to dissolve sugar and bring to a simmer. Let simmer for 7–10 minutes. Let cool, then remove lemon rind and mint sprigs.

Sangria: In a pitcher combine berries, simple syrup, Simple Truth rosé wine, and lemon juice. Stir and refrigerate for at least an hour and up to 8 hours. Before serving, stir in soda water. Enjoy!