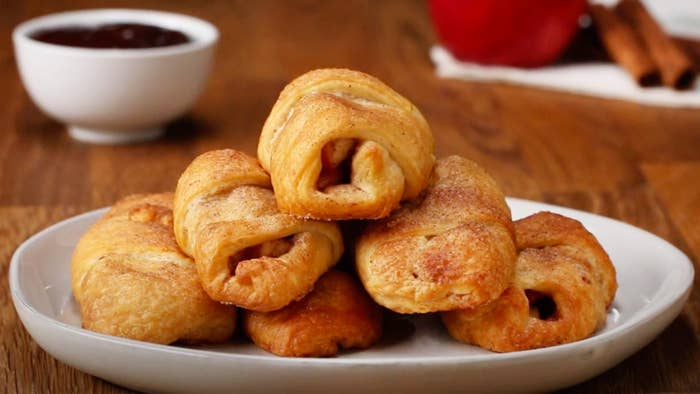 Apple Roll-Ups
Servings: 8 roll-ups
Prep time: 20 minutes
Cook time: 20 minutes
Total time: 40 minutes
Ingredients:
4 tablespoons granulated sugar
2 teaspoons cinnamon
2 Simple Truth Organic Gala apples, cored and diced
1 teaspoon cornstarch
¼ teaspoon kosher salt
1 (8-ounce) package refrigerated crescent rolls
1 tablespoon unsalted butter, melted
Spiced Chocolate Dipping Sauce
¼ cup heavy cream
1 tablespoon butter
1 teaspoon cinnamon
¼ teaspoon kosher salt
½ teaspoon cayenne (optional)
¾ cup semisweet chocolate chips
Preparation:
Preheat oven to 350ºF.

Line a baking sheet with parchment paper.

In a small bowl combine the sugar and cinnamon. Remove 2½ tablespoons of the cinnamon sugar mixture and set aside for later.

Combine the Simple Truth Organic Gala apples, cinnamon-sugar mixture, cornstarch, and kosher salt in a medium bowl. Toss to combine.

Roll out the crescent roll dough and separate with a knife.

Press the wide part of the crescent roll (bottom of the triangle) with your fingers to create a larger surface area to fill with apples.

Add a scant ¼ cup of the apple mixture to the wide part of the crescent roll and gently roll up.

Using a pastry brush, brush the top of each apple roll-up with the melted unsalted butter and top with approximately 1 teaspoon of the reserved cinnamon-sugar mixture.

Bake for 20–25 minutes or until the apple roll-ups are golden brown.

Spiced Chocolate Dipping Sauce: In a small microwave-safe bowl, microwave the heavy cream, butter, cinnamon, kosher salt, and optional cayenne in 30-second intervals until the butter is melted.

In a medium bowl, add chocolate chips and pour heated heavy cream mixture over the top. Let sit for about 60 seconds, then mix together with a rubber spatula until combined.

Cool the apple roll-ups slightly before serving.

Place the spiced chocolate dipping sauce in a small bowl and serve with the apple roll-ups.

Enjoy!