You probably never imagined that Max Joseph from Catfish would be directing a movie starring Zac Efron and Emily Ratajkowski about an aspiring DJ — a music-obsessed 23-year-old who's trying to find his signature sound so he can create one massive track that will change his life. But he did — and it's actually really damn good.
Since this movie is all about the ~tunes~, we sat down with the cast and got into their music-loving heads — in which Zac Efron revealed he likes to sing Michael Jackson in the shower and he actually caused IRL neighbor Charlie Day to get mad over playing his music too damn loudly. Here's what went down.
Were you fans of electronic music before the film, or did you guys have a new appreciation for it afterward?
Zac Efron: I definitely have a newfound appreciation for it. Especially the production of music and how complicated those programs are. It really is magic what these guys do. It's impressive.
Emily Ratajkowski: I knew it just from the, like, you know, Daft Punk, and Justice, that's when I was in high school. And also electronic music is in every pop song now— look at the top 10 songs in the country.
Max Joseph: I was a big fan of electronic music since the '90s. I've been a fan of it for a while, so it was kind of a dream come true to be able to make a movie that could use — I think we have over 50 songs in the movie, so it was awesome. I was like a kid in a candy store.
What's the craziest thing you've ever experienced at a music festival?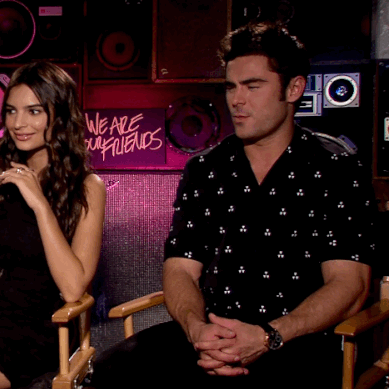 ZE: Umm, one time, at Coachella… No, I don't know. [laughs]
ER: I mean, look, you know that feeling of, like, running on the polo fields at Coachella, or South by Southwest — it's like an amazing, exhilarating feeling, and we definitely tried to capture that in the movie.
ZE: Yeah.
MJ: I was at Coachella. I saw Arcade Fire perform the first time they were there—
ZE: Oh, I was there that time!
ER: I was there too. We didn't even know, guys!
ZE: We were at the same Coachellas!
MJ: It was, I mean — they sung "Wake Up," that was their first song, and when it got to the "uhh-uhh," like everyone sung it at the same time, and it lifted... I don't know, it was crazy, I think everyone had an eargasm or something.
ZE: Yeah.
What song do you think is *officially* the song of the summer?
MJ: Easy, Gryffin Remix of "Desire" by Years & Years.
ZE: Sweet. Good choice, man.
What song would you be found singing in the shower?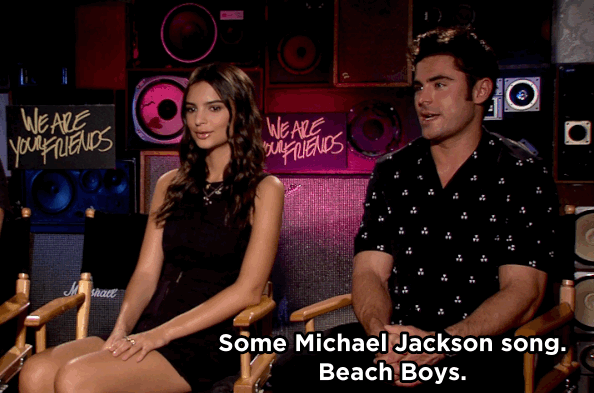 ZE: Some Michael Jackson song — I don't know, Beach Boys.
ER: This is overwhelming me! Um, maybe, like, The Beatles.
How did you prep to be a DJ in this film?
ZE: I worked a lot with DJ Them Jeans — he was my coach and he taught me how to use the decks. We had so little time, [but] I technically learned how to do a whole set. I could transition and add effects and have fun and play around. But actually the part that I had the most fun doing was learning stylistically what these guys do to make it entertaining. Alesso showed me, like, how to really feel the music and get the crowed pumped up. You know when you transition tracks, he just jumps up in the air and throws his arms — just like, have fun, like you're the show — and that shows the audience that you're into it. Really on the deck it's just a tiny twist, but he turns it into an event, and I thought that was really cool.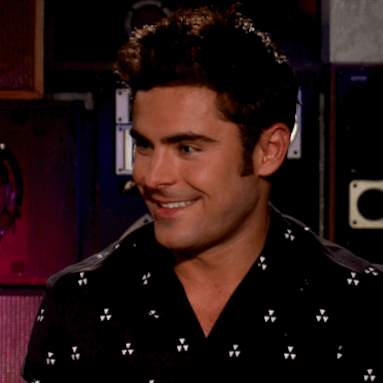 Did you get any equipment for home?
ZE: I did — I got brand-new Pioneer decks and two brand-new monitors and they are SO LOUD. Like, I was not prepared. Neither was Charlie Day, my neighbor. Speakers face his house, so, even on their lowest setting, my phone would start ringing and he was like, I have a baby, dude. But yes, that was it, I would sort of just sit and chill and I had a few full USBs from Jason and I would sit and kinda spend time going back and forth until I got so lost and tired that I would pass out. There's a lot of math going on, matching BPMs.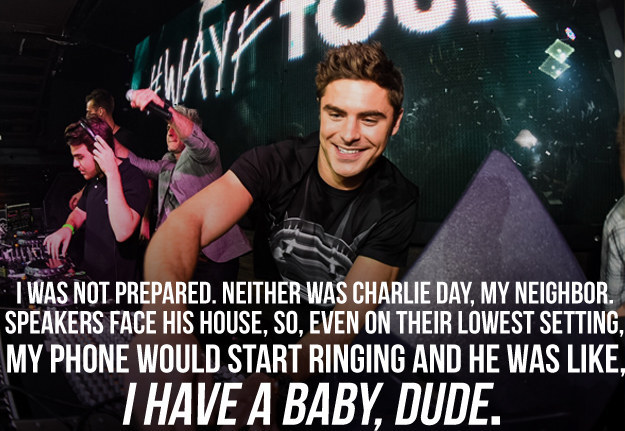 What was it like DJing in front of that large crowd?
ZE: I was actually nervous. Like, legitimately nervous for that scene. We threw a real block party.
MJ: We had Nicky Romero and Dirty South headlining and then Dillon Francis showed up. But we couldn't control the crowd, we were kind of at their mercy in terms of how they wanted to react to Zac, and we just kind of threw him up in front of the crowd for like two 20-minute segments, and for one of the those segments the generator in the whole block party died three times. The crowd was really patient and they hung in there, but we totally thought that they were gonna be, like, That's it — like, they're gonna walk away.
ER: And it was the last day of shooting, too, so the pressure was on.
MJ: Yeah, it's like, we lose Zac after this, and that's it. We won't get that scene, oh well, it's not like it's the most important scene in the movie!
ZE: But to their credit they hung in there. Dillon Francis came on stage and we hyped them up and they stayed, and after that we had more cool people come out, but it was fun. I was genuinely nervous, though, to get out there and spin in front of people. It's a crazy feeling — it's like doing a play, that moment before you walk on stage. Butterflies.
Did you have any input in the soundtrack or the songs that were in the film?
ER: Some of it was already in the script, and also Max had made us a playlist after we got cast in the film, so when I was driving to work that was always what I listened to. And definitely a lot of the songs that were on the playlist and also in the script we listened to while we were shooting, which is pretty amazing. We listened to the actual songs you hear in the movie at the same time of filming those scenes, which is cool.
We Are Your Friends is in theaters everywhere Friday, Aug. 28. The film's soundtrack is now available on iTunes.