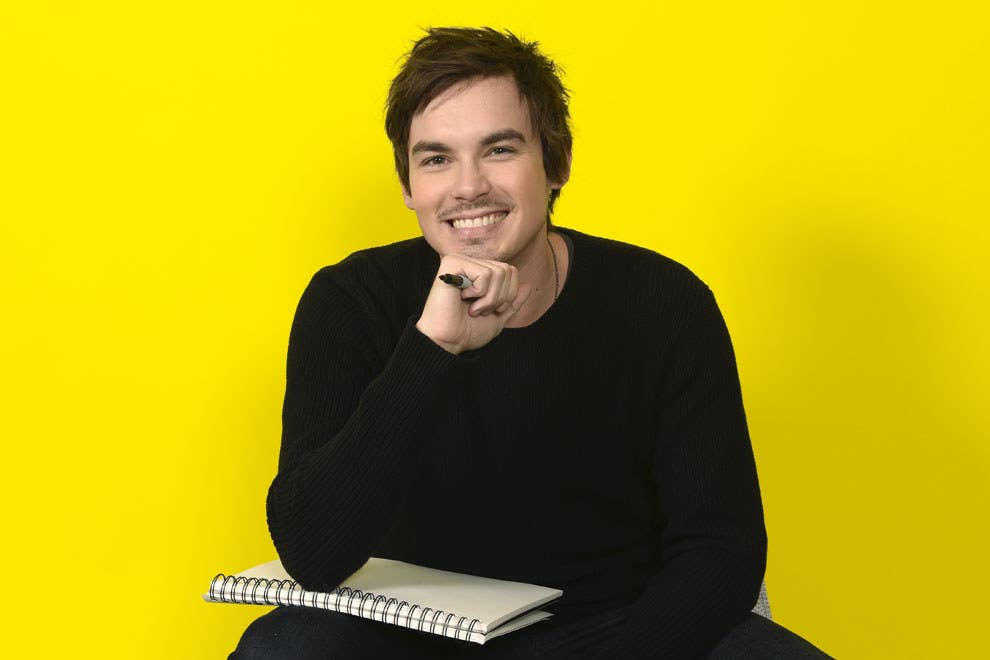 It was a really dark time when Tyler Blackburn left Pretty Little Liars to star in his own show Ravenswood, but now that he's back and #Haleb can live on, it's like the world is finally right again. With our PLL addiction at an all-time high, we had Tyler stop by BuzzFeed New York to grill him all about what the cast is *really* like IRL — everything from the most flirtatious member on set, to the person who's most likely to be taking selfies.
Get your PLL fix now, and tune in tomorrow night for the dramatic winter premiere as the Liars try to prove that Alison killed Mona.
1. Who is most likely to pull a prank on set?
Tyler Blackburn: Hers are subtle, but effective. Nothing crazy, but just makes you laugh throughout the day, you know?
2. Who do you think "A" is?
TB: I literally don't know. I stopped thinking about it because I just was constantly disappointed. Marlene King. She would make herself "A"!
3. Who's the most fearless on set when it comes to stunts?
TB: Kinda true though, actually. I think Troian [Bellisario] as well. But I think that makes me the cooler [one]. Our show is fairly subtle, but we've all had to do some crazy stuff. There's something coming up having to do with bow and arrows. A lot of running and ducking and throwing of things.
4. Who's the best at improv and cracking jokes?
TB: Um, were not really allowed to improv. (laughs) But he believes he's very funny, therefore it's endearing.
5. Who gets scared the easiest?
TB: Oh, that's a toss up. They both do. Lucy [Hale], she falls to the ground immediately. There is video evidence of this. When she gets scared, her first instinct — she doesn't scream — she literally falls on to the ground. Shay [Mitchell], she gets very Canadian with her accent and she curses a lot and screams. She's afraid of rats, I think it is? And there have been multiple pranks pulled on her having to do with them.
6. Who has ever had an on-set ~crush~ or is the most flirtatious?
TB: I don't know if this is like an intentional flirtatiousness or just the way she is.
Really? I thought it'd be Ashley.
TB: Oh no, Ashley [Benson] will give everybody a hard time. Until they prove that they're, like, worthy.
7. Who are the closest friends on set?
TB: They are. What's that name? ButtahBenzo? What is that?!
Because Shay's skin is like buttah, so buttah and Benzo.
TB: Are you joking?
8. Who's most likely to be found napping in between scenes?
TB: I've done that quite a few times, but I would say [Ashley] for sure. She's just like a perpetual child, but in, like, the cutest way though, you know? She just like, it's like nap time, and then temper tantrums, and like, "I'm hungry!" and I'm just like, Oh my god.
9. Who's most likely to be found at craft services snacking between scenes?
TB: Pretty ironic, since you would not know it based on the bod. He has a six-pack at all times, and he's, like, always eating a doughnut. Go fuck yourself.
People are very thirsty for Keegan.
TB: Thirsty! Are you speaking for yourself?
I mean, maybe. If you look at his Instagram at his comments, it's in-sane.
10. Who's most likely to steal the PLL golf cart and go drive around set?
TB: This is a team effort, and we've done this a few times. Literally like the PA will be like, "WHERE DID YOU GO?" We're like, "Oh we just went for a little joyride!" We're kind of troublemakers. We're really the biggest troublemakers on set. But she instigates it all; I want that known. And she's just so cute that I can't say no.
11. Who's most likely to take home a piece of their wardrobe?
TB: For sure. She doesn't ask, she's just like, "I like this, I'm taking it."
12. Who's most likely to start a dance session at a PLL cast party?
TB: We had that! This might be hard to believe as well, but it's true. She gets down. I've seen her in different forms. The most recent one there was a lot of hair flipping. The way she dances is, like, is this Burning Man? Like she's at a rave, I'm not kidding. It's pretty awesome.
13. Who do you hang out with most often?
TB: I'd say so. I mean, we film a lot together and we hang out. I do hang out with other people, but, she's in my life most unfortunately. We have a mutual love-hate relatioship. And the hate is like not even hate. I don't know; we're too close.
14. Who's the best PLL couple?
TB: Is this — that's a question?
15. Who's most likely to laugh the most during takes?
TB: Always. That's actually a discussion we'll have sometimes. Like when we can't stop laughing it's literally, like, we just can't look at each other. We'll look like right past somebody and on camera it'll kinda look like we're looking at each other, but yeah.
16. Who's most likely to take a bunch of selfies on set?
TB: Is that how you spell it? It's definitely the truth though, it's like — (pretends to take selfies) — I'm not kidding. In good light, I'm like, "You guys! Why? And how do you have patience for yourself?"
17. Who's most likely to start randomly singing on set?
TB: It just depends on what I'm feeling at the time. I feel like every other day I find a new song. I really like Pandora because you get to listen to new stuff. My go-to karaoke song is "Santeria" by Sublime.
Tune in to the winter premiere of Pretty Little Liars on Tuesday, Jan. 6, at 8 p.m. ET on ABC Family!