Mandy Moore and Shane West recently took to Twitter to celebrate the 15th anniversary of their sob-inducing film A Walk To Remember.
After sharing their favorite moments on set and answering fan questions, they revealed that a much-needed reunion was in the works.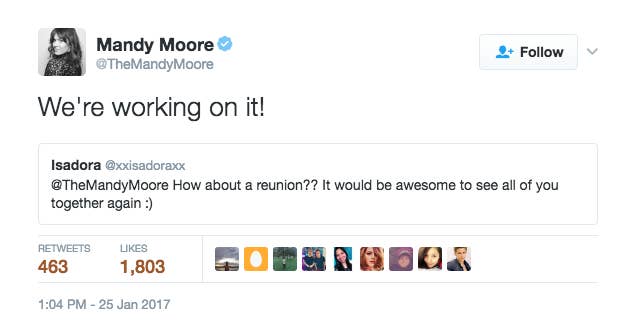 Mandy's heart is now full just like the rest of ours.
Welp. These 2 gentlemen are still some of the best around. Loved catching up with ya, @theshanewest and @adamshankman. My ❤ is full. #awalktoremember #reunion
And director Adam Shankman confirmed that their love is, indeed, still like the wind.
😭 😭 😭
Over 3 hour catch up dinner with @mandymooremm and @theshanewest . After 15 years their love is still like the wind: i cant see it but i will always feel it. Love u guys soooo much. #awtrreunion #AWalkToRemember #proudpapa.