Taylor Swift Writes Heartwarming Message To Fan Whose Mom Died
"I love you so much and can't imagine what you must be feeling today."
Taylor Swift is well known by now for having an inspiring, close relationship with her fans — from sending a fan a curated break up playlist, to actually showing up at one's bridal shower.
But her latest words of wisdom for a grieving fan might be the most heartwarming and emotional yet.
Swiftie Kaileen sent Taylor Swift a Tumblr message on Mother's Day, speaking about the difficult time she's been having dealing with the recent loss of her mom:
And Swift — who has the same loving bond with her own mother — responded to Kaileen with an incredibly beautiful, sweet message of love and support: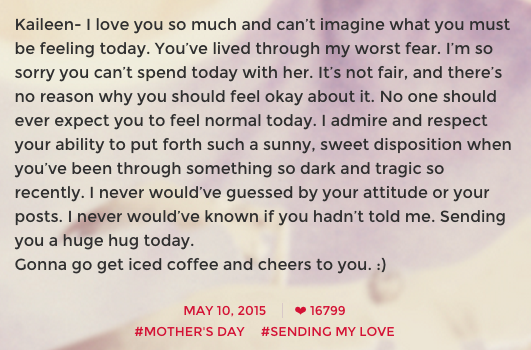 Which naturally Kaileen was ecstatic about, even making the comment her new iPhone background:
And she took to Tumblr to explain just how much that heartfelt message meant to her:
"Missing my mom today but Taylor made there be no pain. Remembered the happy memories :)," she said in a Tumblr post. "Taylor is the most amazing human being in the planet, I can't believe the love I am feeling right now I love her so much."
It's all perfect, and heartbreaking, and beautiful.