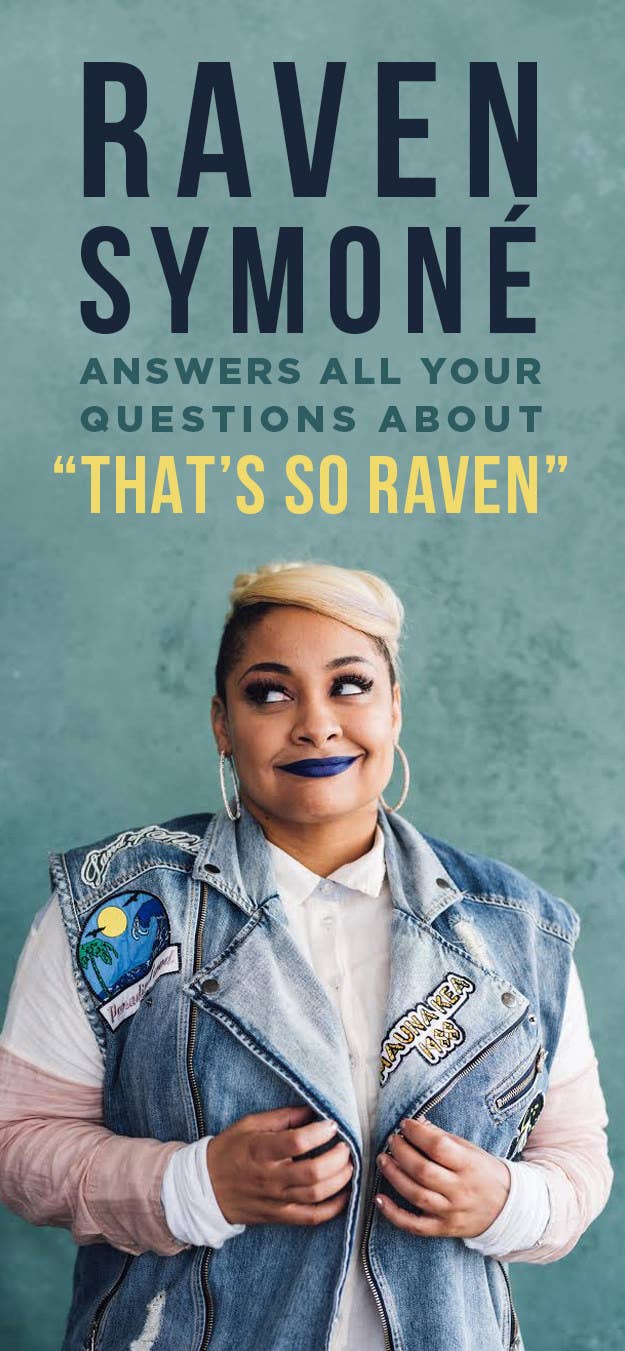 Let's just get straight to the point: Raven Baxter — and all of her crazy visions, insane antics, and outrageous costumes — was pretty much the highlight of the early 2000s. And while it's been a decade since That's So Raven graced our TV screens, things are finally starting to look up, because the iconic onscreen duo Raven-Symoné and Anneliese van der Pol are back once again with the brand-new spinoff Raven's Home.
In celebration of the new series, Raven stopped by BuzzFeed New York to answer everything you've always wanted to know about her iconic roles in That's So Raven, Zenon: Girl of the 21st Century, and much more. Here's what we learned.
What was your favorite episode to shoot on That's So Raven, and another that makes you cringe?
Which cast member were you closest to on That's So Raven?
How would you say you and your character Raven Baxter have changed between That's So Raven and Raven's Home?
RS: Well, Raven Baxter has changed: She has two kids, they're twins. She has a job, she's divorced from Devon, and she's a grown woman. Raven-Symoné
— I came out and I'm an artist, I'm a painter.
Who came up with Raven's vision face?
Will Stanley be on Raven's Home chasing after the newly divorced Raven?
If you had to choose between "Oh snap!" or "Ya nasty," which one would you give up?
RS: I'd not say "Ya nasty" anymore. Because it's like a petite couture word, it has to be worthy.
If there's a Princess Diaries 3, would you consider being a part of the film as Princess Asana?
What's your favorite quote or line from That's So Raven?
What was your overall favorite thing about being a part of That's So Raven?
RS: It would have to be the camaraderie we had behind the scenes. We had SUCH a fun time. I don't know how many cakes I've had in my face and hair, all of the costumes we had, and the fact that we were a family. And it just goes to show we were because a lot of the crew, hair and makeup team and everyone came back for the installment of Raven's Home.
What was it like filming Zenon: Girl of the 21st Century?
That's So Raven discussed issues like body-shaming. Will similar issues also be presented on Raven's Home?
RS: Yes, similar issues will be presented as the seasons continue. As for this season, we touch on some topics, but not as in-depth as that one, not as in-depth as body-shaming. We touch on wearing makeup when you're not supposed to and stealing it, ways of mothering, ways of parenting, and lots of other topics with the kids. But we're gonna dive into the real ones if we get a second season for sure.
Can you think of your favorite outrageous outfit from That's So Raven?
Who was your favorite onscreen boyfriend?
RS: Let's see, my favorite onscreen boyfriend would have to be Devon, only because he was like my friend too. And we were cool, and we work together now, and we've always kept in touch. He's cool peoples. He's not, like, weird. It's okay. I like him.
How is it different going from playing a teenager to a mom on a show?
Did you ever improvise lines in That's So Raven, or will you in Raven's Home?
RS: I did not improvise that much on That's So Raven in the very beginning. As we all got comfortable with who Raven Baxter was and I understood the guidelines of what I could and could not say on Disney, there were ad libs such as "Ya nasty" and "Oh snap!" As I go into Raven's Home, it's funny because I tell the kids, "You can't ad lib yet!" And they're like, "Why?" And I'm like, "I don't know, it just is, it works, I promise! I hate it too, but do it!" So that's just how it is right now, it's fun, and I'm just trying my best not to ad lib. They used to call me AW (as written), 'cause I just wouldn't do it. And now my memory's real bad, oh, I feel so bad for them.
Be sure to catch Raven in Raven's Home every Friday at 8 p.m. ET on Disney Channel!