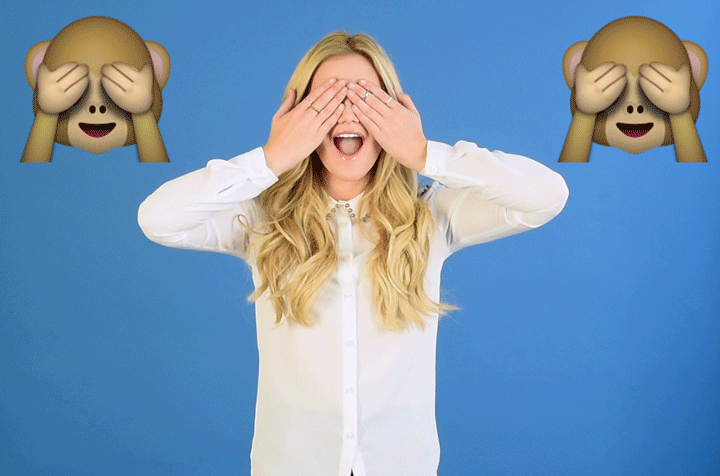 Olivia Holt currently stars as the high-spirited and ambitious Lindy Watson on Disney Channel's original series I Didn't Do It, is set to star opposite Renee Zellweger and Greg Kinnear in her first feature film Same Kind of Different as Me, and if that wasn't enough, she plans to release her debut album later this year.

She's basically doing it all, but that doesn't mean she can't relate to those everyday awkward situations we find ourselves in. She stopped by BuzzFeed New York to re-create 19 GIFworthy awkward moments — here's what happened.
When you're shooting live and you forget your lines.
When someone catches you taking a selfie.
When someone compliments your style.
When you sing the wrong lyrics to a song.
When you're stalking a crush's Instagram and you accidentally heart the picture.
When you've been binge-watching a series for the last 10 hours and then they kill off your favorite character.
When you eat a whole package of Oreos and then realize the label says "family size."
When you give someone your phone and they start scrolling through all of your pictures.
When you're washing the dishes and someone adds a dish.
When your friend says, "That's not your drink" after you've already taken a sip.
When you wake up in the middle of the night and see that you still have three hours of sleep left.
When you drop a pizza slice and it lands cheese-side down.
When you look up your cold symptoms on WebMD.
When your ex says that you're cute.
When you spray yourself in the eye with perfume.
When you witness someone slip on a banana peel.
When you realize you forgot to lock your front door.
When you get the perfect burrito and then you accidentally drop it.
When you find $5 in your jacket pocket.
Watch Olivia Holt in I Didn't Do It Sundays at 9 p.m. ET on Disney Channel.