1.
Seth Rogen made us all feel old:
2.
Ryan Seacrest had an existential moment:
3.
Jamie Campbell Bower had some thoughts about Kale:
4.
Gina Rodriguez had the perfect advice for summer:
5.
Bette Midler had some Hocus Pocus thoughts:
6.
Viola Davis is having a girl power weekend:
7.
Reese Witherspoon celebrated her love for donuts:
8.
Cole Sprouse did some dog year math:
9.
Wiz Khalifa shared some smoke session rules:
10.
Kim Kardashian showed off this adorable snap:
11.
Demi Lovato shared some wisdom:
12.
The Rock made a perfectly cheesy joke: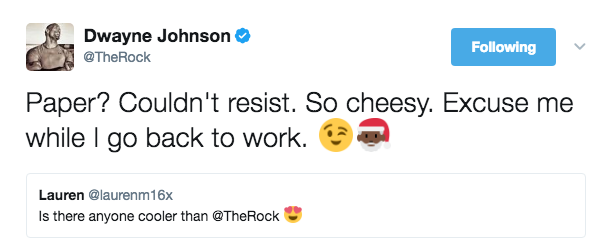 13.
Chrissy Teigen had some thoughts about nachos:
14.
Shay Mitchell, Ashley Benson, and I. Marlene King had a reunion:
15.
And Ariana Grande announced her One Love Manchester benefit: