1.
Gina Rodriguez was blessed by Bey.
2.
Lady Gaga showed off her new tattoo.
3.
Loni Love related strongly to Rihanna.
4.
Bette Midler loved on Adele.
5.
Anna Kendrick had an epiphany.
6.
Diplo said what we all were thinking.
7.
Pink celebrated an iconic loss.
8.
Elizabeth Banks dropped some knowledge.
9.
Joe Jonas welcomed a new addition to DNCE.
10.
Colin Hanks was all of us.
11.
Zendaya was overwhelmed by the queen.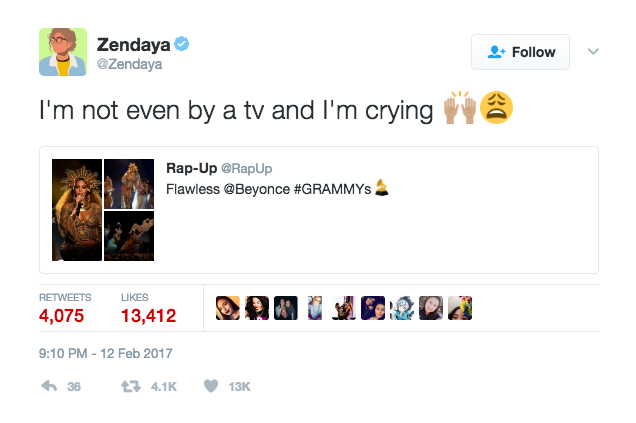 12.
Colton Haynes got emotional over Lady Gaga.
13.
Ashton Irwin had a milkshake.
14.
Chrissy Teigen was overcome with emotion.
15.
Zac Efron was Chance The Rapper's number one fan.
16.
Octavia Spencer was mesmerized by Bey.
17.
Christina Perri fangirled over Ed Sheeran.
18.
Don Cheadle celebrated Adele.
19.
George Takei posed this important question.
20.
Chloe Grace Moretz was over the fashion.
21.
Issa Rae supported Chance.
22.
And Rowan Blanchard bowed down to the beybes.