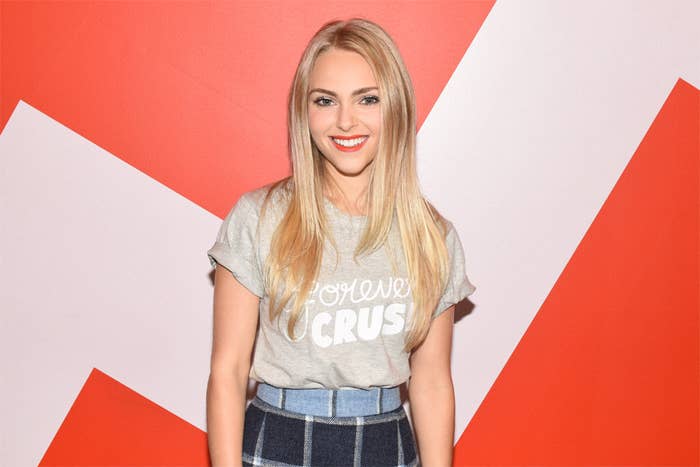 You might know AnnaSophia Robb from the big screen, but the talented actress also devotes a ton of her free time to philanthropic efforts. In honor of her work with the "50 States for Good" campaign, we grilled the star with 50 rapid-fire questions!
1. Favorite color?
Sunflower orange.
2. Favorite pizza topping?
Mushroom.
3. Favorite boy band?
Backstreet Boys.
4. Last book you read?
Letters to a Young Poet.
5. Favorite sport?
Badminton.
6. Favorite word?
Pamplemousse. It's French!
7. Coke or Pepsi?
Neither.
8. Biggest pet peeve?
When somebody says "like" too much. But I do that a lot! I'm trying to break myself of it.
9. Puppies or kittens?
Puppies.
10. Bacon or Nutella?
Both!
11. Favorite class at NYU?
I haven't taken it yet!
12. A college dorm party or a fancy club party?
Neither.
13. Last person who texted you?
My boyfriend.
14. Favorite season?
Spring — the warm part of it.
15. What's your hidden talent?
I can wiggle both my eyebrows.
16. Craziest fan story?
Somebody drew a picture of me that was really good, and I didn't know what to do with it — I felt weird. I was like, do I keep a picture of myself? It's at my boyfriend's house! it was really sweet.
17. Favorite Disney princess?
Aurora.
18. Favorite quote?
"Everything is beautiful and nothing hurts."
19. Britney or Christina?
Britney.
20. Favorite curse word?
Zoinks!
22. Favorite YA book series?
Harry Potter.
23. Favorite old-school Disney Channel show?
Lizzie McGuire.
24. Biggest fear?
I'm terrified that the subway systems are going to blow up.
25. What time do you wake up?
Not early enough.
26. What time do you go to bed?
Too late.
27. Favorite charity?
True Spark.
28. Charitable event you're most proud of participating in?
50 States for Good!
30. The item you'd bring to Knudsen Park in Detroit for the 50 States for Good campaign?
Swings!
31. Favorite part about college?
I like being in a community of very different people.
32. Best memory on set?
On The Carrie Diaries, craft services knew that I liked Peter Pan Donuts. And we had doughnut Friday, and they would bring doughnuts out for the crew and we would literally have a half-hour doughnut break.
33. Best item you've taken from set?
On A Bridge to Terabithia I got to keep some really snazzy pants.
34. What other role in Willy Wonka would you like to have played?
Augustus Gloop.
35. A lifetime supply of chocolate or pizza?
Dark chocolate.
36. Twitter or Instagram?
Instagram.
37. The hashtag you use most?
#swag
38. Coolest celeb number you have in your phone?
My grandma. She never answers, though — she hasn't quite figured it out.
39. Which member of Sex and the City are you really?
I feel most like a Carrie, I do have to admit.
41. Favorite website?
BuzzFeed.
42. Who's your celebrity doppelgänger?
Someone said I looked like Elsa from Frozen — that's the most recent one I've gotten. People always go, "Are you Dakota Fanning?"
43. Last time you cried?
I had a big cry, I watched Scenes From a Marriage. There were six of us that watched it — we were all balling.
44. Favorite reality show?
I don't watch any.
45. Best date you've ever been on?
It was kind of impromptu in Dumbo. We just sat out on the lawn and hula-hooped.
46. Celebrity crush?
Kit Harington.
47. Which emoji do you use the most?
I usually do the thumbs-up emoji.
48. The meal you make most often?
I make smoothies every day! I'm pretty good at it.
49. Gene Wilder or Johnny Depp?
Johnny Depp.
50. A book you'd like to see made into a movie?
A revamp of East of Eden.