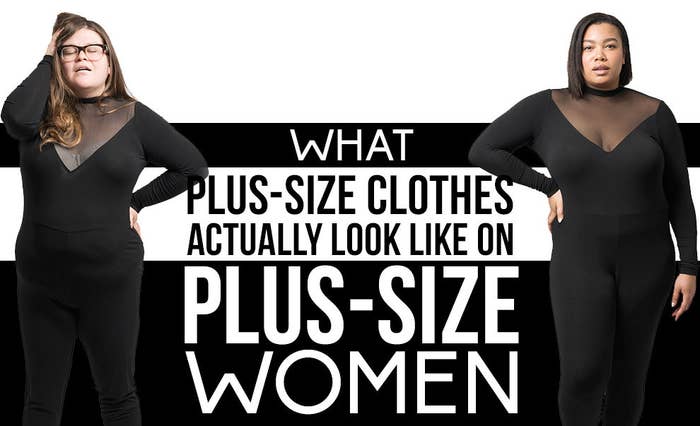 We're Sheridan and Kristin, two plus-size ladies of different heights: Kristin is 5'3'' and Sheridan is 5'11''. And we love clothes.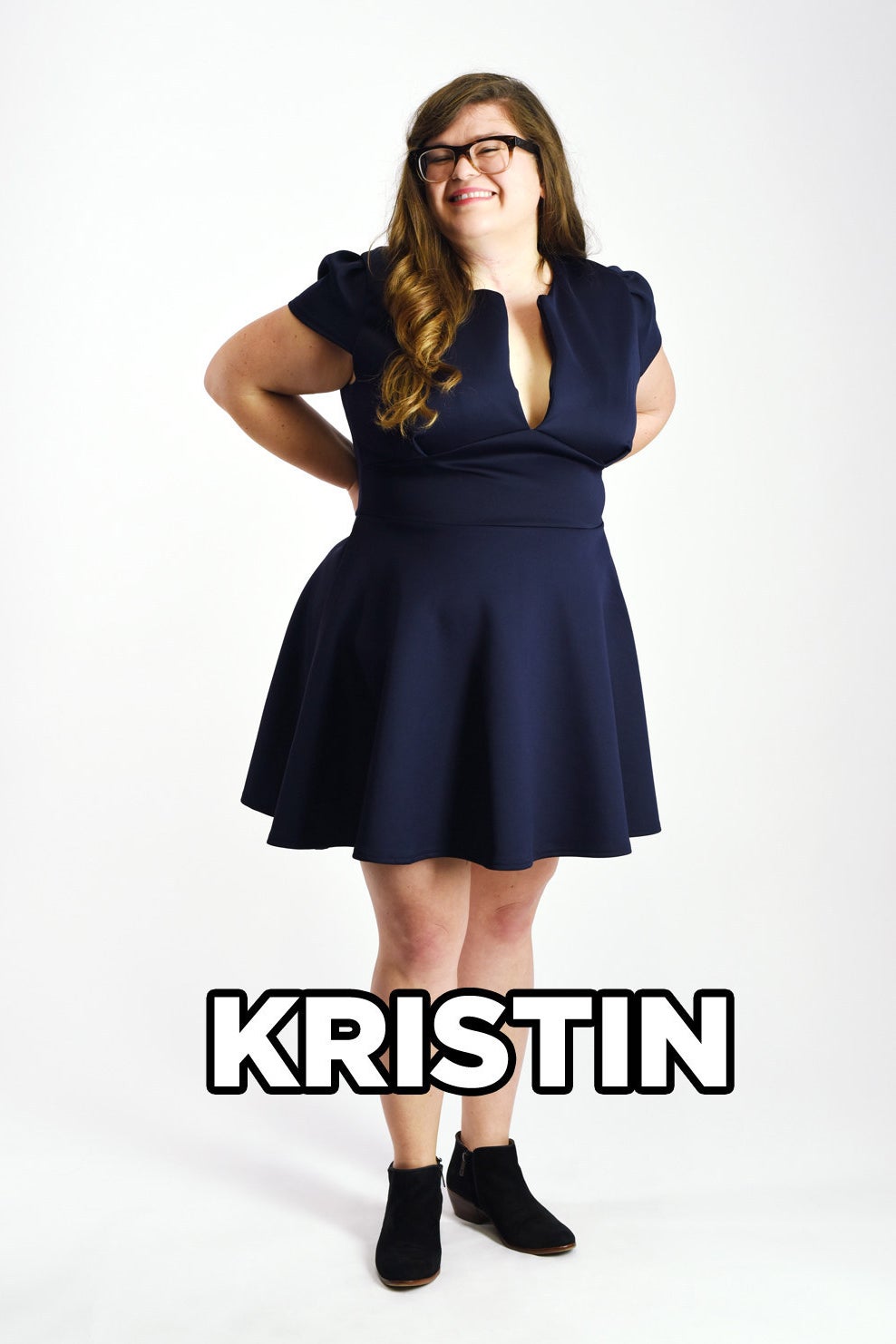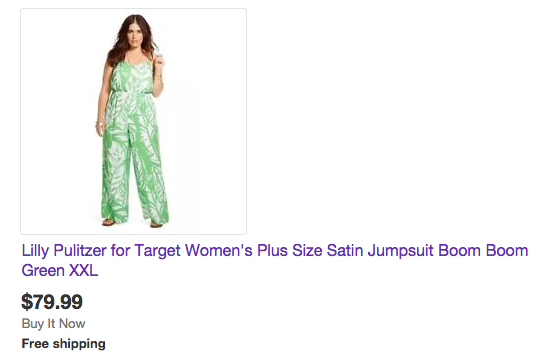 This means that plus-size women must often buy items based only on their own measurements and how it looks on the model.
Making it worse: Smaller models may be padded in order to fill out plus-size clothes, giving them body shapes that might be more perfect than those plus-size bodies actually found in nature.
So we took our measurements and decided to order clothes online from four different stores (according to their size guides) in order to show the difference between what we see online and what we end up getting.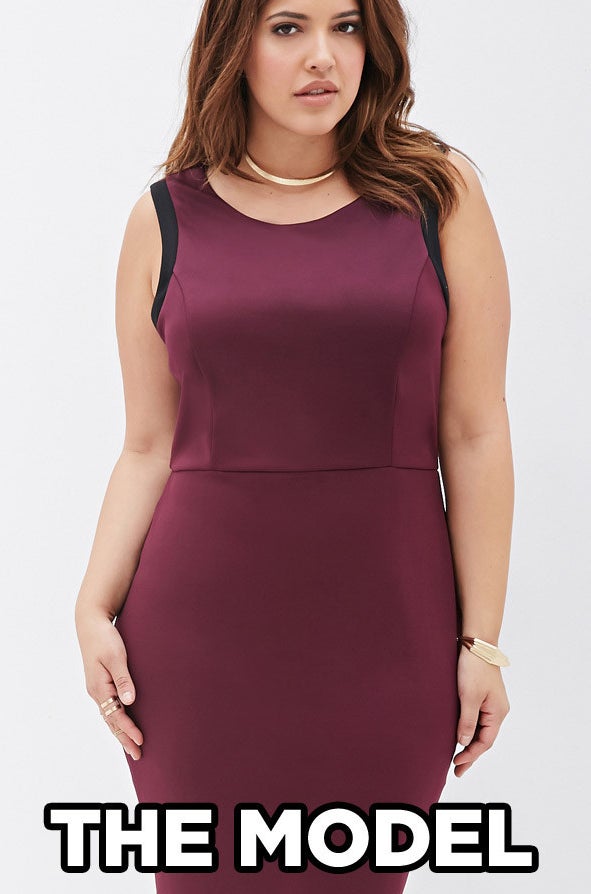 For this item, Sheridan and I both fell between a 2X and a 3X — so we tried on both sizes:
The size the model is wearing: Unknown.
Kristin: I feel like this dress is just trying to bully me into buying Spanx. It's being all like, "That's a real nice body you've got there. It'd be a shame if we made it look like a misshapen eggplant."
Sheridan: I hate this so much because I feel like I've been personally betrayed. This was supposed to be a given! Stretchy, well-cut dress in a neutral color. But instead this dress is like, "Congrats, here's your belly button."
And size 2X on us from the back: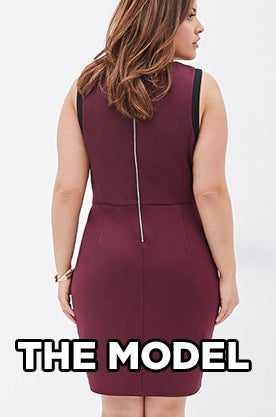 Kristin: Today, I learned that butts apparently come in different heights. This is a lesson that Forever 21 has apparently yet to learn, based on how this makes my waist look.
Sheridan: Hi bra bulge, nice to see you again. Missed you.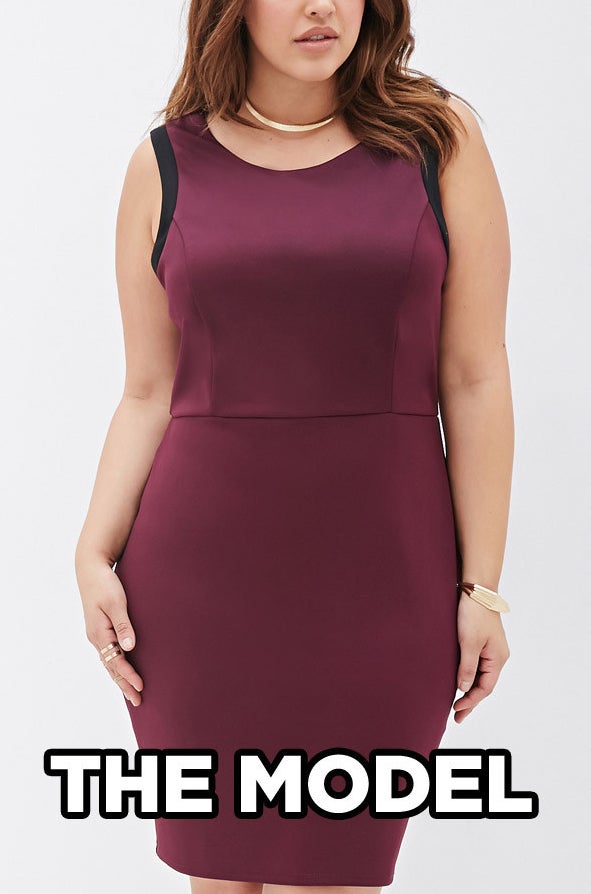 Kristin: I like how this size manages to be wrinkled where it's too tight and ALSO where it's too loose. Very versatile!
Sheridan: So you know how if you know your size you can generally find things that fit you? Well, this dress has said, "Nah, we can't make it too easy for ya."
And the 3X from the back: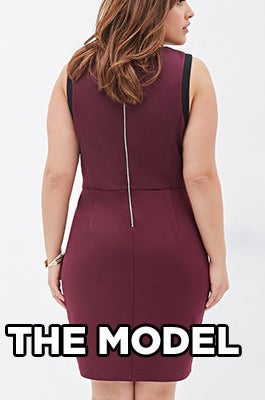 Kristin: I went up a size, and my waist still looks winkled and puckered. So what's the problem here, dress? Is my butt too high? Is my torso too short? Is my waist too small? Tell me, what new self-esteem issue am I supposed to take away from this?
Because let's be real here, my body looks pretty bangin' from the back. It's the dress that's the problem.
Sheridan: All I can hear is "Springtime for underwear lines," set to the tune from The Producers. General consensus? I think I'd have to go up at least three sizes from what I normally am to get a dress that doesn't make my stomach look like a smiley face.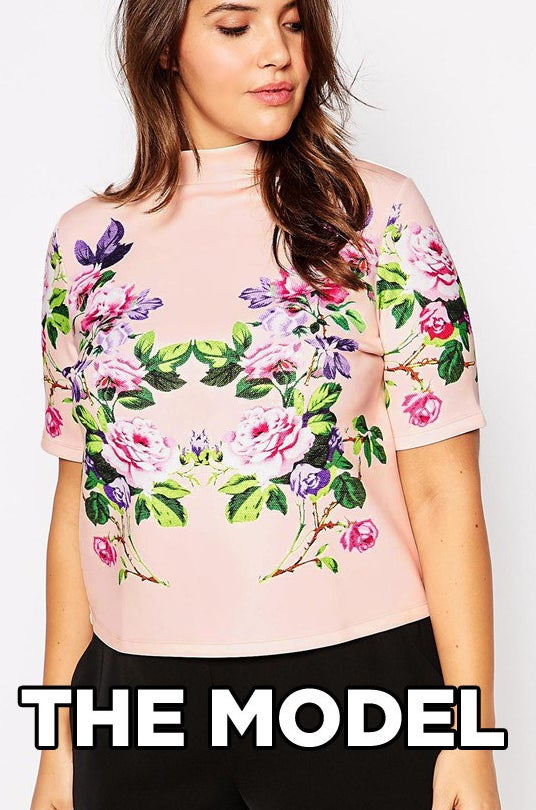 The size the model is wearing: 14
Kristin: I'm wearing the same size as the model?! This shirt feels like a garden party where everyone got invited except for my self-esteem.
Sheridan: What kind of god-awful material is this? Am I on my way to go surfing? Is this a turtleneck or a crop top? I know what it is: something that doesn't work with my boobs. I actually like the print, but let's be real: This fit is more awkward than me trying to find someone to dance with in middle school.
The size the model is wearing: 14
Kristin: Look, I know: I was un-bra-pared for this outfit. But for real, this top looks like an arrow pointing to my crotch. I look like a superhero who overslept and got the last outfit at the big superhero outfit sale.
Sheridan: What did I do to deserve this? My neck feels like it's being strangled and I am so hot. No, like physically warm. Do people wear this to the club and then pass out from heat exhaustion? I feel like I'm an extra in a bad sci-fi flick. I also like how your boobs can't win with this outfit. I even have weird sci-fi boobs happening.
Kristin in size 16 and Sheridan in size 18 from the side: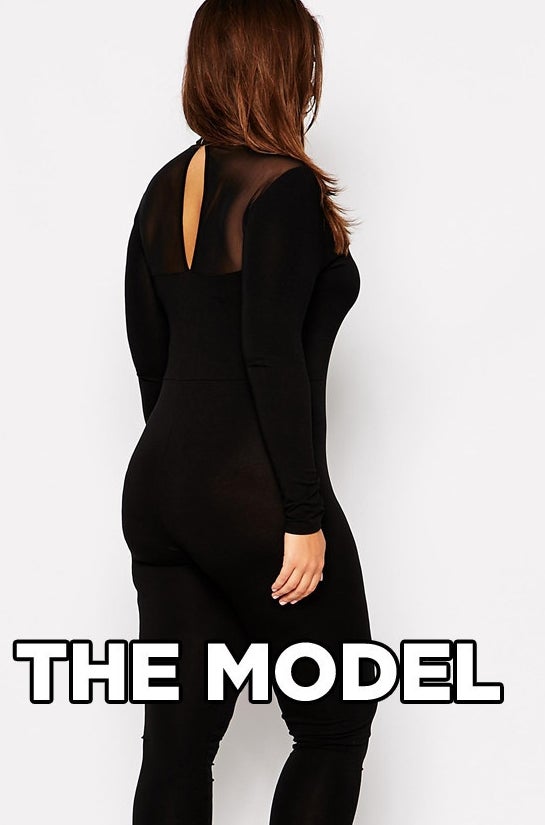 Kristin: Meow! And by "meow," I mean, "me self-esteem feels like ow." I don't like to wear anything that makes my boobs and belly look like a Muppet's eyes and mouth from the side.
Sheridan: I'm so over this outfit. The material, the cut — nothing about this makes me feel sexy or even badass. Just itchy.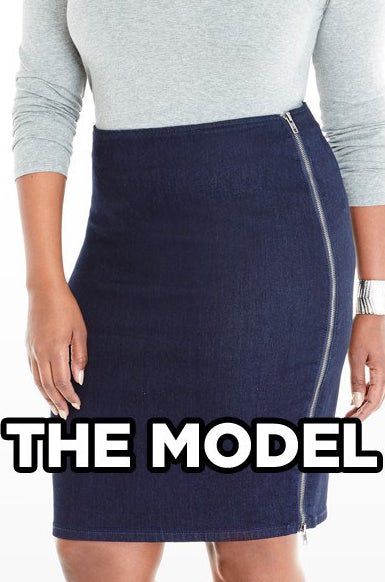 The size the model is wearing: 1
Kristin: My body is making this zipper look like a line that a drunk person tried to draw. Don't drink and design, Fashion to Figure — it's the law.
Sheridan: I can fuck with this. My stomach is protruding a tad but maybe people will let me have their seats if they think I'm pregnant. I'm imagining this with a cute tee so that I don't feel like I have to suck in the whole time. It'd be great to find a skirt that can make plus-size girls with a bit of a tummy not feel like they have to wear Spanx 24/7.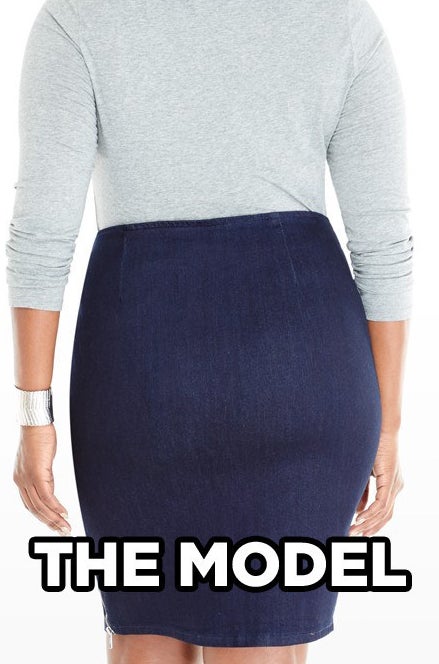 Kristin: OK, don't get me wrong: My butt is bringing it here. But how does this model have NO pucker on this skirt?
Sheridan: LOL tall-girl problems. Suddenly this work-appropriate skirt became very Secretary-ish.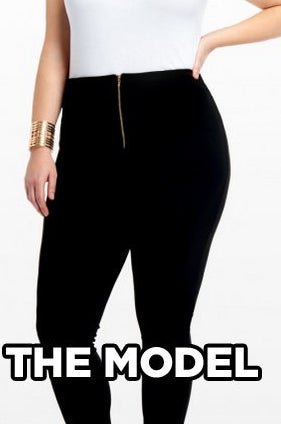 The size the model is wearing: 1X
Kristin: I know we've stated this already, but I'd just like to reiterate that this is the size I was instructed to buy based on my measurements. And this still makes my belly look like a pile of shiny horse poop.
Sheridan: Apparently I have the world's largest vag 'cause the crotch on these pants is ridiculous. The model really doesn't do this god-awful material justice. This is just a mess.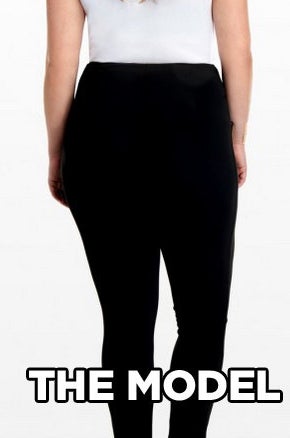 Kristin: I love when things are simultaneously too big and too small. I don't even know what to do about that — like, sorry I inconvenienced you with the distribution of my fat?
Sheridan: Pray for me in my time of polyester need.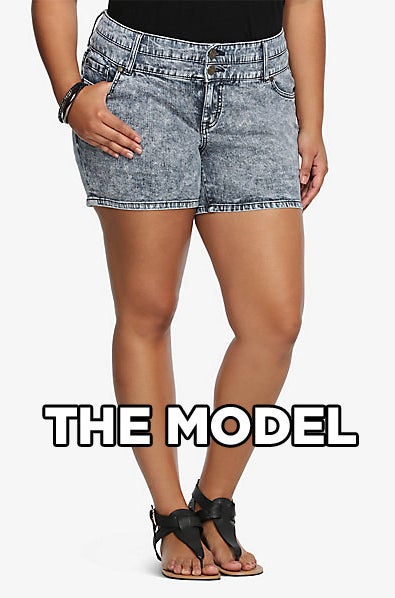 For this item, we both fell between a size 20 and a size 22 — so we tried on both sizes:
The size the model is wearing: Unknown
Kristin: Can we talk about how the model appears to have come equipped with some sort of perfectly shorts-shaped butt and upper thighs? The leg holes on this were so cartoonishly big on me that I looked like a mom from the '80s who has just come back from the store with SunnyD.
Sheridan: Oh. My. Jorts. I'm sure some girls could look cool AF in these jeans but I am not one of them. I have never worn such an unflattering cut of denim IN MY LIFE. Shorts: Either hit me at the ass or hit me at the knee — stop confusing yourself.
And size 20 from the back: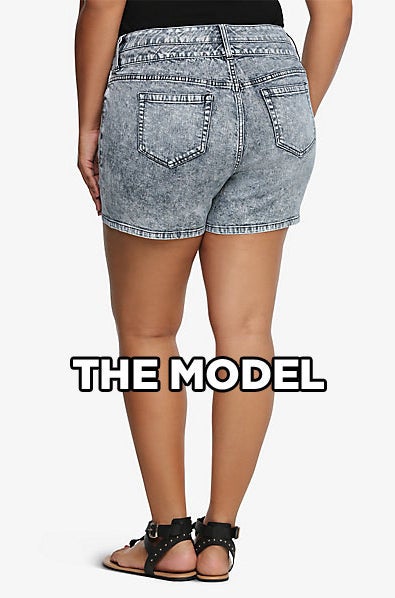 Kristin: My butt looks like it has a mouth that is hungry for denim.
Sheridan: The only thing I'm thinking is, How can I pick out this wedgie without everyone noticing?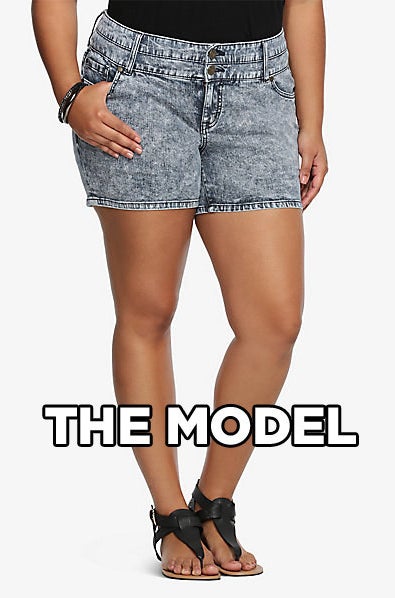 Kristin: I'd like to point out that Sheridan is 5'11'' and these shorts STILL look longer on her than on the model. How tall do you have to be in order for these to look like how they're intended?!
Sheridan: Whoever said I couldn't pull off '90s-mom-at-an-amusement-park chic — CHECK YO'SELF.
And size 22 from the back: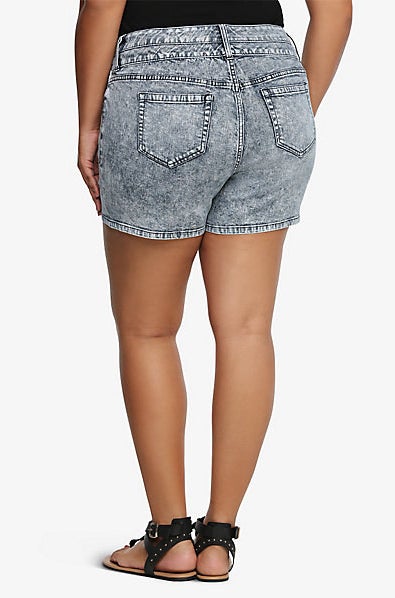 Kristin: There is enough space in these leg holes left over where I could grope myself if I wanted to.
Sheridan: I can't with this. I'm out.
Our Final Thoughts:
Kristin: Look, I get it. Not everything is going to flatter everyone. But the amount of guesswork that goes into trying to figure out if something WILL flatter me before ordering it online is crazy-making. When you realize you've been misled by a store, not only are you shelling out more $$$ to return the item, but you're less likely to shop there in future. So really, the only winner here is the post office.
That said, shout-out to my butt, who really held it down here.
Sheridan: Here's the thing — I know I'm plus-size. So all you fine people who are going to say that if I don't like the fact that my stomach shows I should get a smaller tummy, thanks in advance :) But that's not the point. The point is that I too like to wear cute AF, fashionable clothes. If any fashion designers are listening: I'll give you my money, just make me decent stuff in my size! Also, all y'all need to start labeling shit very clearly on websites. If I need to go up three sizes to get the same look as the model, just tell me. OK, rant over. In Melissa McCarthy we trust.