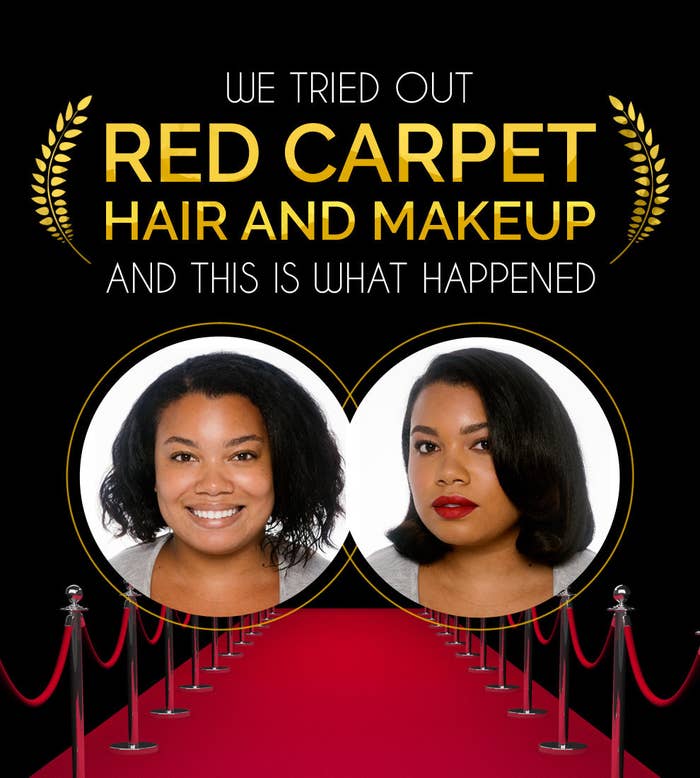 With the Emmys upon us, a few ladies of BuzzFeed wanted to explore the realm of red-carpet hair and makeup.
What does it feel like to have a face and hair for the red carpet? What would it be like for us — nonfamous humans — to have Emmys-worthy hair and makeup? Would we look like ourselves? Is the only thing standing between us and looking like celebrities just a little bit of hairstyling and makeup?
We looked to Giles Robinson, celeb hairstylist extraordinaire, senior hairstylist at John Frieda, and global director of training and education at Color Wow, for help creating our red-carpet looks.
Here's what it's like getting your red-carpet face and hair designed by a celebrity stylist!

Sheridan: I was a bit scared going into this because many black women have an intense bond with their hairdressers (hi, Maeven!) so I felt like I was cheating on her a bit (sorry, Maeven). I've also had...interesting experiences with hairdressers who are obviously not excited to break their arm giving my hair a blowout. And with makeup? I hope that the makeup artist is a secret-potions master who can mix the shit out of some different colors for that perfect match.
Susan: This is the first time I've ever gone into work with a bare face, so I can't wait to be "made pretty" by a bunch of professionals. I have a tendency to neglect myself when it comes to beauty and self-care, so I am looking forward to being pampered. I'll be happy with anything not "sweet and cute" because god knows I've gotten that my entire life.
Nina: I always wear my hair down and usually just curl it. I'm self-conscious about my small head/forehead. If they give me an updo, I hope my head doesn't end up looking like a tiny grape or something. As for makeup, I'm…not low-maintenance. I put at least a little effort into my look every day (yes, I spend countless minutes each morning trying to perfect the cat eye). I know I'll look better than I usually do, but they might also kontour me like Kylie, so we'll see.
Claire: I definitely think I'm going to get an updo because my hair is so blah and limp and in a weird in-between growth stage. As for makeup, I think I'll probably look like a better version (brighter eyes, smoother skin, groomed eyebrows) of my natural self. I know making celebrities look Emmys-ready is a lot of work, so transforming me, a normal plebeian, is going to be even more work!
Kirsten: Overall, I expect this to be an extreme confidence boost. I mean, how often do I get a celebrity hairstylist doing my hair? (Answer: never.) I hope they chose a pretty natural, glam look for me. Since I never go too heavy on the makeup, I hope they give me something really simple and elegant.
Kristin: I'm a writer, which means that until I absolutely need to look nice, I look like a mountain troll who crawls out from behind my desk only when I need to steal Diet Cokes from the fridge. That is to say, I really hope they give me some shellacked, big hair that lasts for days. Also, please no overlined lips. Please. PLEASE.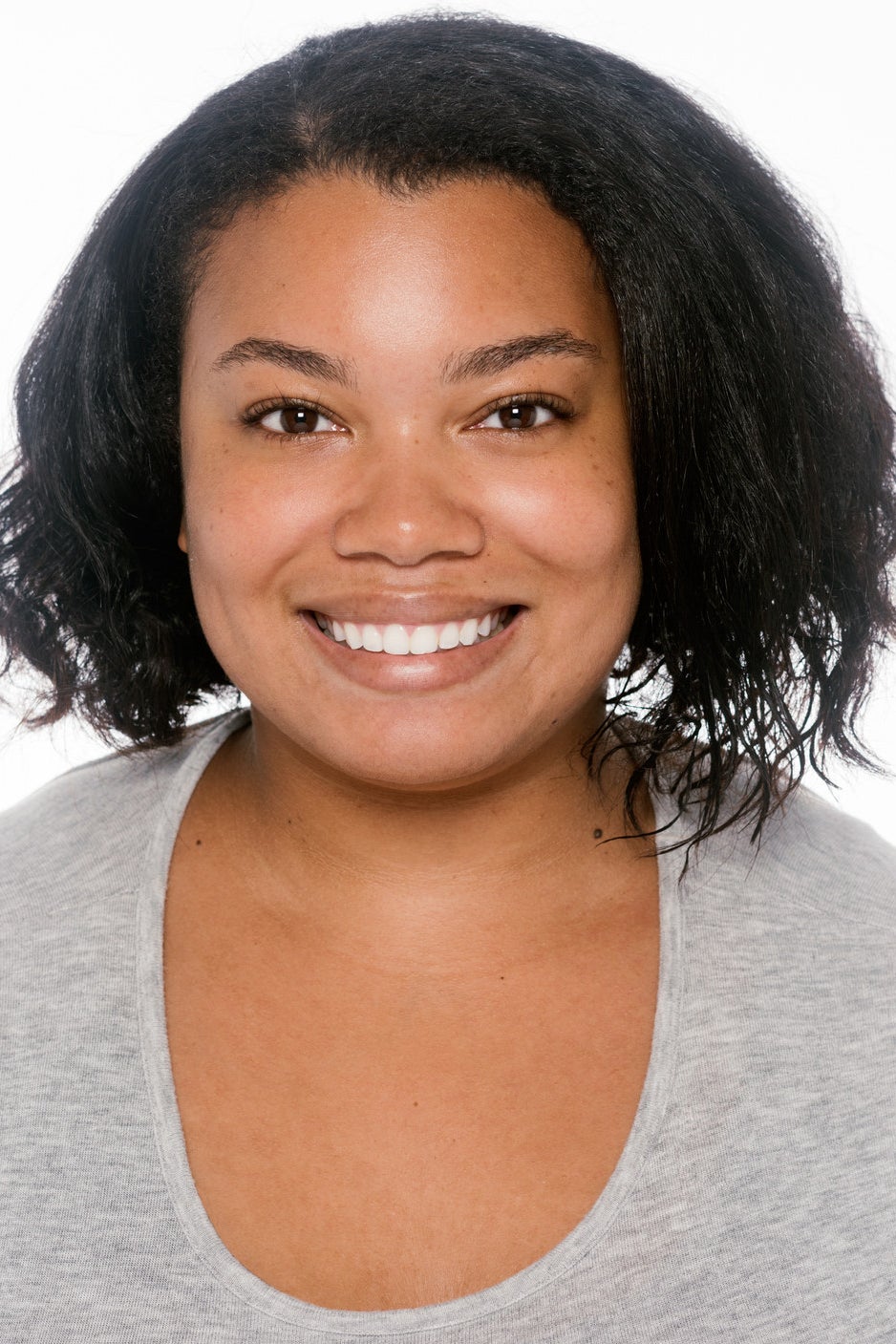 Sheridan, on her look: What a freakin' sigh of relief. When I heard "voluminous" hair and "red lip" I was like, "OK, I can fuck with this." It's pretty hard to screw that classic look up. My main worry was that they would start blow-drying my hair and give up halfway through and do a slick bun instead, probably because that is what I do every day of my life. But luckily, professional hairstylists are way more talented and way less lazy than I am, so I ended up looking like the black Grace Kelly I was born to be.
I'm not going to lie, I feel fantastic. Like, this is what Amal Clooney must feel like every time she leaves her house — lucky bitch. When I looked in the mirror, I saw someone with awesomely contoured cheekbones, a gorgeous '50s curl, and the lips of Gwen Stefani, but I could still recognize the girl staring back. Instead of feeling like I was wearing a mask, I thought the makeup and hair chosen just accentuated what I already had. And isn't that just the best?
Giles, on Sheridan's look: She's got a very cool modern haircut already built in, which was great, so that made it quite easy! [We] put a very simple, bit of a 1940s wave in the front ... [and] tucked [her hair] behind on the other side ... just behind the ear. It gives you that really beautiful feel, and she looked TOTALLY red-carpet-ready. It looked stunning on her, especially with that red lip as well — was, like, gorgeous.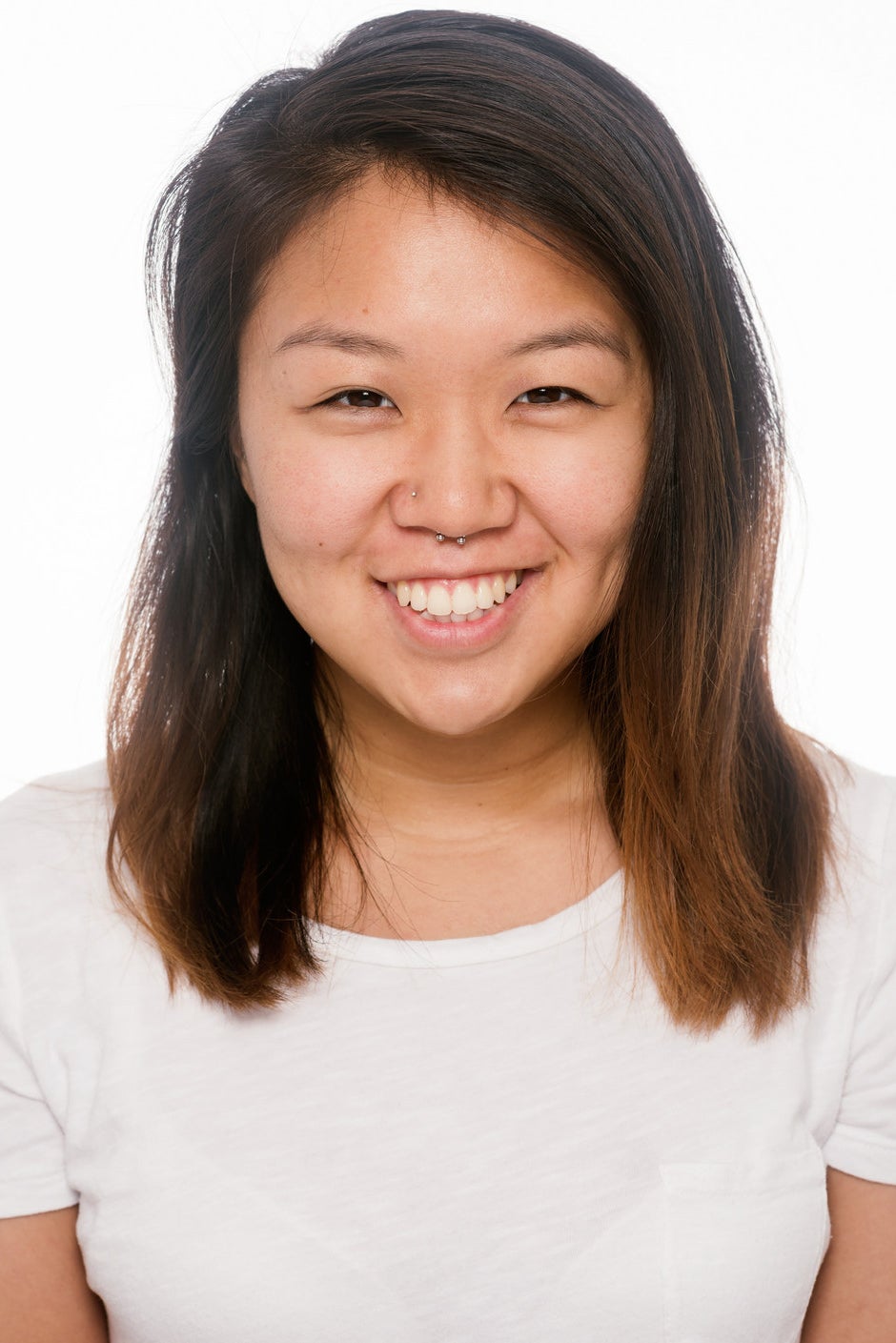 Susan's reactions to her look: "Who are you exactly?" a stylist asked me just moments ago, while giving me a once-over. "Are you preppy? Are you hipster?" That shit sent me down a brief but very real existential spiral — because it was then that I realized I have no idea who I am, but I do know who I'm ​​not​​. "NOTHING TOO GIRLY," I screamed mentally.
Thankfully, they decided on an "edgy" look for me. But when I looked in the mirror, the first thing I thought was that I look like a geisha. I don't look like myself — probably because the foundation they used on me is so much lighter than my skin tone. Buuuut my brows look fierce, and now I can say that I've had my hair cut at work, which is pretty dope. ​​​​
Giles, on Susan's look: I loved the color of her hair, it seemed almost a kind of waste to tie it up, so I wanted to keep it down, [in a] sloping, kind of long bob, [with a] sharp line to it … And I really think that's the kind of look when walking down the red carpet looks chic, [especially with] a nice little bit of shellack... to give it that nice Jessie J shine, I like to call it. Susan had the cat-eye [makeup] ... I think it worked really well with that sleek, kind of edgy bob.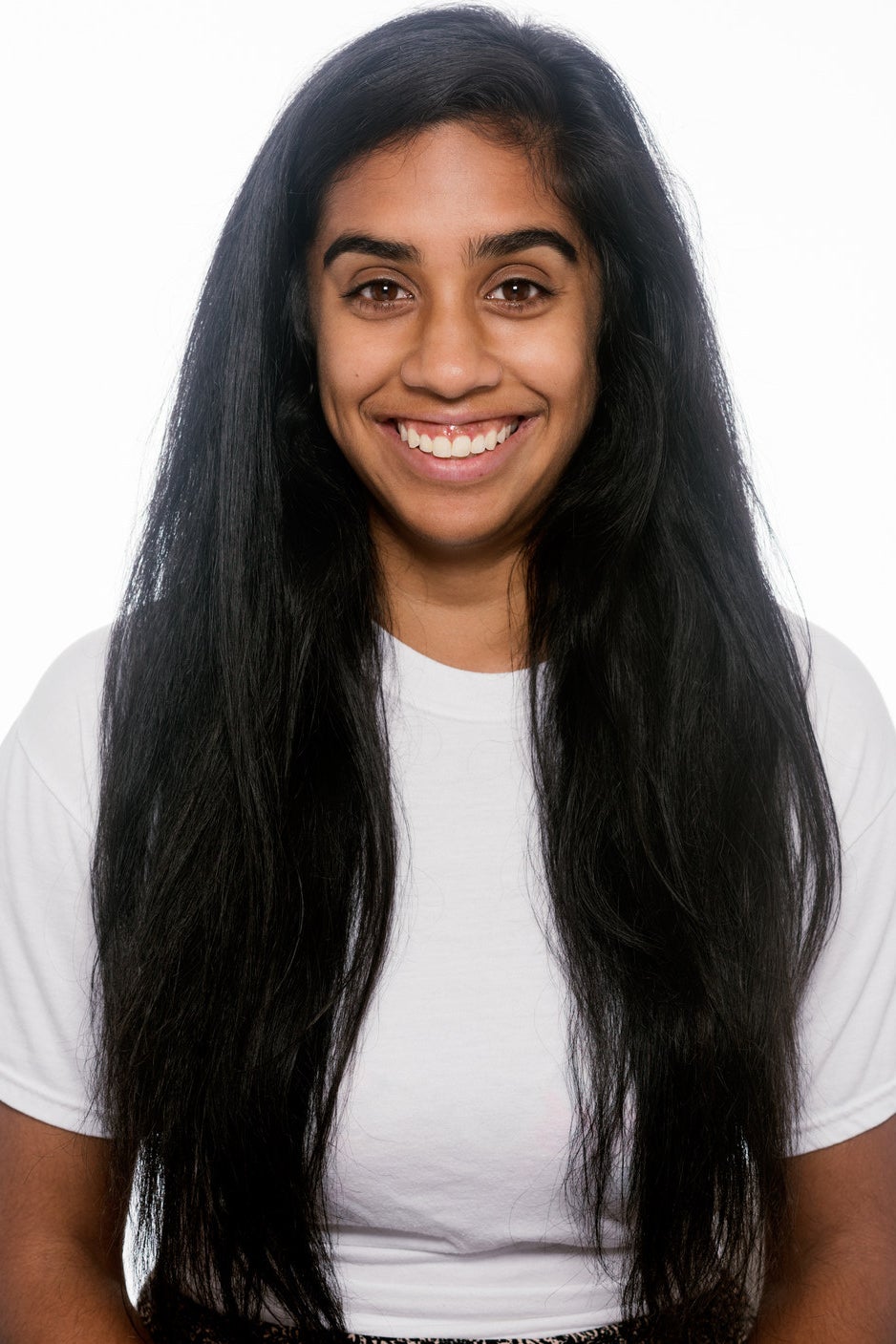 Nina, on her look: I. LOOK. GLAM. AS. FUCK. The blue, the braid, who even am I? When I looked at myself in the bathroom, I did have a moment where I felt a little alien to myself. I never, EVER braid my hair. I had a hideous pixie cut as a child and never got to practice braiding, so I was alllll about this fishtail braid. It would probably take me hours to do this on my own, so I kinda wish I had enough money to pay Giles to come to my house every day and do this.
I was really pleased to see that [the makeup artist] chose a bright color for me. I think a lot of times, people don't know how to use color on deeper skin tones. Honestly, even I tend to stay away from colors on my eyes. But it was refreshing to see [the makeup artist] really experiment and go bold with me.
Giles, on Nina's look: The fishtail braid is just awesome, it's just huge again. Lots of people are doing [it], because when you've got that thick hair, it's good ... it looks fluffy, [especially] when you've got a few little pieces popping out. Blake Lively, she just does that so well. Nina had the blue eyeshadow, which looked quite fantastic on her. Because with her skin tone, it reflects brilliantly and it really helps her eyes pop and everything. And again, not too much on the lips, so we really let her eyes do all the talking.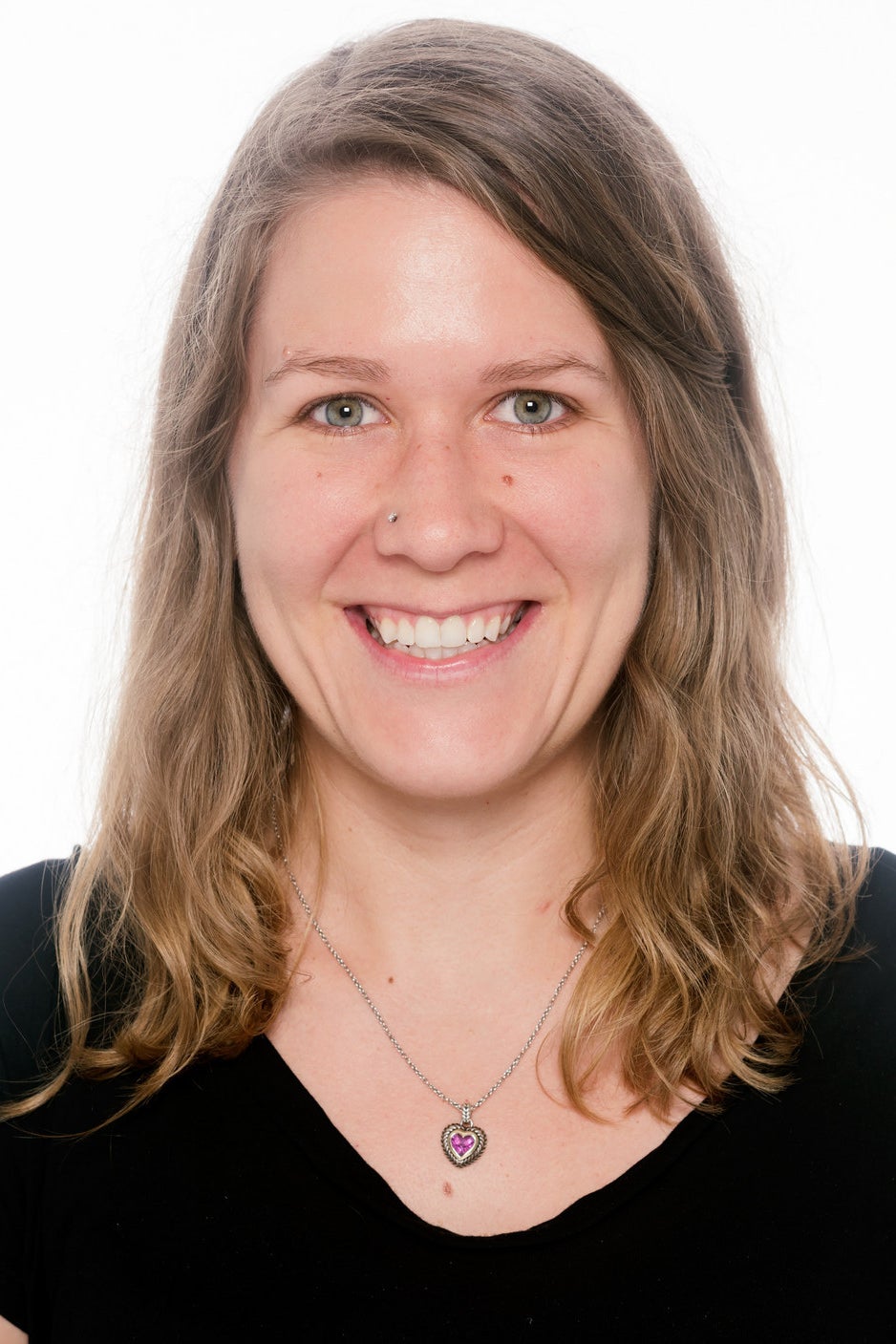 Claire's reaction to her look: I love my hair in general, and while it's not perfect, it's mine, so I got quite defensive when Giles made it clear that he wanted to cut it. But then I thought, This guy is a professional — like, a CELEBRITY professional, and I'm truly glad I trusted in Giles' vision because I honestly love the hairstyle that he gave me.
Holy COW. I don't wear makeup at all, so seeing my face like this was INSANE. The makeup was so thick, almost like costume or theater makeup, but I guess Emmys makeup has to be that way to look good on TV and survive a million camera flashes on the red carpet. While I won't be doing this all the time, this experience definitely made me feel glamorous.
Giles, on Claire's look: When I first looked at Claire's hair, it was in that in-between state, so we decided we could cut off a couple of inches. With Claire, I love that Emma Stone look. It's waved but it looks effortless... we do that by using a wand and leaving the ends out kind of straight. [With Claire's makeup], I'm a big fan of a smoky eye and a lesser lip. With all her waves and stuff, it's a bit edgy and it's a bit free and a bit cool, and that kind of eye really suits that feeling.

Kirsten's reactions to her look: At first, I was like, Wow, I have never had this much makeup on in my life... EVER. I mean, not even at that one fourth-grade dance recital I did before I quit dance — and that was some Toddlers in Tiaras shit.
I snuck out before the photo shoot to steal some pasta off a co-worker's plate (sorry, makeup artist, I'm the worst), and I think my co-worker summed it up perfectly when she said, "You look great, it's just not totally you." I think I got the edgy Kristen Stewart smoky eye and grungy Kate Hudson hair, which looks KILLER. However, I gotta say...I kinda missed looking like Kirsten King.
But once I saw my hair and makeup on camera, I think the whole look really came together. I think it's interesting just how much styling hair and makeup goes into celebrities' looks. We just get that flawless glimpse of them on the carpet, but there's so much that goes into it.
Giles, on Kirsten's look: [It's] Kate Hudson-inspired. I just love the way she wears her hair. It's kind of like a looser, softer wave. [For makeup], Kirsten had the smoky eye and it really helped them look really blue. We took a very mild bit of color, I think, on her — just enough, but not over-the-top. Her eyes were the real thing: We made them pop and look really bright.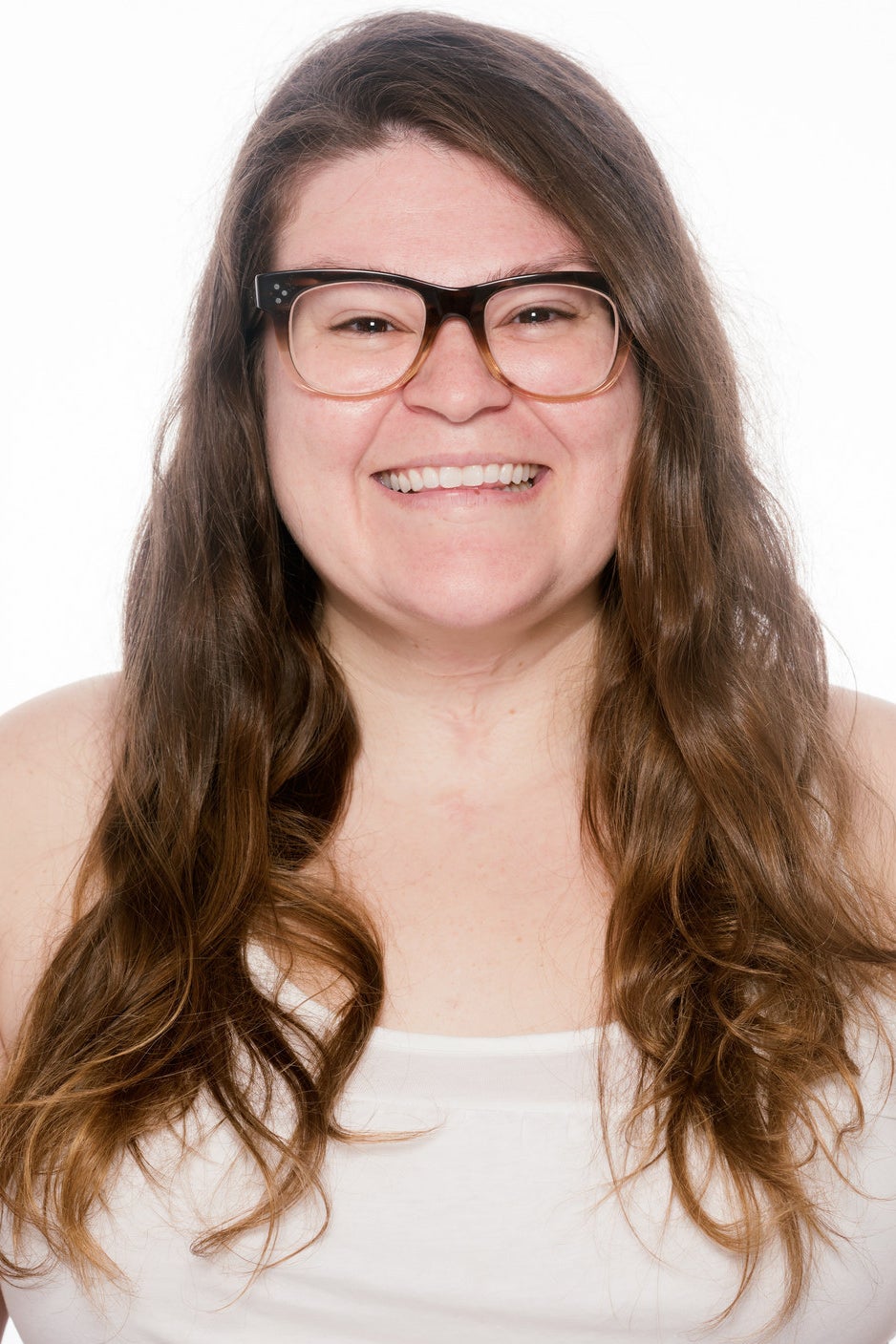 Kristin's reactions to her look: They REALLY wanted to cut my hair, which freaked me out — I hide behind my long hair a lot. It's sort of like a baby blanket that happens to grow out of my head. But Giles was right: I needed a damn haircut. But it's not just the haircut and style that is doing the magic here. What you see is probably 25 solid minutes of extra fluffing, brushing, and petting. I see now why we see such terrible, spoiled behavior from our cats. And I was glad it wasn't an updo; if you Google "Kristin Chirico prom," you'll understand why.
And every time my hair appeared to have a "hole," it would get rearranged, which is great because I have no idea what hair holes are, so I probably could not have fixed that myself. Overall, I kind of look like the Harlequin romance novel version of me — like, if you wanted to photoshop in a troubled shirtless cowboy next to me, that'd be cool.
Giles, on Kristin's look: Definitely ready for a haircut. I really wanted to ... create a really nice, kind of sweeping side bang, because that is so modern at the moment. [Then], we made it all wavy and kind of loose. Jessica Alba, she does that long, brushed-out wavy thing very well. Kristin didn't have loads [of makeup]; we didn't want to overload it because we wanted to focus on her hair. She had a little bit of lip on, [but] Kristin has a lot of hair.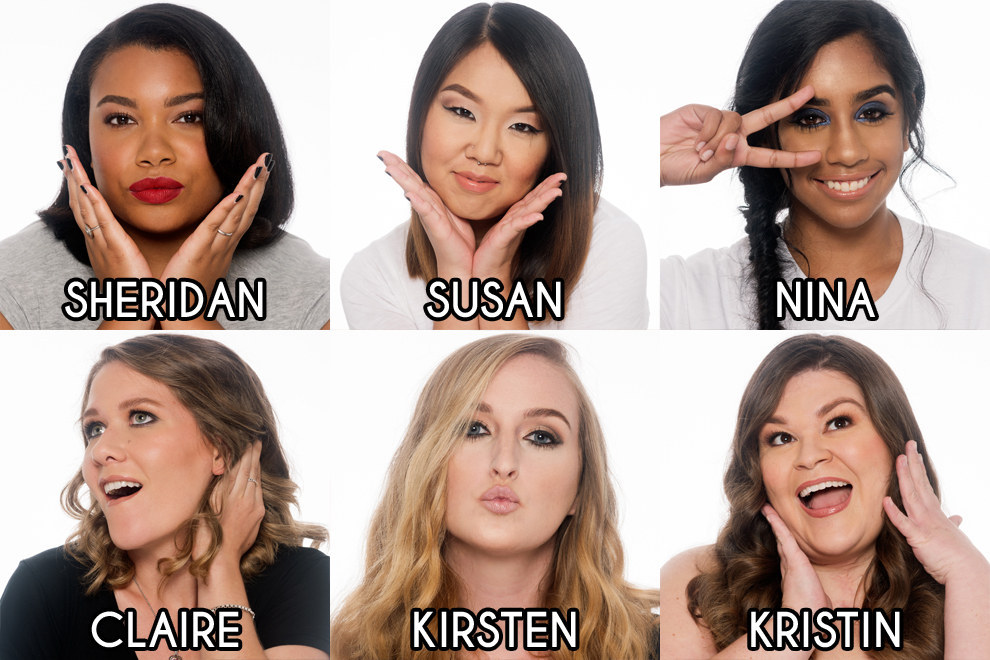 Sheridan: What a difference some powder and a matte lip gives you! The makeup artists and hairstylists looked and spoke to us individually to figure out what look works for each person. Instead of conforming to their standards, they were able to see what I had to work with to begin with. I plan on wearing my look on the Emmys red carpet when I attend with my husband, Kit Harington. Just kidding, Kit and I will be watching from home.
Susan: My god, bless all you famous people out there. Getting pampered is fun, but I can't imagine having to do that for every interview and red-carpet event. I have a newfound appreciation for hairstylists and makeup artists, who put so much time and care into crafting a look and making their clients feel pretty. That said, I'm still a lazy fuck who can't sit still, so I can't imagine going through all that again any time soon.
Nina: TBH, I would do this every day if I could. Granted, I wouldn't wake up any earlier. I'd just love to roll out of bed and have my ~team~ make me look fab like these guys did. This whole process makes me wonder what celebs really look like under all that makeup. If I had a moment when I didn't recognize myself — do celebs go through that constantly? But at the end of the day, it's still me under there, and they couldn't make me look this fab if I wasn't starting with something halfway decent.
Claire: My goodness, it took fucking forever. I mean, the haircut kind of has to take a while, but the makeup is where I was really amazed with how long it took. I think my makeup artist put at LEAST seven different products just on my eyes. ON MY EYES. I really just had no idea looking red-carpet-ready took so long, but my hair looks fabulous and my face looks glamorous, and I'm super excited about that.
Kirsten: The Emmys process is insane. Is it weird that I'm sore? Because I'm kinda sore. Between posing, and getting all done up, I've gotta say it was kinda exhausting (this might be the worst thing I've ever said). So many people go into creating this look for one night and a few pictures. The end result is amazing, no doubt, but I think I'll stick with my 20-minute rushing-out-of-the-house-with-two-different-socks-on routine.
Kristin: I've spent enough time untagging bad photos that I've learned a thing or two about my best angles. But my safe, go-to pose really doesn't work as well when I'm at maximum hair and makeup. I actually felt freer to make bigger facial expressions, be more over-the-top — and I think that's kind of the point of all of this. I also learned that if you don't cut your hair for nine months, a celebrity hairstylist will probably make fun of you, but it's only because he worries, you know?