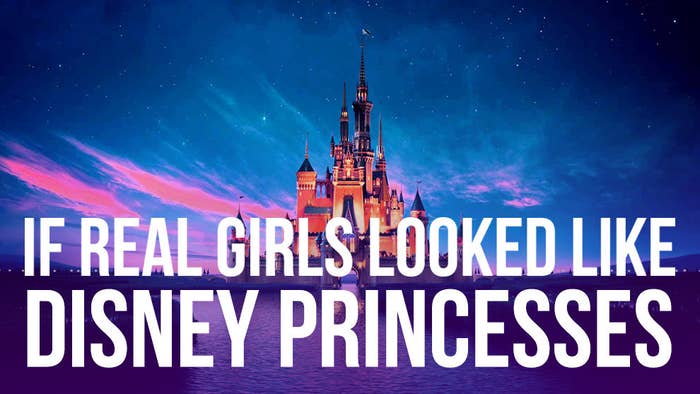 As you know, Disney princesses are often held up as icons of ~grace~ and ~beauty~.
However, when you look at them more closely, you'll see that Disney princesses actually have some pretty crazy proportions compared to humans: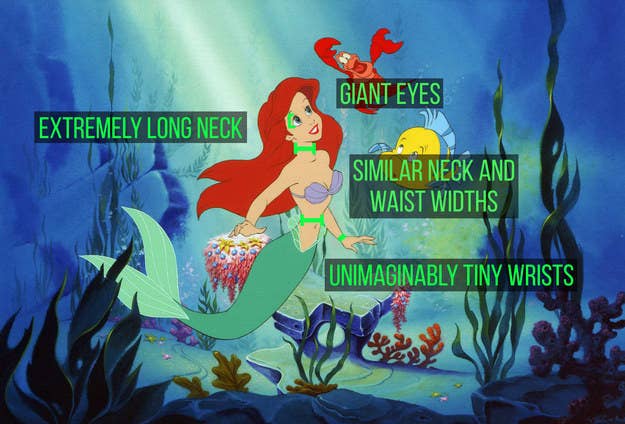 So Kirsten, Sheridan, Lara, Candace, Kristin, and Allison decided to see what it was like to take our normal person bodies and have them photoshopped into ~Disney Princess bodies~.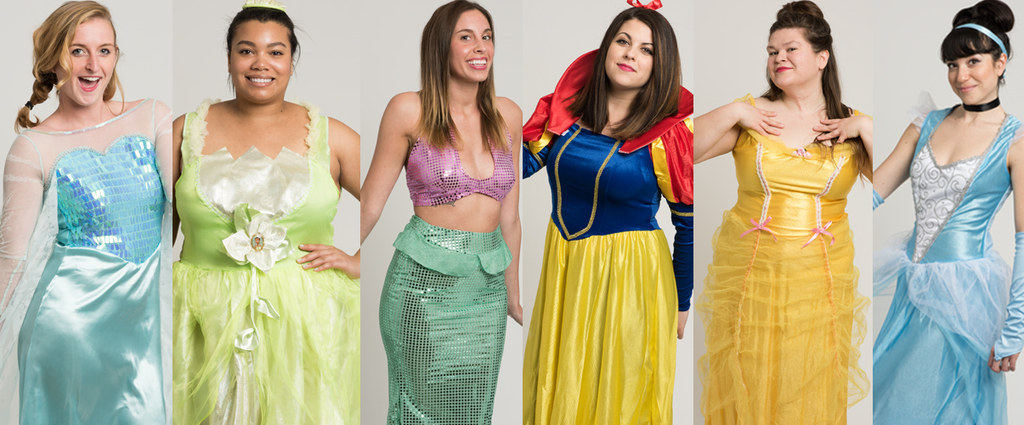 And this is what happened:
Allison was photoshopped into Cinderella (from Cinderella):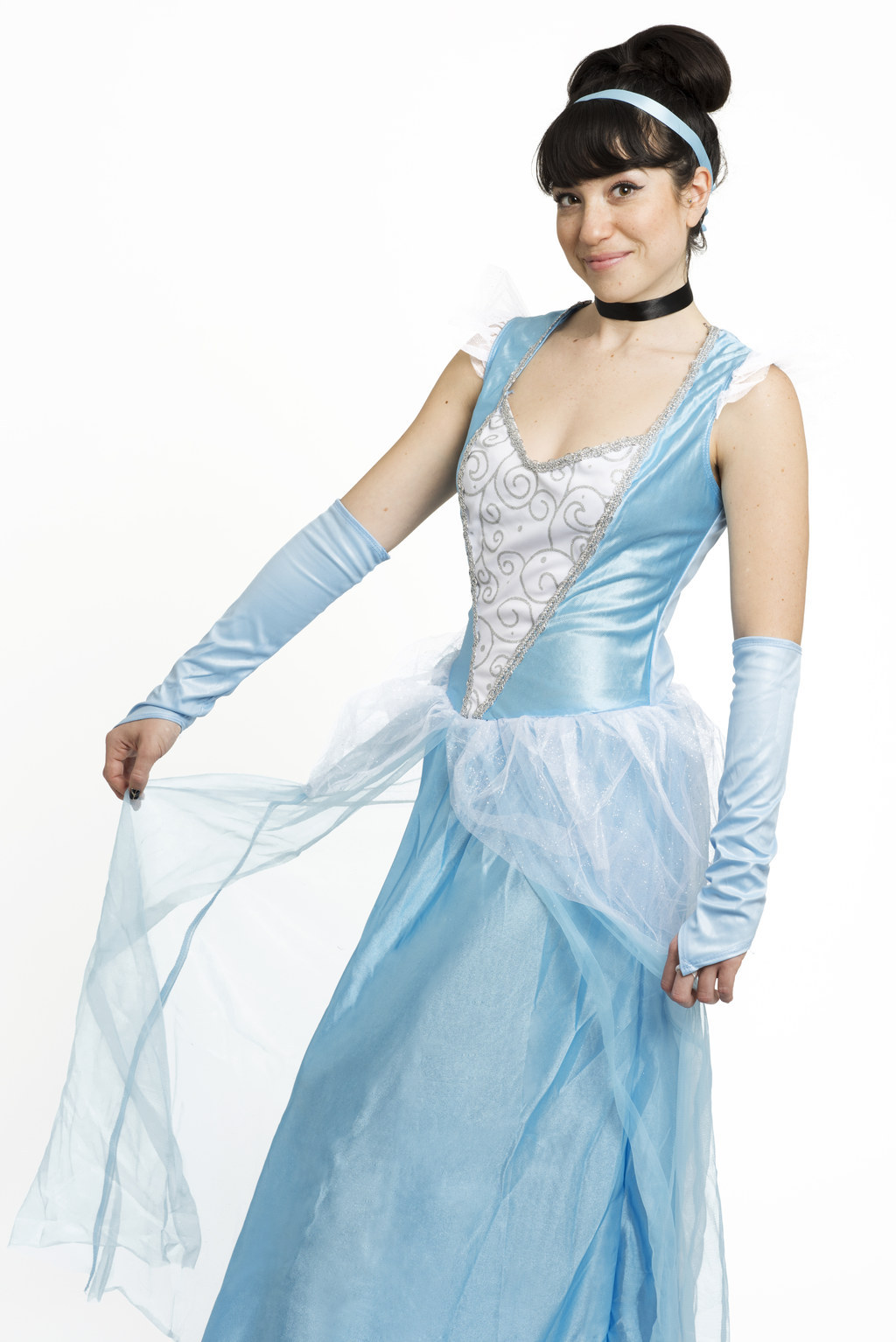 Allison's reaction to her Disney-fied photo: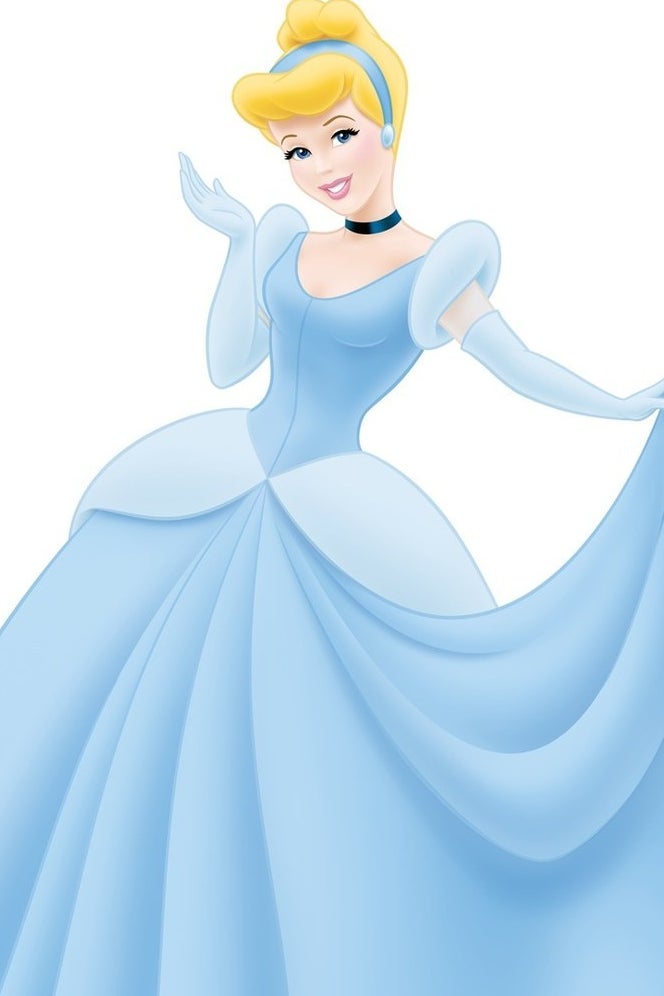 "This is nightmare fuel! I actually didn't hate the original photo, but now seeing it juxtaposed with this cartoon stick figure, I feel terrible about it AND myself! It's so weird how that happens because when I see the Disney version on its own it looks so wrong and unattractive. The proportions are so twisted. But when it's next to the original photo of me, it kind of looks normal and makes the actual version of me look ENORMOUS. What. The. Actual. Fuck. This is tripping me out."
Kristin was photoshopped into Belle (from Beauty and the Beast):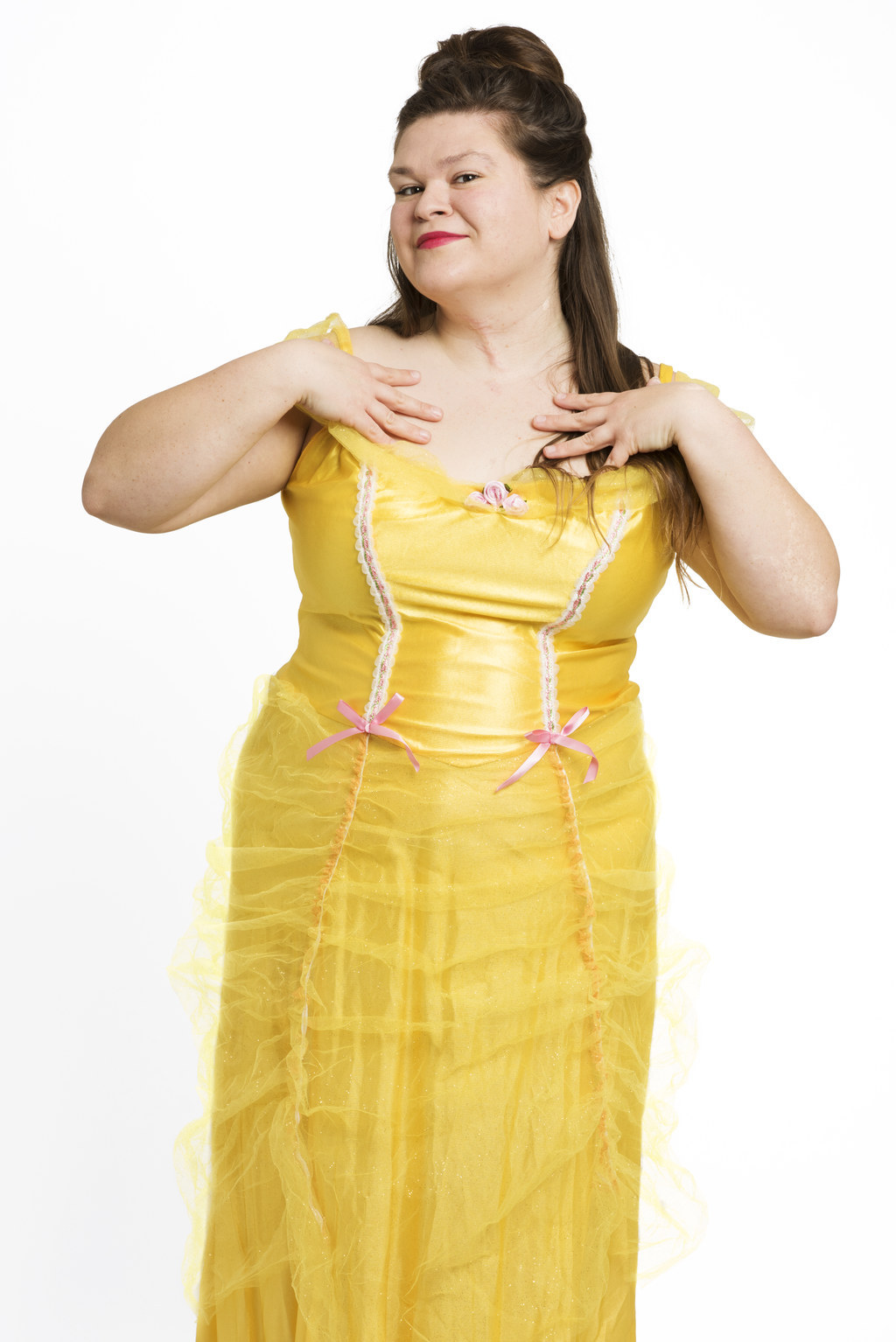 Kristin's reaction to her Disney Princess-ified photo: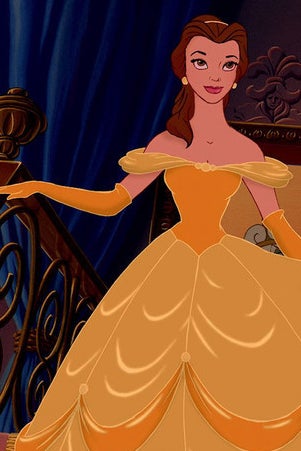 "Oh NOOOOO, I look like a human lollipop. Or a corn holder attached to a very beautiful ear of corn. I didn't realize this until I looked at my photoshopped self, but yeah, Belle does kind of look like she just had two bites taken out of her middle (even though it does look like she is wearing false hips with that dress). Regardless, 9-year-old me is really sad about this — Belle is a queen and deserves a realistic body that can support her awesome head. Pour one out for Belle."
Kirsten was photoshopped into Elsa (from Frozen):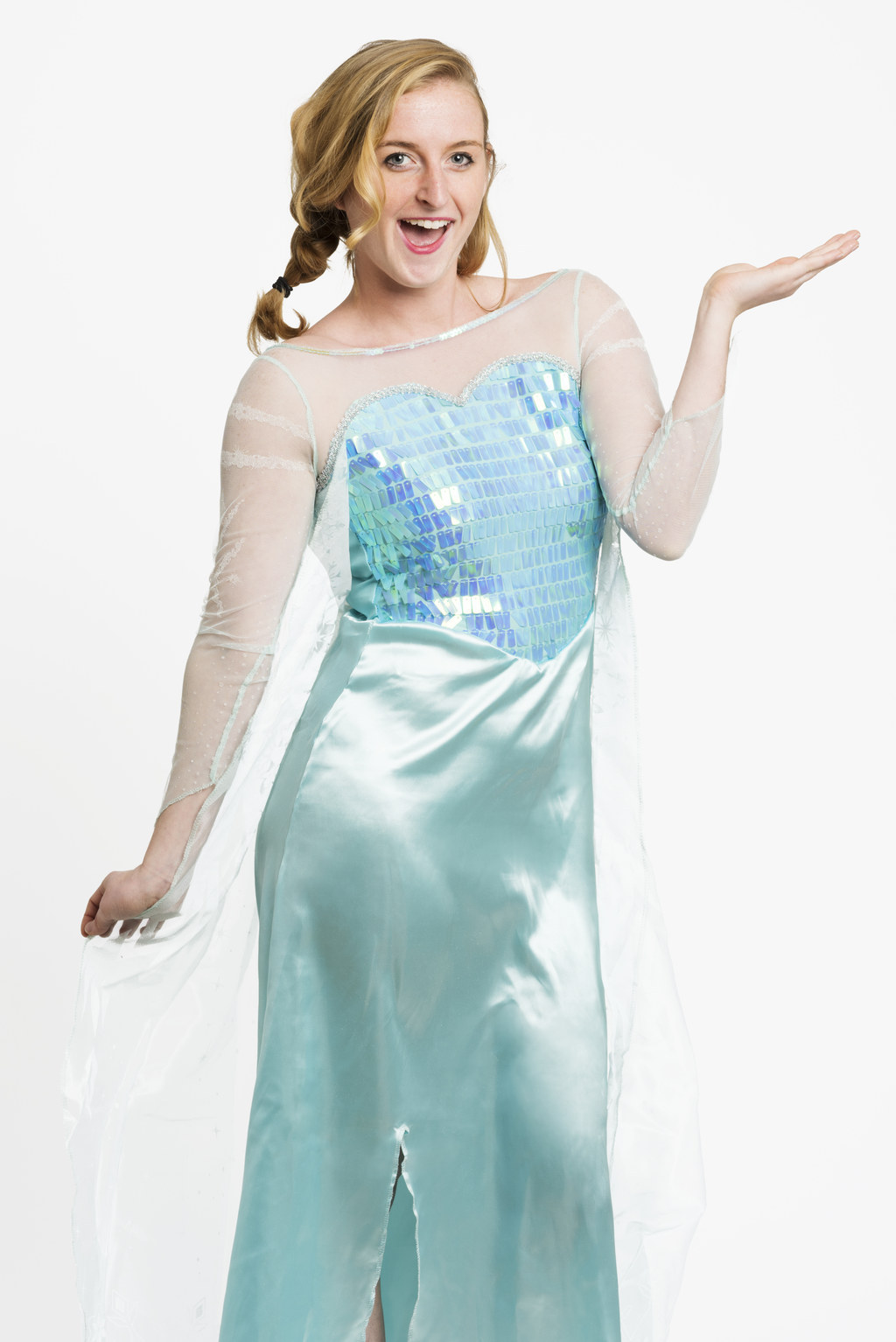 Kirsten's reaction to her Disney Princess-ified photo: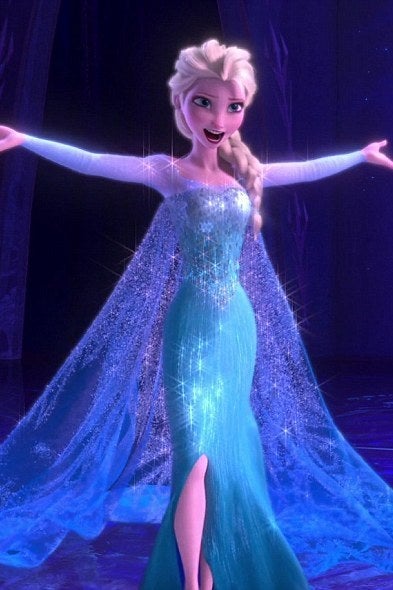 "GOOD LAWD. I look like a Bratz doll gone wrong. It's so weird seeing my wrists, arms, and waist that size. The first picture isn't the MOST flattering, but damn, I didn't expect to lose my stomach entirely.
I mean, look at that waist! There's no room for pizza in there. There's no room for In-N-Out. There's not even room for a tiny piece of broccoli. Maybe Disney princesses' eyes are so big because someone squeezed their stomach so hard their eyes are ready to pop. My body literally looks like an hourglass in the most terrifying way possible."
Lara was photoshopped into Ariel (from The Little Mermaid):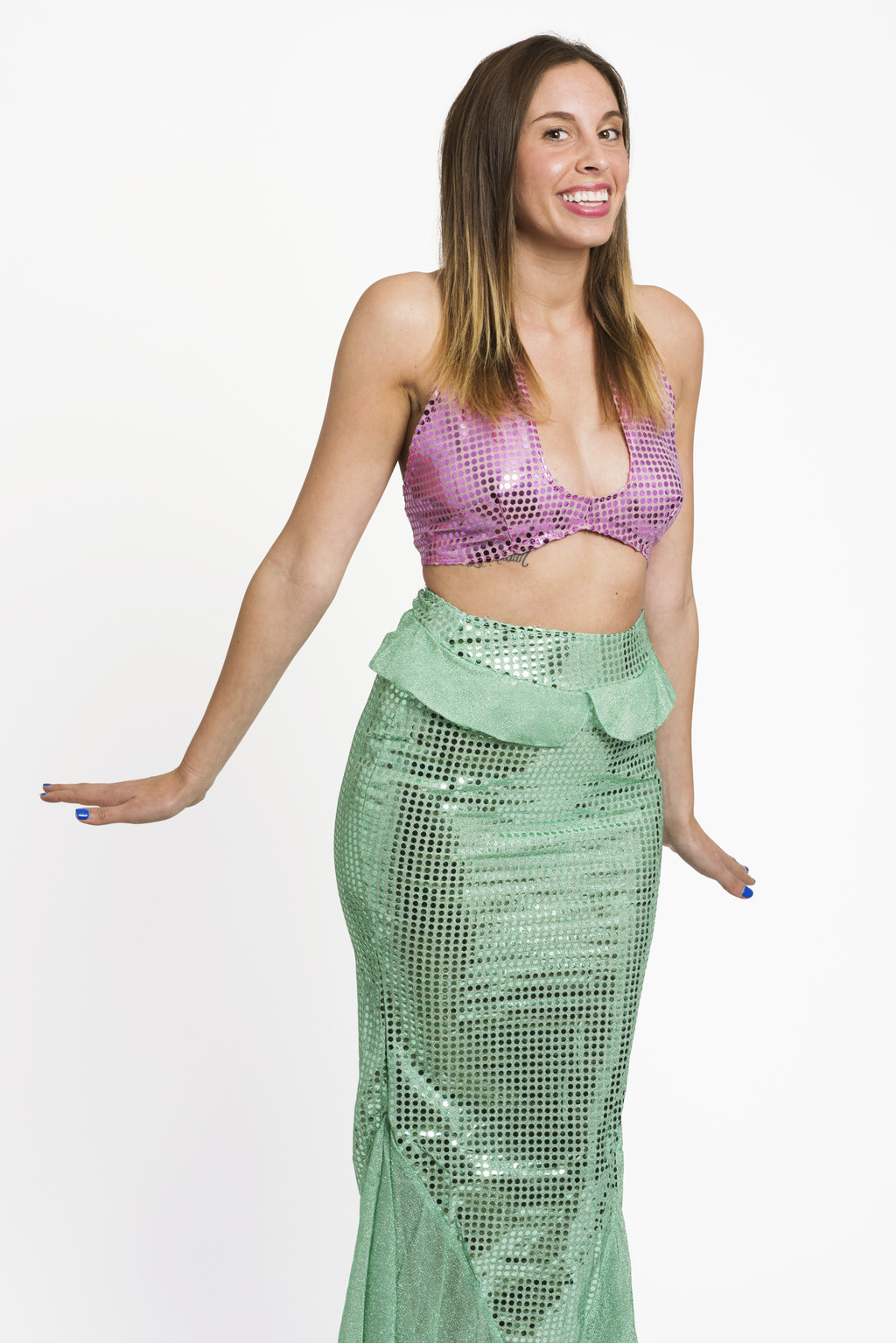 Lara's reaction to her Disney Princess-ified photo: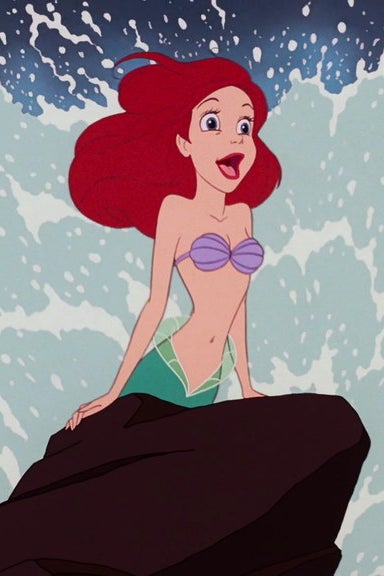 "All right, first things first: Someone needs to create better Little Mermaid costumes STAT. I felt uncomfortable as it was because sequins were in places where sequins should never be. Then add on the fact that I'm supposed to pose and feel confident as a mermaid?! This is what nightmares are made of, ladies.
Seeing the altered version of myself just made me laugh. Honestly, what even is that thing? It's not a human or a cartoon, it's like Gollum from Lord of the Rings if Gollum tried to go as the little mermaid for halloween. It's certainly not me. Where are my hips!??!! My waist?! The marks on my stomach when I sit for too long and my skin overlaps?"
Candace was photoshopped into Snow White (from Snow White):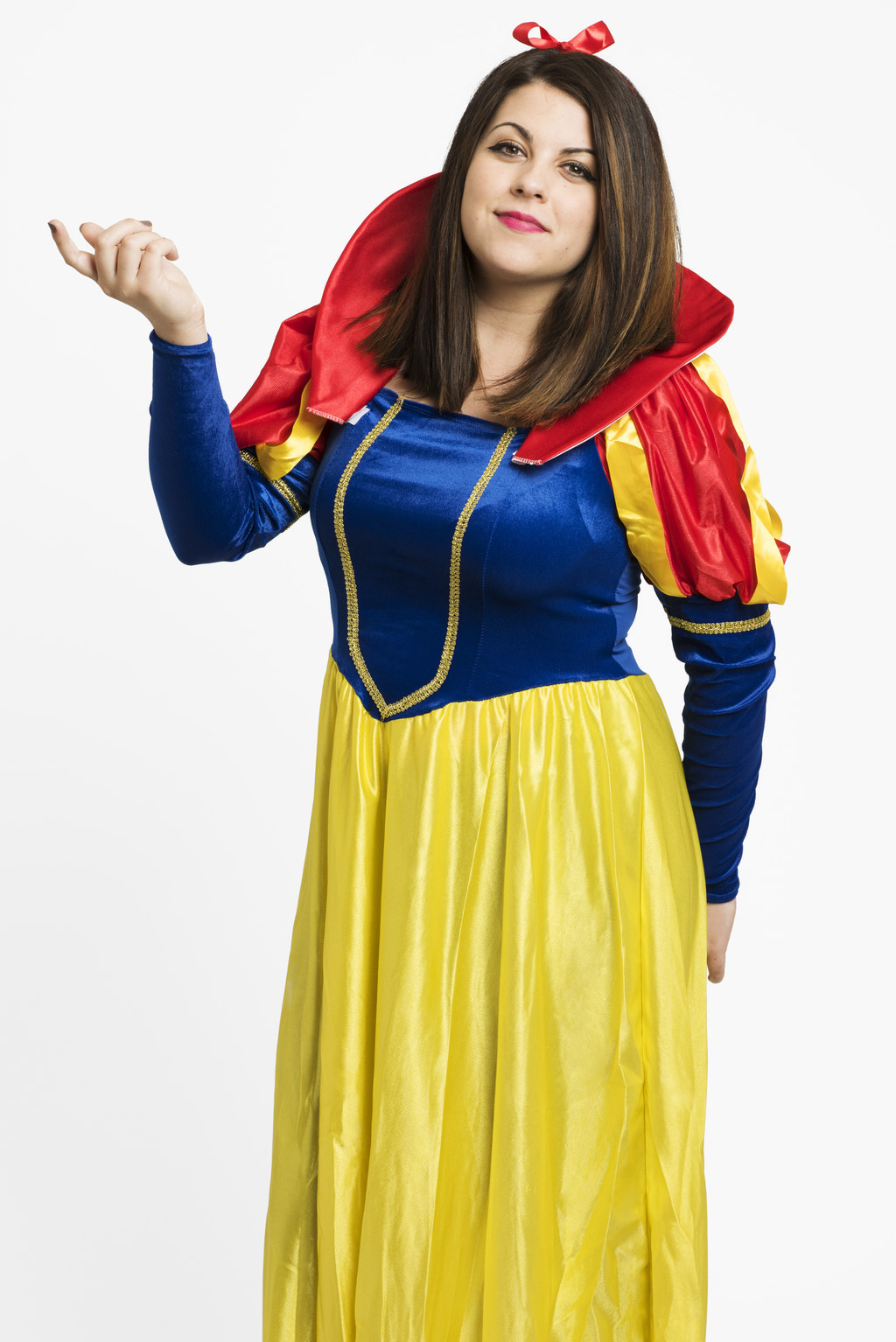 Candace's reaction to her Disney Princess-ified photo: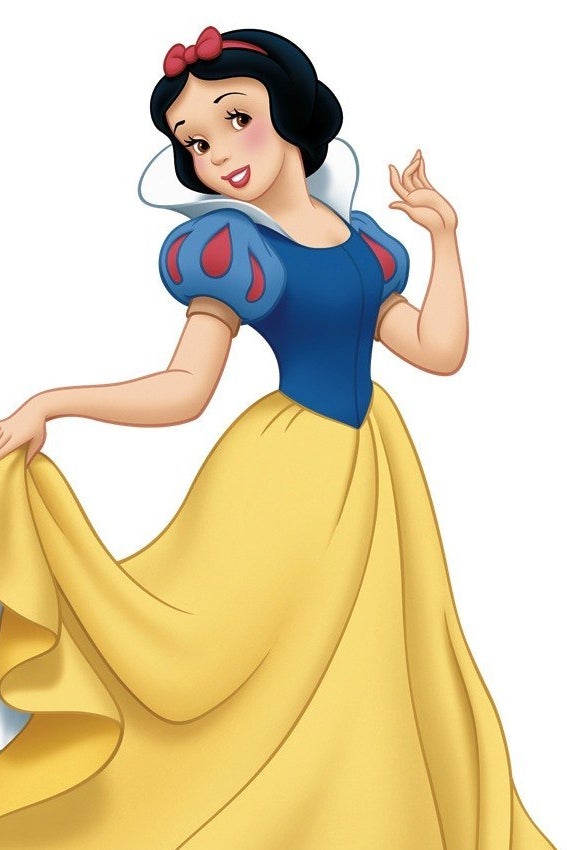 "HO. LY. SHIT. When I first saw this, I almost fell out of my chair. It's bizarre! My little arms look like spaghetti, but I still got dat ass. It's like my face was put through a morphing filter on Photo Booth. It's really strange seeing these side by side because the longer I look at them, the fatter and worse the real me looks, and the more normal the one on the right looks. I feel like the princess me got squeezed by King Kong and just pooped out all her internal organs, and held in a sneeze too long for the sake of the selfie. And I fear that my back would snap by the weight of what looks like nice DDD breasts."
Sheridan was photoshopped into Tiana (from The Princess and The Frog):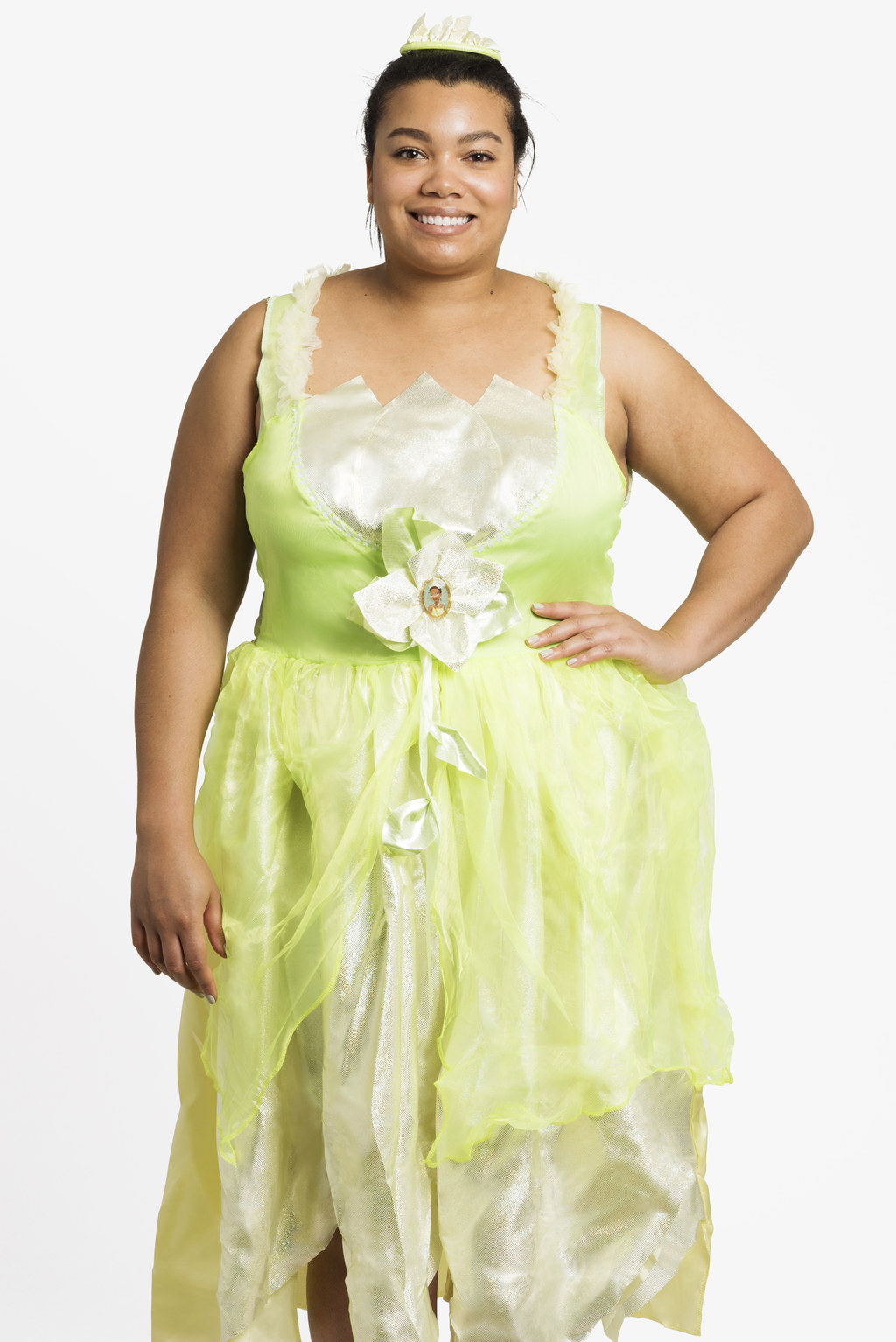 Sheridan's reaction to her Disney Princess-ified photo: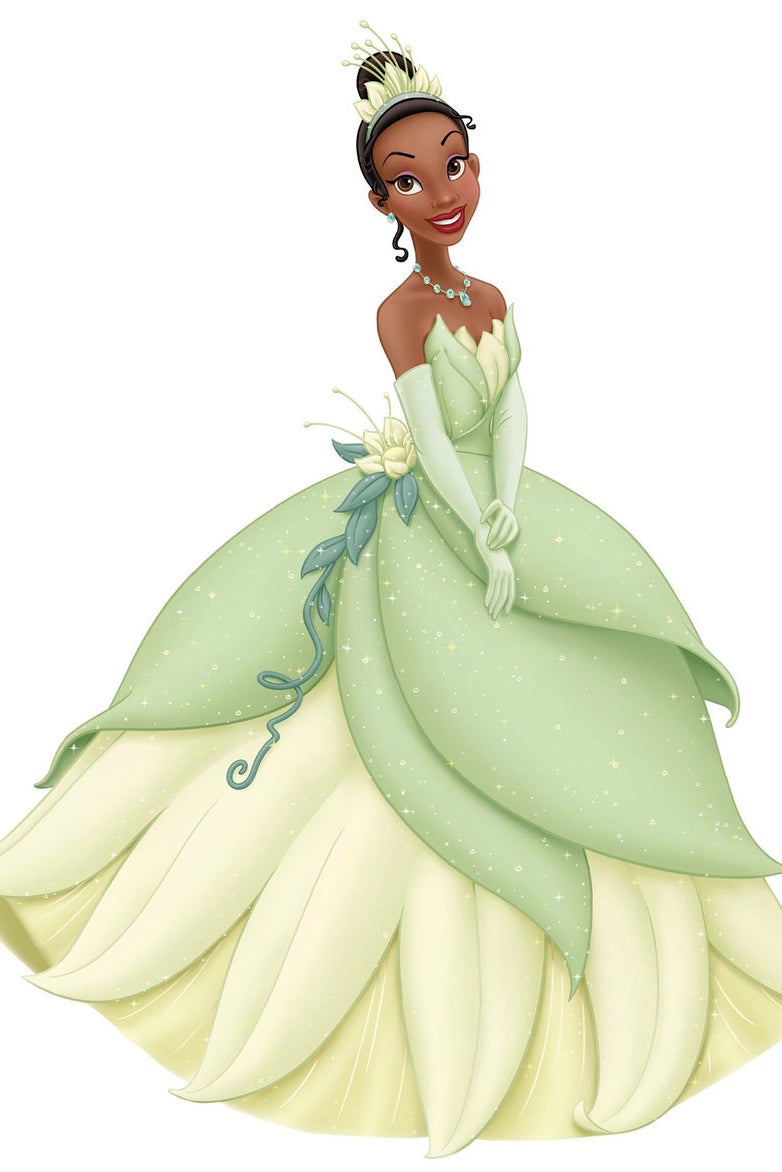 "You know what's crazy to me? That my body looks like that of a Disney princess. On Jasmine or Aurora, I wouldn't bat an eye, but it's just because it's me that I can finally tell how bleepin' crazy this looks. My waist looks like it's going to snap with the weight of my head. AND DON'T EVEN START ON THE EYES. I look like a princess of the bug monsters. I can't even with you right now, Disney."
So, did we like ourselves better the way we are, or as Disney princesses?
Allison: No, but at least now I know what I would look like as a Tim Burton cartoon.
Kirsten: I think I'll stick to the stomach that has room for pizza in it.
Lara: The only positive about the altered version of me is that I'm one step closer to being a mermaid like I've always wanted. Everything else is grossly altered and I'm going to be haunted by that tiny waist and large eyes until my dying day.
Sheridan: I know there's a camp of people out there who think that Disney princesses don't have an effect on young girls' self-esteem, but I gotta tell you, I'm an adult woman and when I see these two photos side by side I can't help but think how grotesque MY body looks — and these are human dimensions! Can you imagine watching these movies all your life and thinking that as long as you have big, beautiful eyes and a beautiful, statuesque shape that you can marry your prince? It took me a second to shake that thought out of my head and at the end of the day, I'm happy with my body, weird waist and boobs and hips and all.
Candace: Here's the thing, unless I did waist training and was willing to sacrifice my organs, I wouldn't want that body. It's honestly sad that these princesses are so oddly shaped, and seeing them side by side made my real body look giant. However, I LOVE MY BOD, and wouldn't you want a voluptuous Snow White? I'll be her va-va-voom cousin, Blizzard Blue.
Kristin: Honestly, I prefer the Disney princess version of me. The bigger the eyes, the better to throw shade at the haters. Plus, now that huge chunks of my torso are gone, I can use my new shelf hips to carry around books!
Just kidding, of course. I think Disney princess me looks like the type of girl who would live inside a haunted VHS tape.