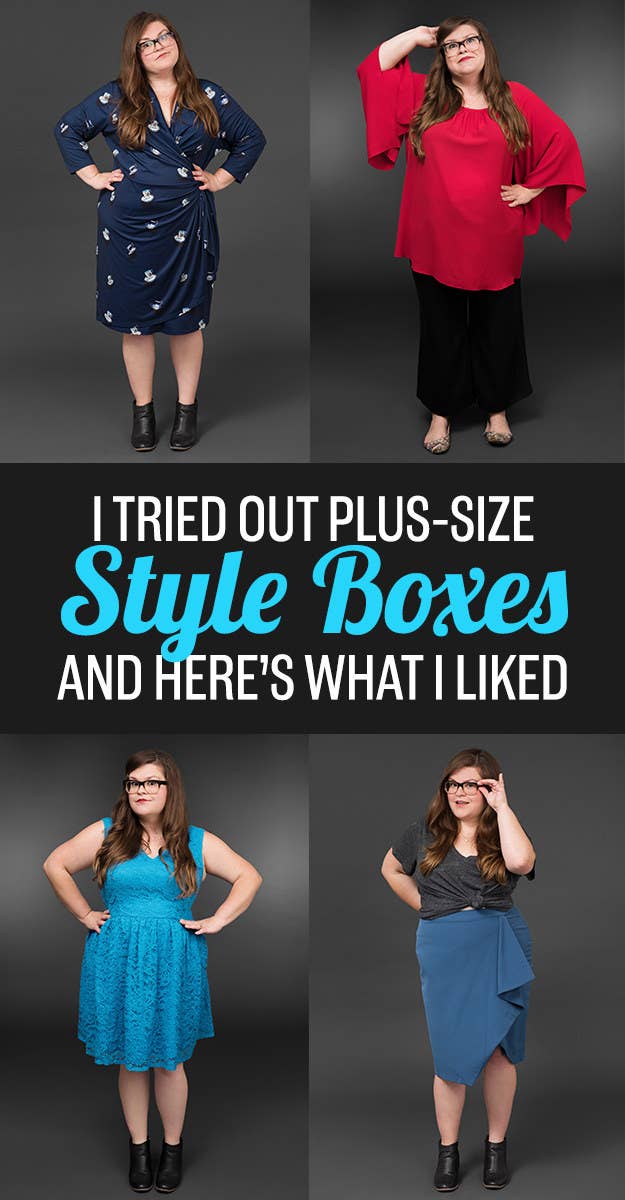 Hi, I'm Kristin. Like many plus-size women, I've found that learning how and where to shop for clothes can be a long and tedious slog, like an extended training montage for an '80s movie.
So when online styling services (like Stitch Fix) came around, I was ready AND excited to let a ~trained professional~ send me a cute box of clothes for me to try on — but I wasn't surprised when I found out that they don't cater to plus sizes.
But lucky for me, a bunch of online styling services for plus-size women have recently arisen. So I decided to give three of them a try:

The cost: Gwynnie Bee is free for the first 30 days, $95/month after that (for three garments at a time — kinda like how Netflix used to send out DVDs).
How it works: OK, so Gwynnie Bee isn't a styling service strictly speaking, but it's the most well-known plus-size subscription service, so I wanted to try it. They send you 1-3 garments (depending on your subscription level) at a time to borrow for the month, with the option to buy at a discount. They run from sizes 10-32. However, they DO have collections on their site based on your body shape, and since my shape is some sort of bizarro Escher painting that changes depending on the angle, I tried one suggestion each from the "oval" and "hourglass" collections. Also, you have to select 25 things for your "closet" before they will ~ACTIVATE CLOTHES SHIPMENT~ for your favorite three items.
I got three items from Gwynnie Bee: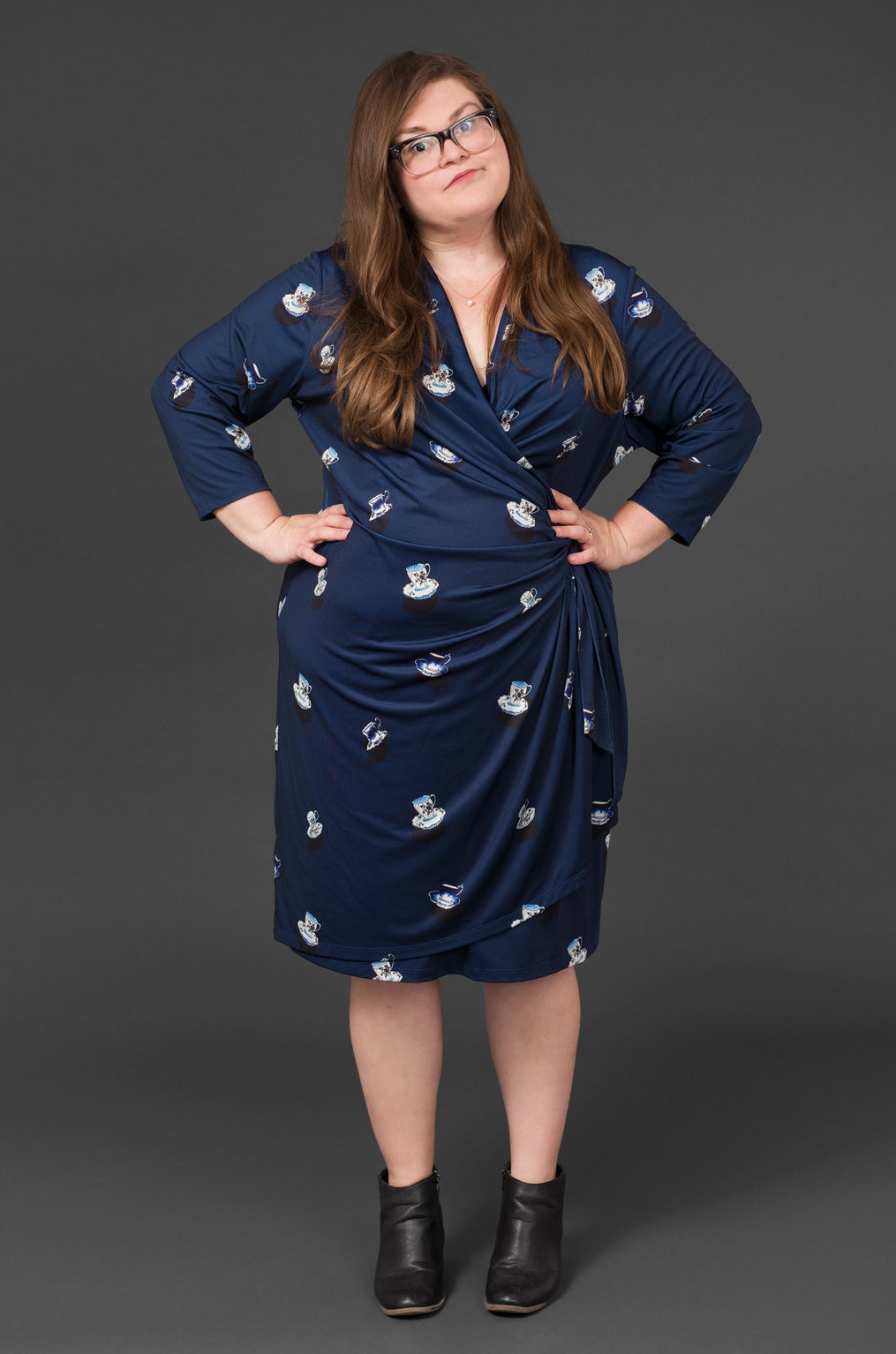 How I felt about the clothes:
The skirt from the "oval" collection was the best — one of those great items that makes you wiggle obnoxiously around your room, like you're a little motor powered by self-esteem. It was also lined, and it felt very high quality — I kept it. However, the print on the teacup dress got a little distorted when it stretched, which I wasn't a fan of. And both the floral dress (that was my pick) and the teacup-printed dress (from the "hourglass" collection) would have required me to have sort of a titty expansion pack to fit. All three were size 18s that fit differently, so DEFINITELY pick sizes according to your measurements. Also, Gwynnie Bee lets you return stuff for different sizes in the same month if you have fit issues, but since the dresses fit me well elsewhere, I figured it was a moot point.

Cost: Dia&Co. is $20 styling fee per box, and my entire box of five items was purchasable for $274.
How it works: Dia&Co. runs from sizes 14-32. You fill out a pretty extensive survey about your likes and dislikes regarding colors, prints, and cuts, and you can also provide your social media accounts so they can see you ~in action~. I was on a wait list for about three weeks.
And here are the five items that were in my Dia&Co. box: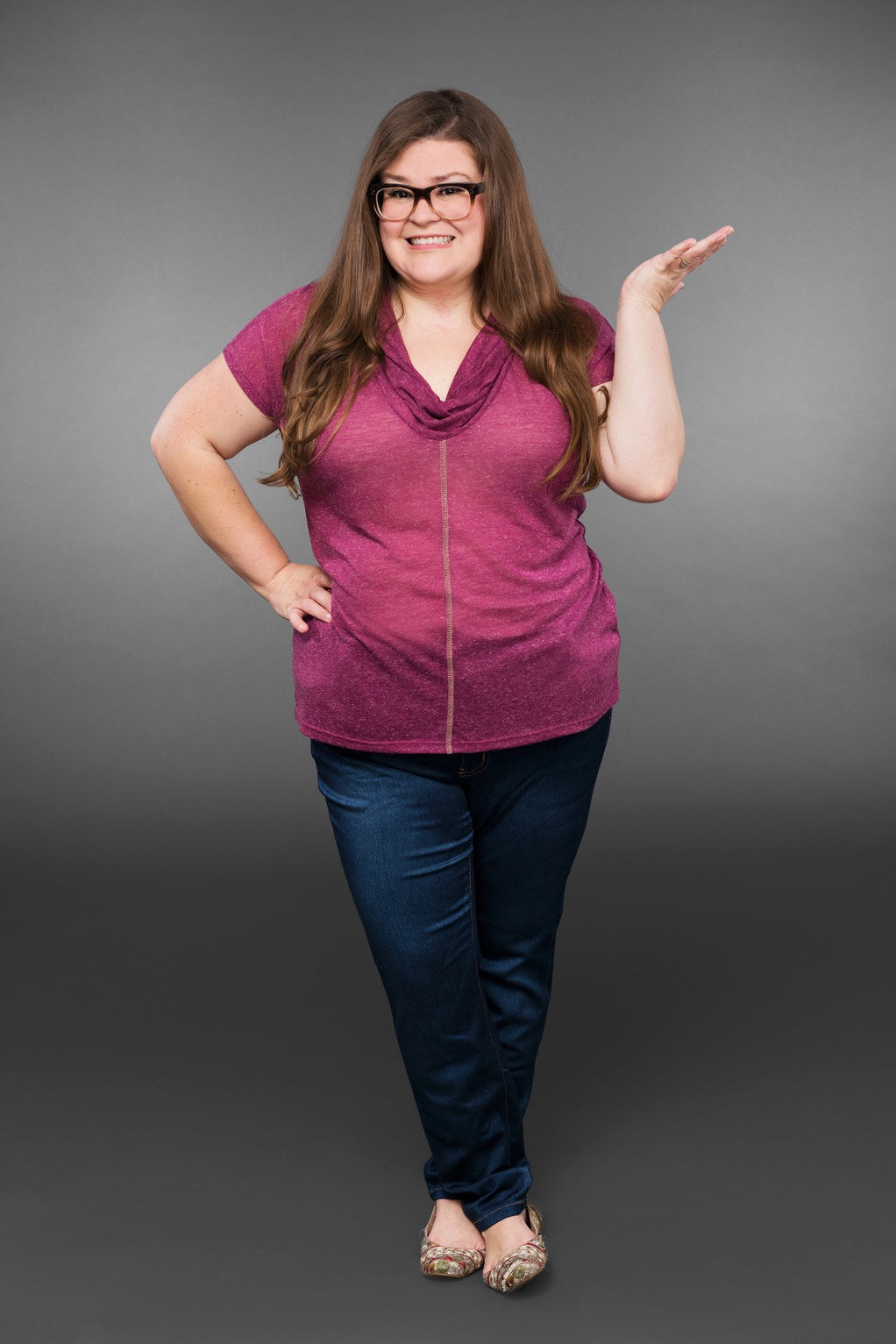 From left to right: Palley top by Oddi, $39; Frankie necklace, $36.
How I felt about the clothes:
Of the three boxes, this box felt like it (mostly) went for the safest choices. But I also feel like all the clothes (with one slight exception) basically nailed my body type, and the colors they picked were different than what I'd choose, but worked! The jeans were soft as baby dreams, and I ended up keeping them because I forgot I was wearing them and left them on too long but I ain't mad. The dress had very pretty colors, but was big enough in the chest area that I had to stick my fists in it to get it to fit right. Both the tops were VERY sheer — even though the black-and-cream one was a pretty substantial material. I know you can layer, but it's hot — I prefer not to buy tops that need to be supervised by another top, you know?
Plus, the black-and-cream top was cut pretty low on the side and was made of a fabric that was too heavy and stiff to wear with a bralette, so I would have looked like a manager at the First National Bank of Boobs. The necklace was a very strange bolo tie situation, and $36 seemed like a lot to pay for something I would undoubtedly lose at a bar. But honestly, these are small quibbles — understanding my body shape is the important part. I have a hunch that — given one more box — they probably would have nailed it.

The cost: Plvsh has a $25 styling fee, my entire box of five items purchasable for $457. Plvsh does do a $500 hold on your credit card for the clothes while you have them, but this charge never showed up on my statement.
How it works: Plvsh runs from size 14-28 (they say "14+" but the highest size you can select on the style profile is size 28).They ask you if you are "modest," if you like "a touch of trend," or if you are "adventurous" — I selected "touch of trend." Then, same as Dia&Co., you fill out a survey, and they also have you attach a photo. I was on the wait list for this box for about a month before I finally reached out to ask about my box. They let me know that (as of this writing) if people reach out to them to ask about their boxes, they can be bumped up the list. With the clothes, they send you a little leaflet explaining all their choices in detail, which will be relevant in a second.
And here are the five items Plvsh sent me: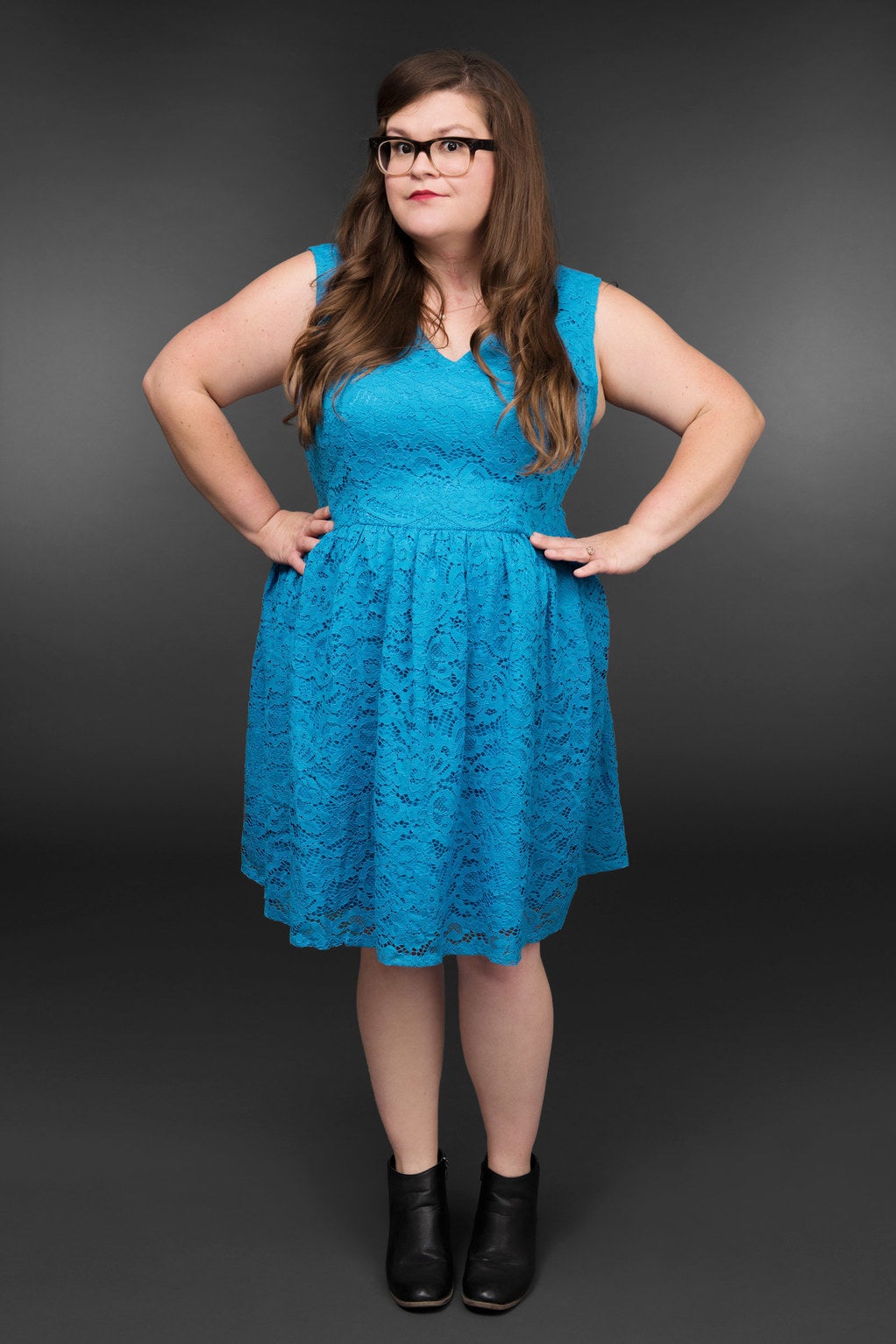 From left to right: BB Dakota lace sea blue dress, $125; Eloquii kimono-style black maxi dress, $129.90.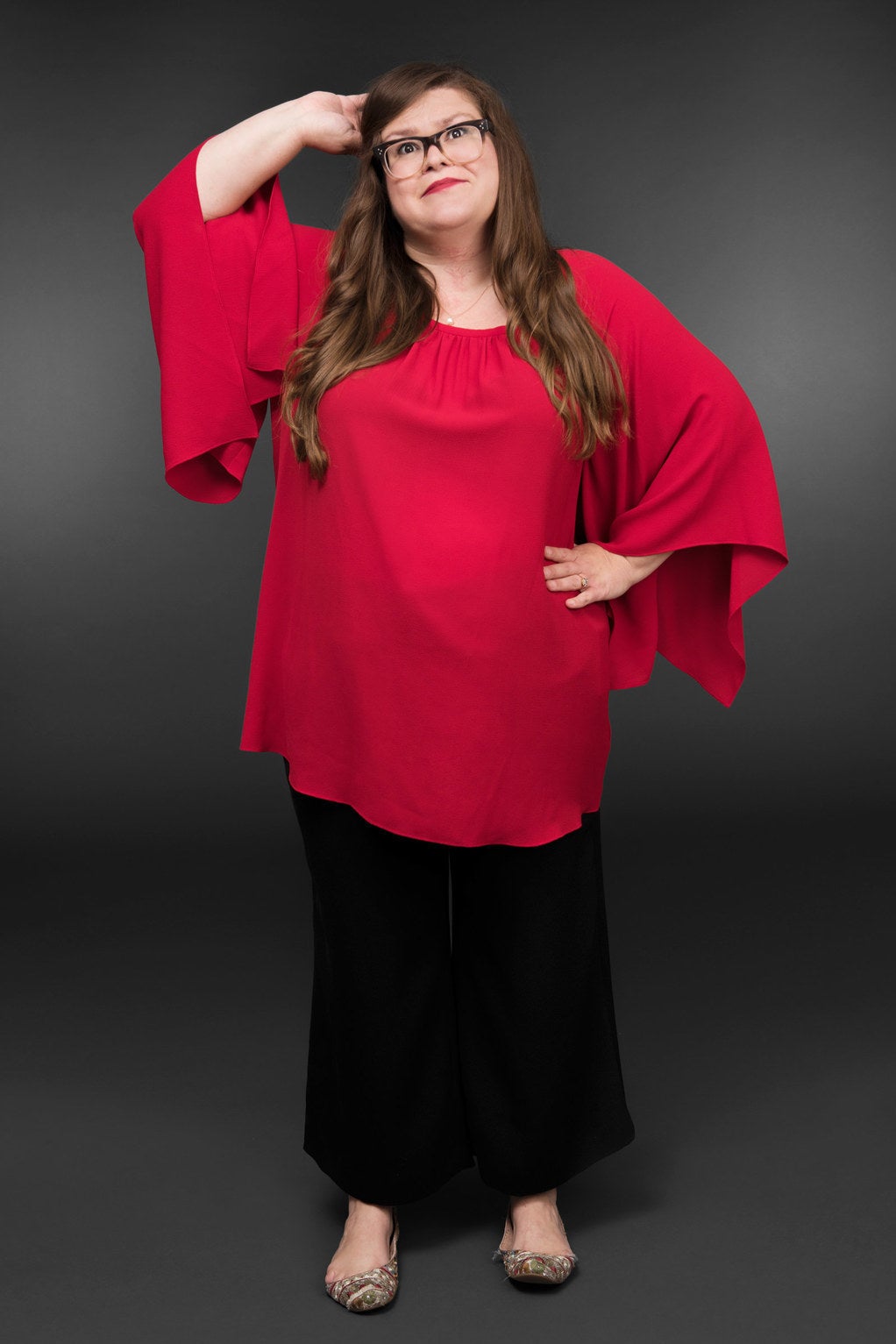 From left to right: Vince Camuto textured round-neck blouse, $89; Vince Camuto zip-pocket culottes, $98; BB Dakota lotus-print tank, $89.
How I felt about the clothes:
The first half of this box was the best box I received.The black dress was so fantastic that I tore off the tag more or less immediately. And I loved everything about the blue dress except that — at the time — I felt it was the same color as a foam pool noodle. Though after I saw the photographs of it later, I had judger's remorse and wished I'd kept it.
The second half of the box was very strange — almost like the items were picked by a completely different person. I told them that I preferred slimmer pants and was 5'3''. Yet here I am, wearing culottes, the trend that almost no one wants but keeps coming anyway, like a mailbox full of AOL CD-ROMs. Culottes on me are just pants that are too short. And I have no idea what is going on with this red top, other than that it makes me look like the red M&M's grandmother, or some sort of flag designed to stop ships from crashing into rocks. Also, I am trying to sell the hell out of this black-and-white top in this photo, but it just sort of looks like if Talbots designed a shirt with pot leaves on it.
The weird part is that in the little leaflet, they acknowledged that they were aware of my height. So I am not super sure why they chose that particular trend that just looks like pants that are too short. I still got one showstopper of a dress from the box (and really, who wants to spend $500 on clothes at once anyway?), but still.

And, finally, here are some things to keep in mind for every style box:
— Let the services know your measurements, even if they don't ask for them — knowledge is power and whatnot.
— Take pictures of yourself in the clothes before sending them back, and show them to people you trust. My initial perspectives weren't always perfect — don't suffer from judger's remorse like I do.
— You may not like everything in every box, and that is OK! That's the whole point. You are not a failboat — this stuff just might make it a little easier to find stuff you DO like.