TikTok user @colinrea recently asked people, "Tell me you're petty AF without telling me you're petty AF":
And he showed how petty he is by scrolling through a long list of all the people he has blocked: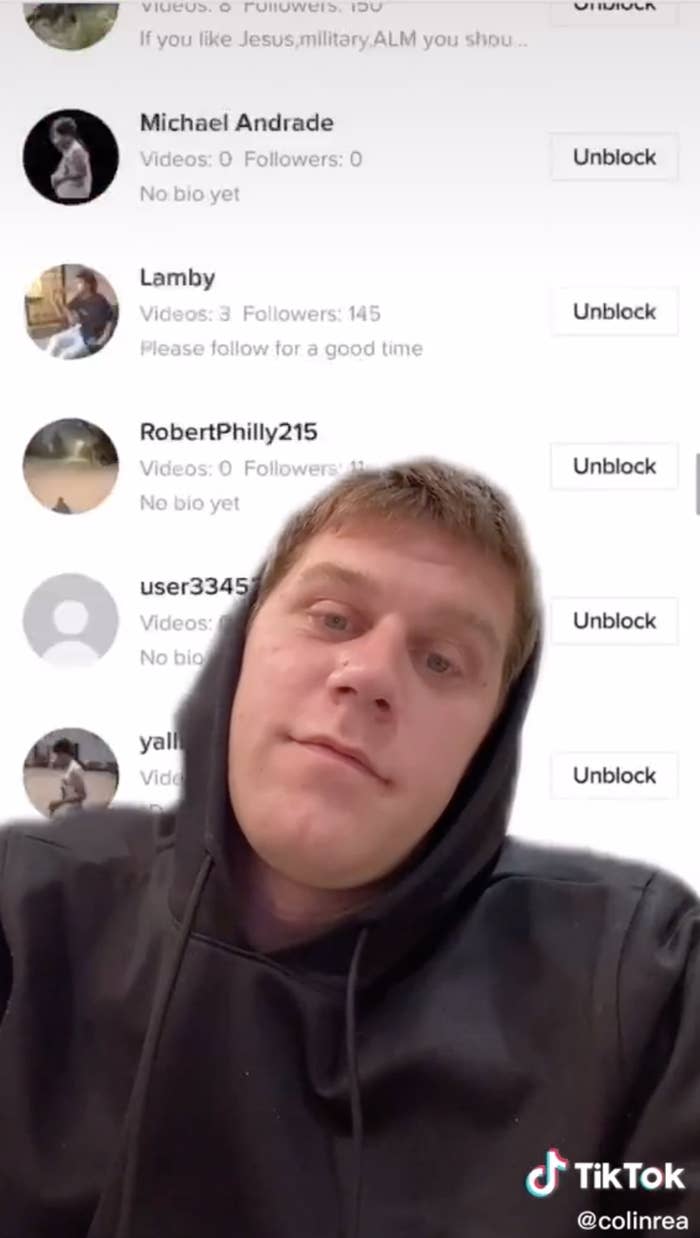 Others soon started sharing the petty things they've done. Like user @kimberly.corban, who was with her niece at the car wash and, even though there were two lines, the line was clear out onto the street. "I finally get up there and we see a car coming from the other way. I pull in on my side and this truck decided to cut off the entire line and get in line behind me. People are pissed and honking. They are flipping this dude off and he did not give a crap. I get up to the front and the attendant is like, 'How can I help you today?' And I'm like, 'Hi, I'm here to be a petty bitch 'cause I don't have anywhere to be and this guy just cut off all of those other cars. So I'm gonna sit here and make him wait.' ... We sat there in line until all of the other cars that he had cut off went by, waving and happy. I got my wash upgraded for free. KARMA."
TikTok user @kimberly.rush said, "When I was going through a divorce, I was pregnant with my husband's baby and his mistress was pregnant — with my husband's baby. And so, the babies were born and it snowed, so they took a family photo in the snow with all the babies and them. I had one of my friends photoshop me into the photo wearing clothes that were the same color scheme, and then I sent out Christmas cards that year that said, 'Merry Christmas from the Collins family and Justin's HO HO HO.'"
User @grammamillenial said, "I ordered a paper planner from Ivory Paper Company on Jan. 2 of this year. On Jan. 20, I still hadn't received my planner, so I sent an email to the company and I did not receive a response. I waited until Feb. 13, when I sent another email and did not get a response. I commented on their Instagram account to see if I could get an update on my order and I got blocked. I went to their Facebook page to see if I could get an update on my order and I got blocked. So I created a TikTok page specifically to make videos calling out Ivory Paper Company..."
And user @averageentertainment said, "Let's review my latest exchange with someone that left me a hate comment. This person commented, 'Stop making these' on one of my Instagram reels. I looked through the profile and saw it was just a 16-year-old punk kid. But I see they want to go to NAU. So I responded with, 'My dad works at admissions in NAU. I gave him your name. Good luck on your application, lol.' I have no idea where NAU is."
User @its_me_barb.92 said, "I finally decided that it was time to go to the hospital when I was contracting every two minutes and I had 60-second contractions each. I get to the hospital and I'm 4½ centimeters dilated, and the nurse looks at me and she goes, 'I'm sorry, dear, but we only keep [moms in labor] at 5 centimeters. So she's like, 'You can walk around the hospital if you want until you're ready.' Yeah, I wasn't going to do that, so we left. On our way home, we passed by Del Taco. I'm sittin' there eyein' that — grab my husband's steering wheel like, 'WE FINNA GO!' We get there and I order the biggest, nastiest thing of chili cheese fries that they had. And I prayed on the way to the hospital that I'd shit on them for making me go home over half a centimeter. And you wanna know what? I DID."
"I'm not saying I do this, but, you know, the IRS has this program where if people aren't doing what they're supposed to and you let them know, they'll pay you a percentage when they collect," said user @justbeingbuffie.
"So, my husband cannot stand TikTok, and whenever I found out he was having an affair for months behind my back, I decided to make a bunch of TikToks recounting everything he did in explicit detail. A million people saw them. TikTok is better than karma," said user @leashandmer.
And, lastly, user @thisisjessicarose said, "When my daughter's father left me at 6 months pregnant to be with his coworker, I started a singe-motherhood blog called She Really Had a Baby that's now grown to a platform of over half a million people across all social platforms, where I do everything from blog posts to content creation...but I am most known for my mom raps, where I diss my baby daddy in parodies to popular rap and R&B songs."
OK, petty people of the world — tell us what you've done in the comments!!!