Let's get straight to the point: Another food trend is going viral on TikTok, and this time people are putting ice cream inside Fruit Roll-Ups:
The combo first started making the rounds in October 2021 when a commenter suggested that TikToker @trinhdoesthings try it. Well, she did, and the video garnered over 9.2 million views.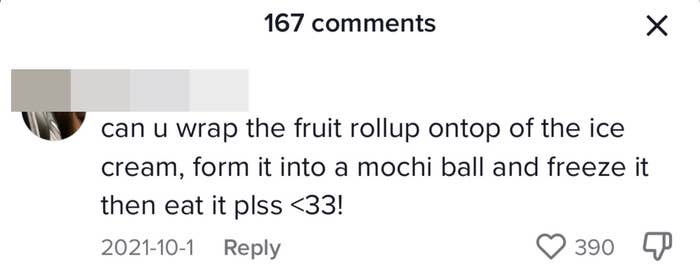 Now the viral snack is making the rounds again after TikToker @golisdream suggested pairing the Fruit Roll-Up with mango-flavored ice cream instead of vanilla. The biggest thing that has people excited to try it is the CRUNCH that happens when they bite in.

So as a person who literally launches out of their chair to try any and every food-related trend, I ran to the store to get the goods...plus some bonus additions to elevate the snack: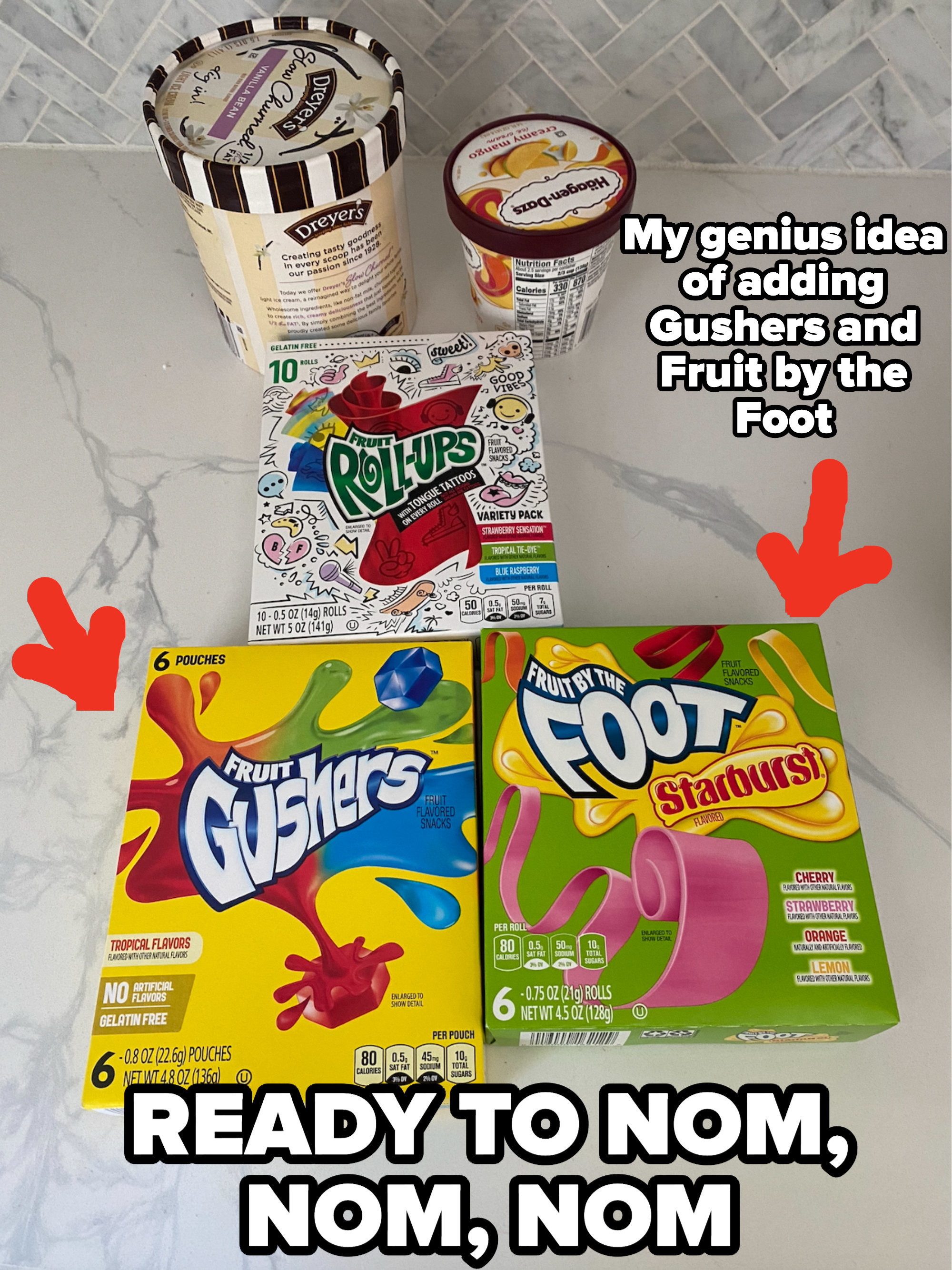 Next, you'll simply place however many little scoops of ice cream you want on your Fruit Roll-Up. I started with the mango ice cream and I did four: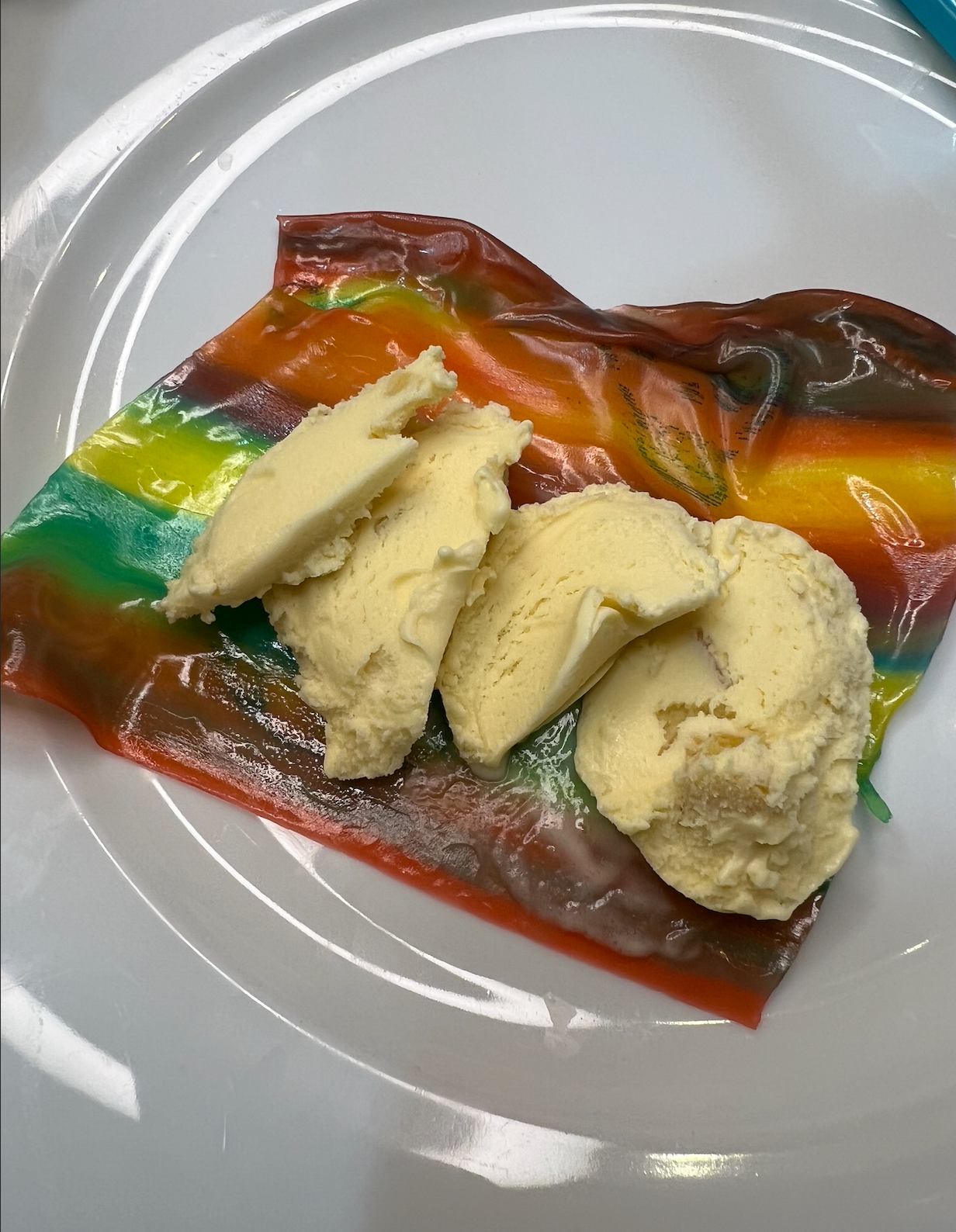 Then you literally just roll that baby up! Now, I saw some people on TikTok roll it up into a mochi-shaped ball, but honestly, that was a mess when I tried. The key is moving quickly, because the second the ice cream hits the Fruit Roll-Up, it immediately starts to harden, so you gotta roll fast!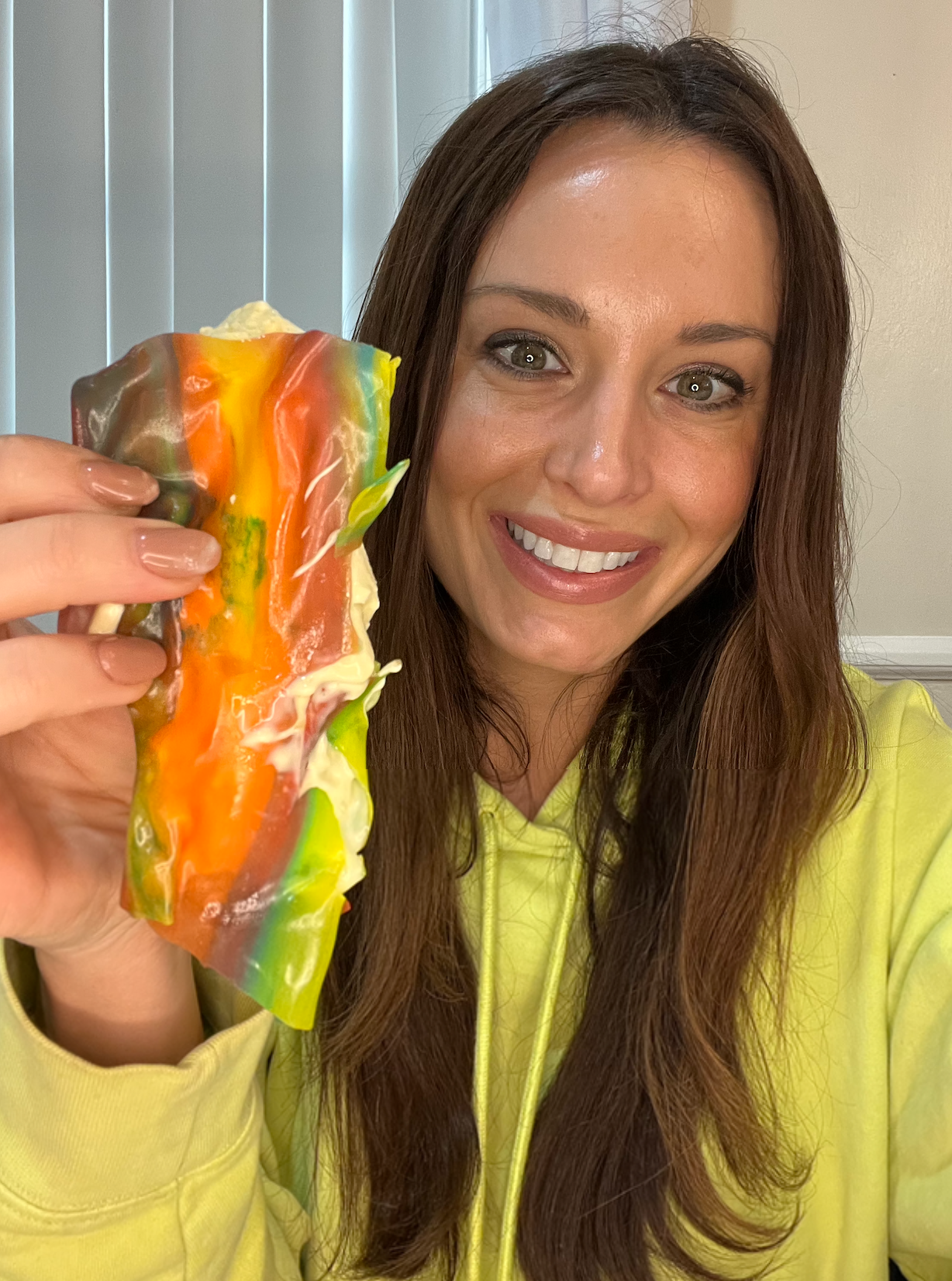 I've read enough of your brutally honest comments to know y'all don't like photos of mouths open or eating mid-bite, so here's a video where you can see the process and hear the CRRRUNNNNNCHHH:
I absolutely loved it! After tasting it with both mango and vanilla ice cream, I personally think mango is the way to go. However, one of my followers said their son did it with raspberry ice cream, and I think that sounds HEAVENLY because the fruitiness of the roll-up just goes so well with fruity ice cream, IMO.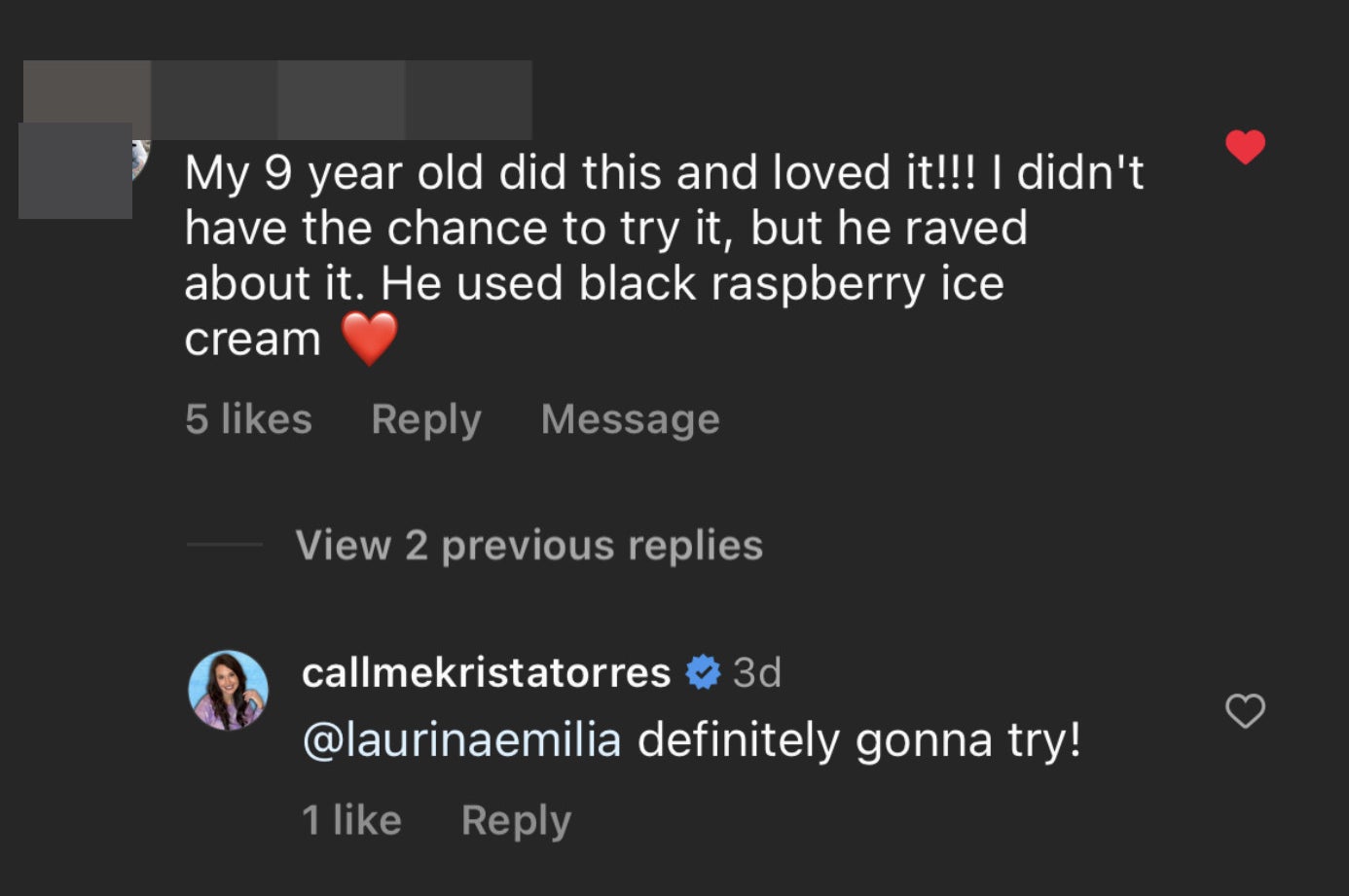 The most common question people had was whether the cold hurt my teeth. For me, it did not, but I don't have sensitive teeth. I will say that I did get a brain freeze, though, because I ate it too quickly!!!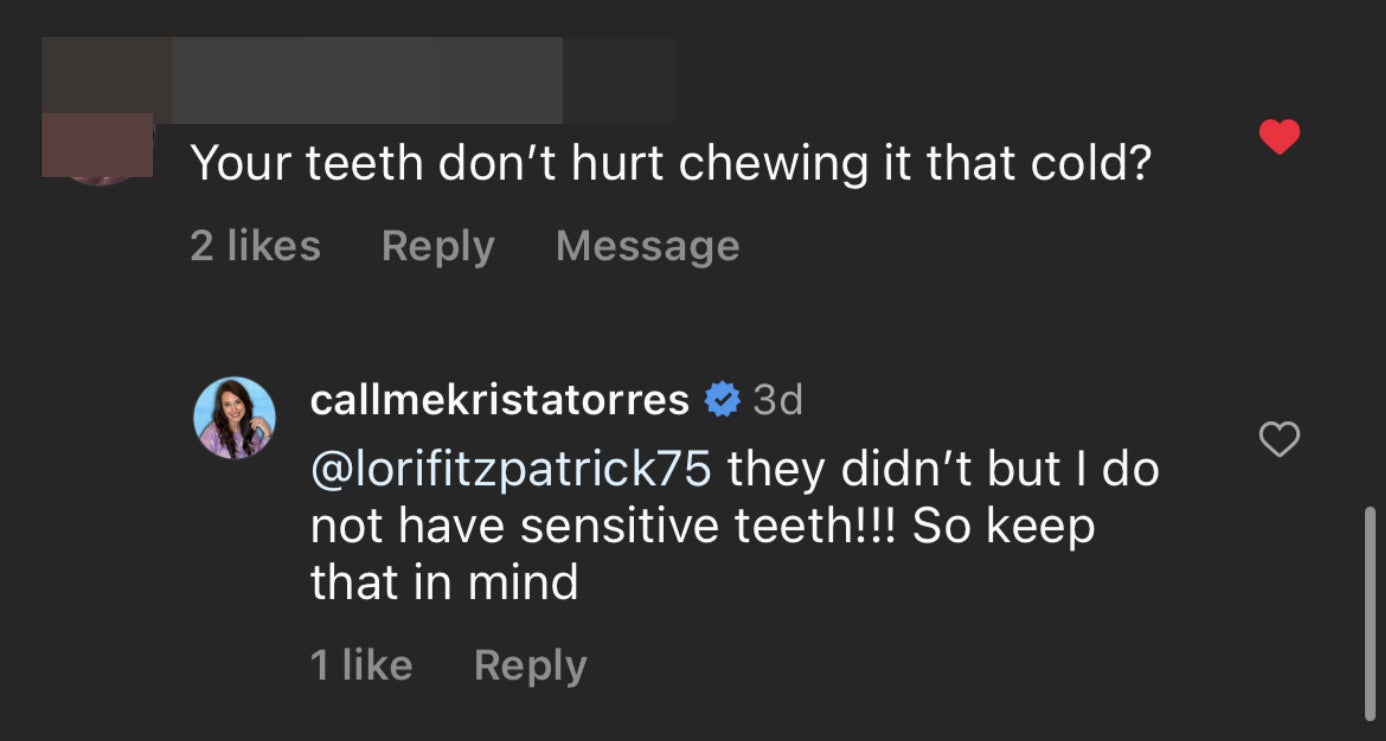 And lastly, while it does freeze very quickly and crunches, once you chew it three or four times, the warmth from your mouth turns the Fruit Roll-Up soft again. (I didn't mind the texture changes, but some people might.)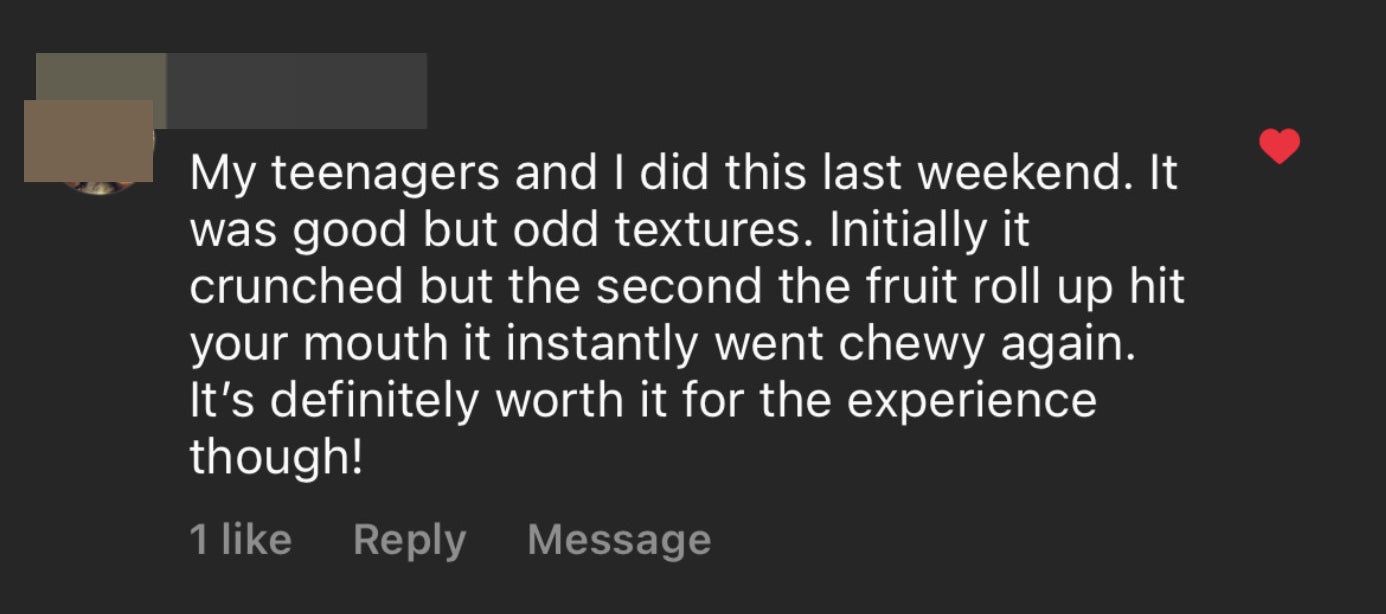 OK, on to my own shenanigans — let's start with the Gushers upgrade. GUYS. This was SUPERIOR to just the ice cream inside!!! It made the Gushers more firm, but not extremely hard to chew. It was a flavor explosion in my mouth — 100/10 recommend this addition.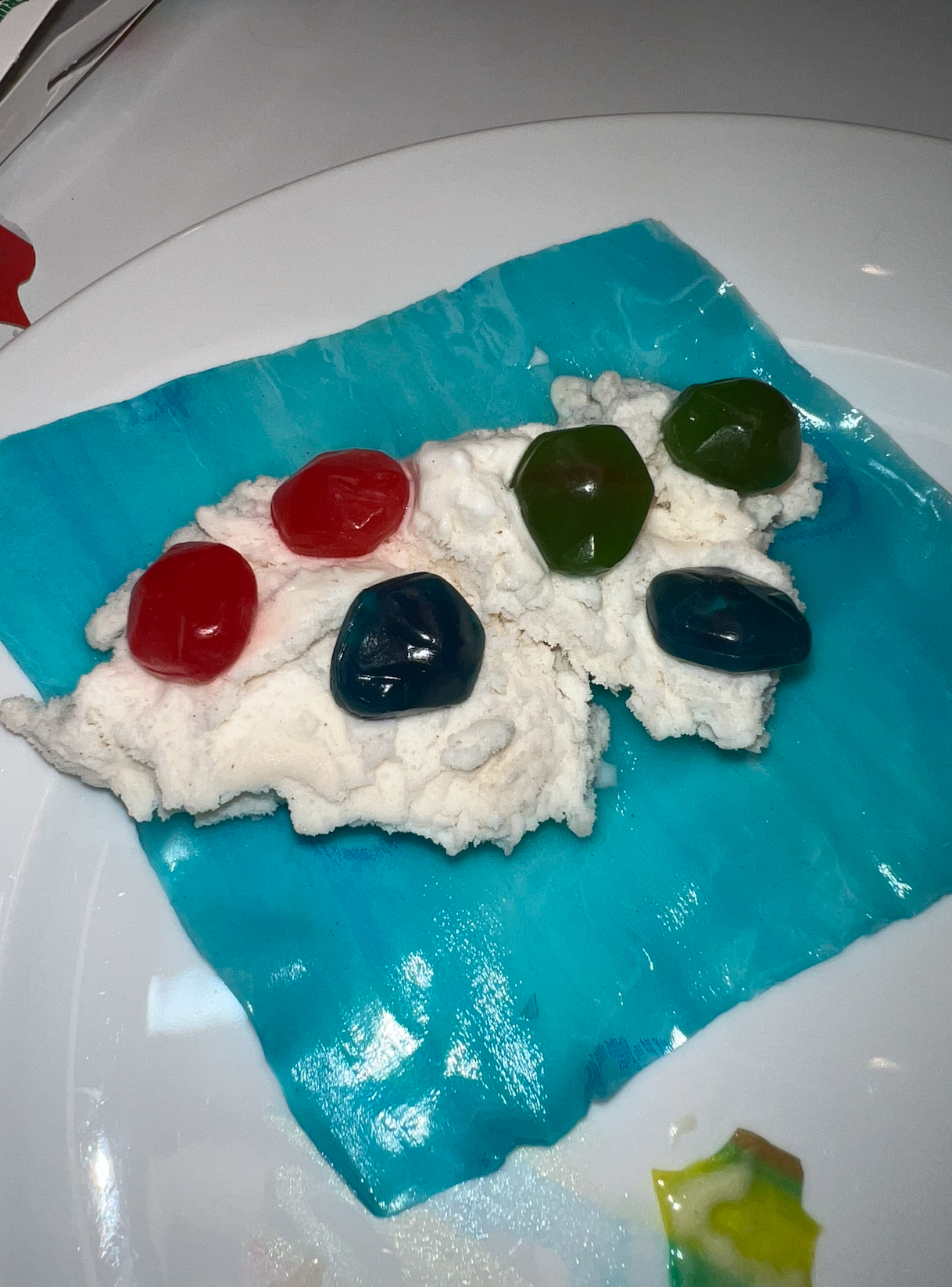 For my next level-up, I tried it with Fruit by the Foot wrapped around the Fruit Roll-Up. I KNOW MY BEHAVIOR IS QUESTIONABLE FOR SOME...
It was good, but because the Fruit by the Foot didn't really harden as well as the Fruit Roll-Up, it turned into a sticky, chewy mess. The flavor was good, but this one unfortunately was a bit too much.
By the way, as an aside, while we are on the topic of frozen food and Fruit Roll-Ups, please know that I did try to freeze my roll-up to enjoy a plain crunchy, frozen one, and it's not the best idea. First of all, if you take it out of the wrapper and put it on a plate, it freezes to the plate and is impossible to get off until it softens back up. I also tried it with the Fruit Roll-Up completely wrapped, and it just breaks apart when you unwrap it because it is lined with plastic wrap and creates a crumbly disaster.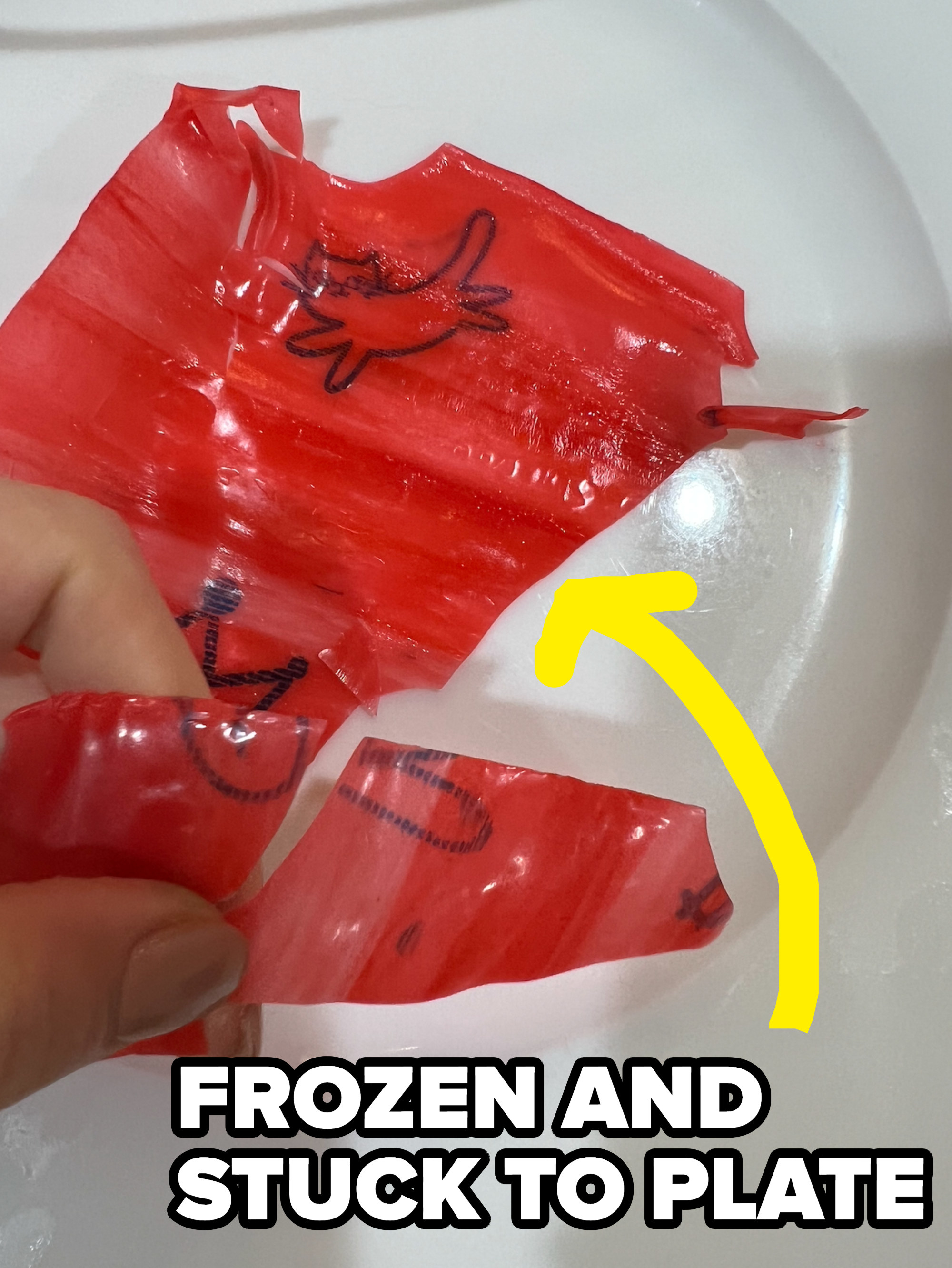 Anyway, that's my complete review of the ice cream roll-up! It is a very fruity-flavored sweet treat with a lot of different texture experiences. I would HIGHLY recommend it with fruit-flavored ice cream (or even sorbet), and I would also recommend it with Gushers inside! ✌️