Nikki Jabs is a 30-year-old woman who recently had a terrible, short-term relationship with a guy she met on the dating app Hinge.
BuzzFeed spoke to Nikki, who said that when he first saw her in the outfit, he kept staring her up and down. "When I inquired as to why he was staring, he kept saying 'nothing.'"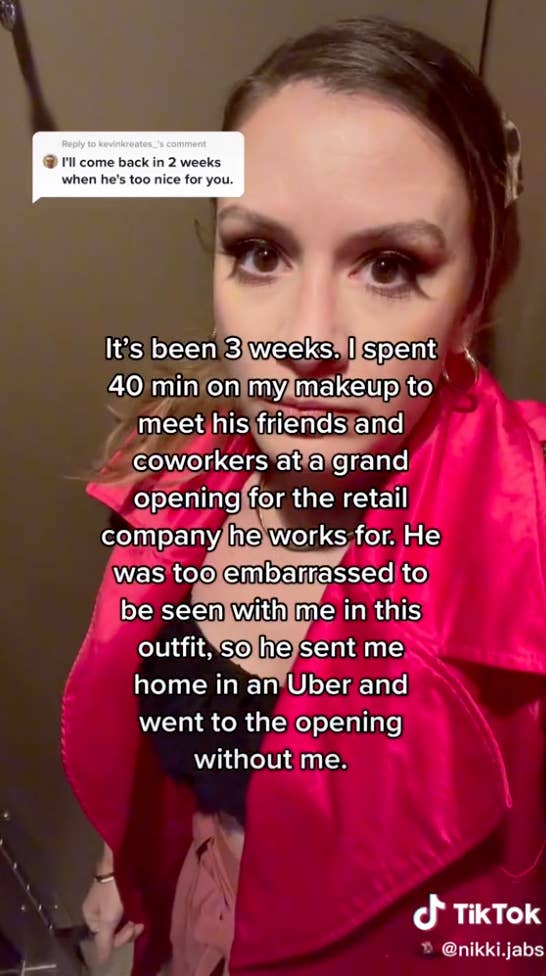 Here's the outfit she was wearing (she has a pink coat over it in the video above).
After the Uber dropped Nikki off at his house, she packed her belongings and left. "He began calling me when he got home, but I didn't answer. He then texted me that I forgot my laptop. I went back and he brought out my laptop and begged me to come inside so we could talk. He said he felt horrible, that my outfit would have been just fine for the event, and that he wished he hadn't said anything because we would have been having a great night otherwise."
Nikki said that after her videos about the situation went viral — with over 25 million combined views — women who have been in controlling relationships are stepping forward to offer support. "They all agreed that it starts small…small compliments that turn into comparisons and then suggestions. In many situations, this behavior escalates into dangerous situations," she said.

Nikki hopes that her story helps other people find the strength to not let their partner dictate their lives. "I hope they learn to recognize red flags early and find the courage to end a relationship before their partner's behavior becomes emotionally or physically unsafe," she concluded.