People Are Praising This Woman For Her Simple Solution To Getting Rid Of Camel Toe When Wearing Biker Shorts Or Leggings
"Saw this at 5 a.m., tried it at 8 a.m. — confirming at 11 a.m. that IT WORKS. YOU ARE AN ANGEL!"
Sophia Edmunds is a senior at Kent State University, majoring in fashion merchandising...but a ~fashion hack~ from her middle school days is going viral on TikTok.
In her TikTok, which has been viewed over 6.5 million times, Sophia says, "I have a PSA for all girls who don't want camel toe in their biker shorts or leggings. I was a dancer for 15 years and all I wore was the spandex, Nike Pros, the biker shorts, the leggings, so I'm pretty knowledgeable in this area. What you're going to do is take any old bra pad and cut this little triangle shape."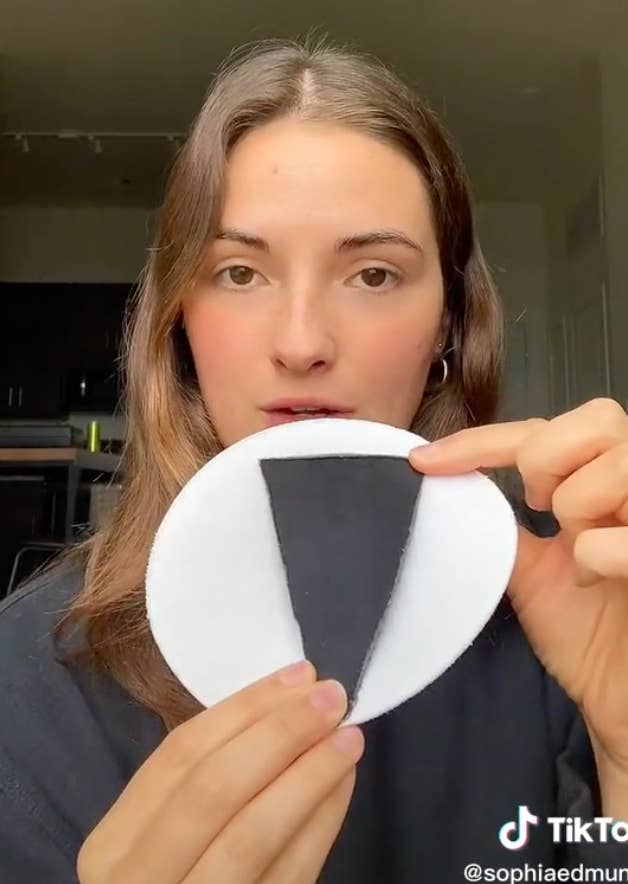 "This triangle shape will fit into the insert of your thong or your underwear — some thongs don't have that insert, but you know what I mean. Girls, you know what I mean — the little insert, the little flappy part that you can just stick this in. So, you'll stick it in, you can work out, go about your day, take a walk — whatever. And then, once you're finished with it, I throw mine in the washer. And I've had mine for years. It's reusable, you're not putting a panty liner in there. And trust me, I've tried the panty liner trick — very uncomfortable."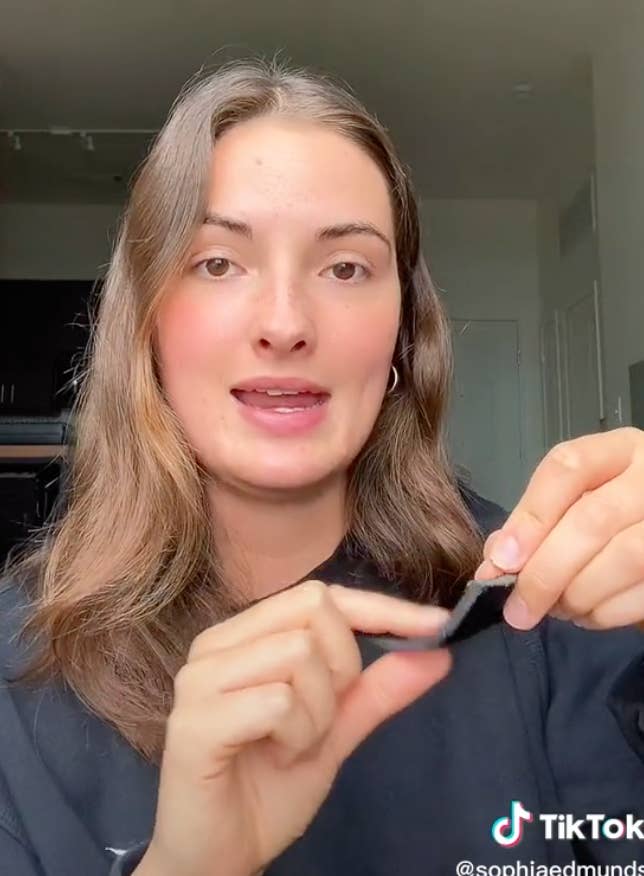 "Since the bra pad has a little bit of a scoop at the bottom, it's very comfortable and it gives you a straight line in between your legs. Someone please try this out or say that you've done this before...you have to try it!"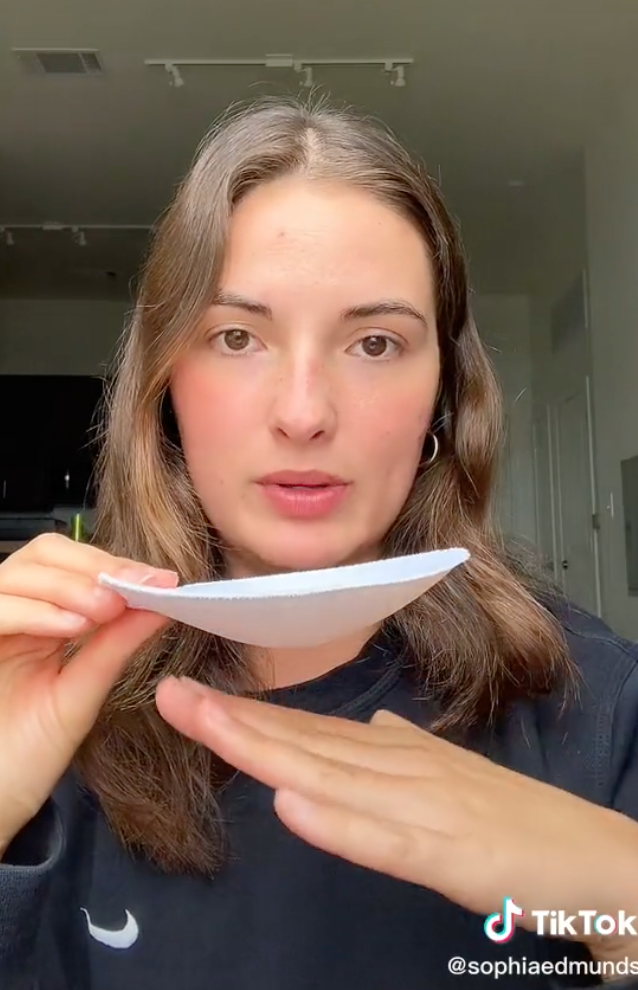 In case you're still a little confused by this hack, Sophia created a demonstration video. In the video, she explains, "What you're going to do is turn your underwear inside out. Some underwear has this lining in it — this extra fabric — and some don't. So, if you don't have it, unfortunately, this little insert will not fit or be able to be placed anywhere in there."
"It looks like this on the inside and has this little flappy part. There's nothing inside of there. You're going to take your underwear and this little triangle insert and place it right in there. Sometimes, depending on the style or cut of your underwear, you will need to wiggle it in there just a bit."
"You'll turn it right-side out and it'll just fit comfortably in that area and you'll be supported. Other people have also had concerns about hygiene, and I completely agree — you should not be wearing this same insert for 12 hours, five days a week — no washing, no nothing. I highly recommend you to only wear this when you need it," she concludes in her video.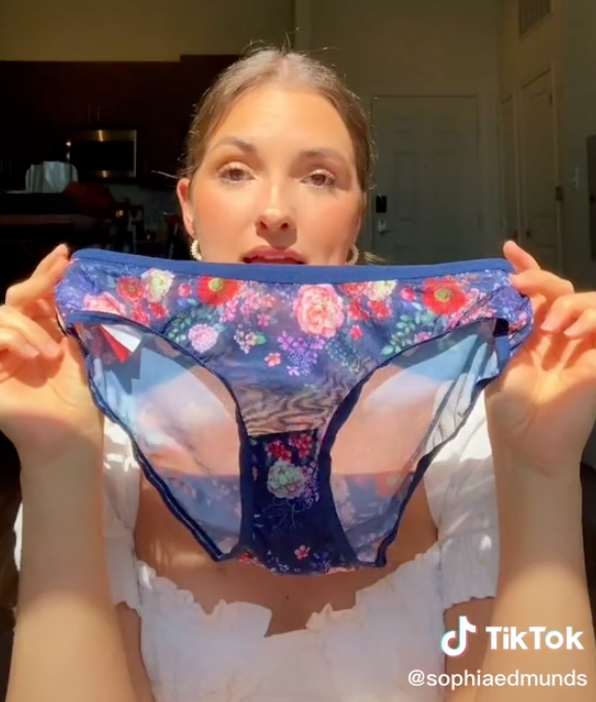 BuzzFeed spoke to Sophia, who said the idea came to her after having to constantly wear spandex for dance. "I lived and breathed dance and found that I was uncomfortable having my spandex creep up and cause discomfort. It wasn't originally about looks but, as I kept wearing the spandex, I needed a solution. I had a large collection of unused bra pads that I cut into the shape of my thong lining, put in the open lining, and it was the most discreet fashion adjustment."
Back when she started doing this in 2013, Sophia went through a trial and error phase of learning how to perfectly cut the bra pad to fit the underwear insert so it wouldn't move around or slip out. "The curve of the bra pad makes it align with my body and become seamless," she said.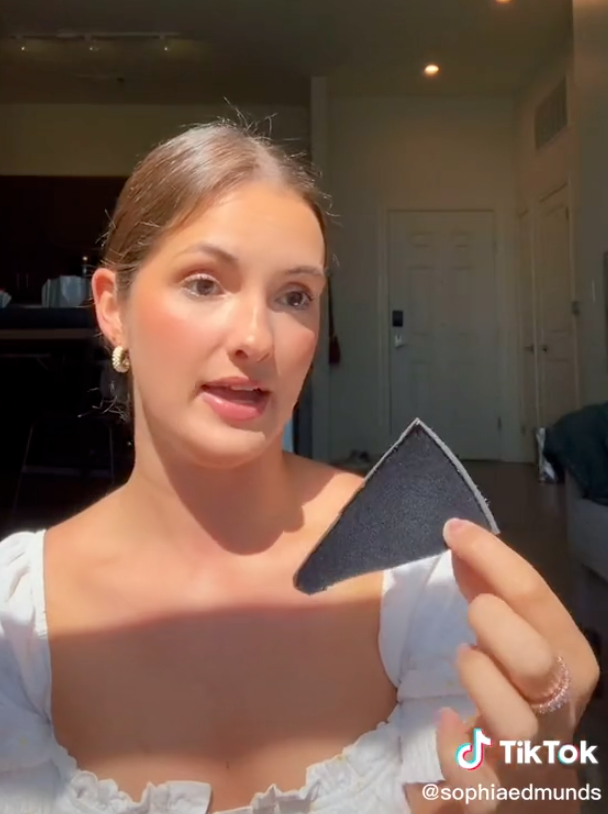 Because so many commenters have been urging Sophia to patent a product like this, she is now entertaining the idea. "If exposure and feedback show a positive need for this product, I would love to progress with the innovative ideas I have in order to make a pure, versatile, and inclusive business to provide more comfortable care for women!"
Lastly, this article isn't trying to prevent you from being natural as you are. We are simply sharing a hack for people with vaginas who may otherwise be uncomfortable and/or don't prefer to show it. If you wanna rock the camel toe, PLEASE DO SO!!!