Destanie Armstrong has been a licensed esthetician for five years, but she stopped practicing last year to pursue a career as a flight attendant.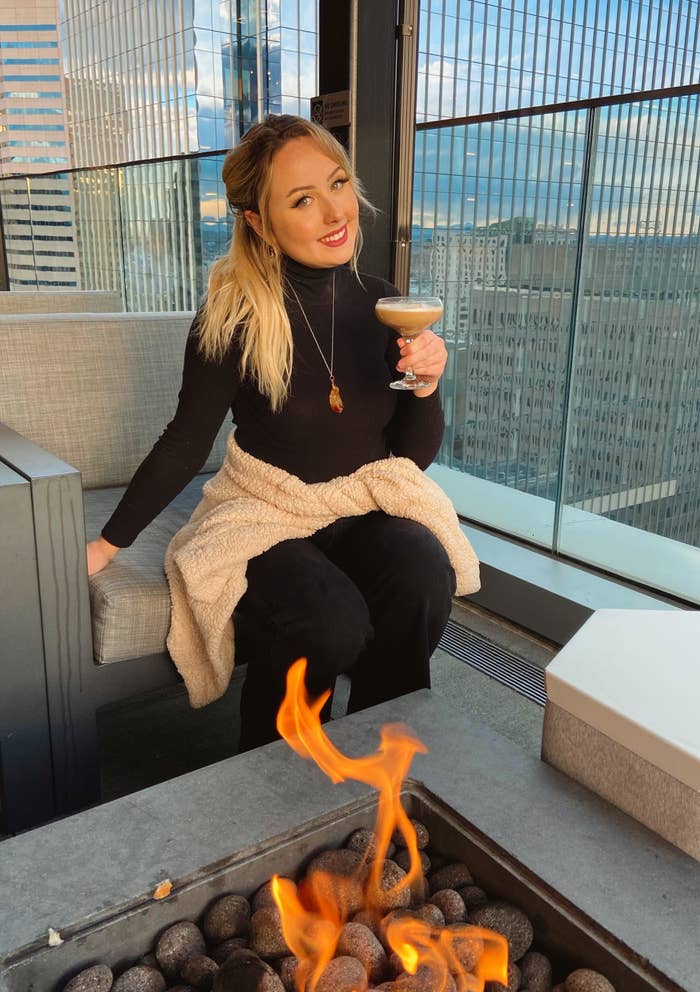 In the above video, which has been viewed nearly half a million times, Destanie shared that she believes she can be "too honest" for the industry. And Destanie noted that the goal of many spas — in her experience — is to make as much money as possible "with little care or concern about the customer."
She explained this with two scenarios. In one situation, an 18-year-old girl came into the salon where Destanie was working. She was with her boyfriend, who was treating her to a facial. The girl was breaking out really bad on her face and admitted she was using dish soap to clean it.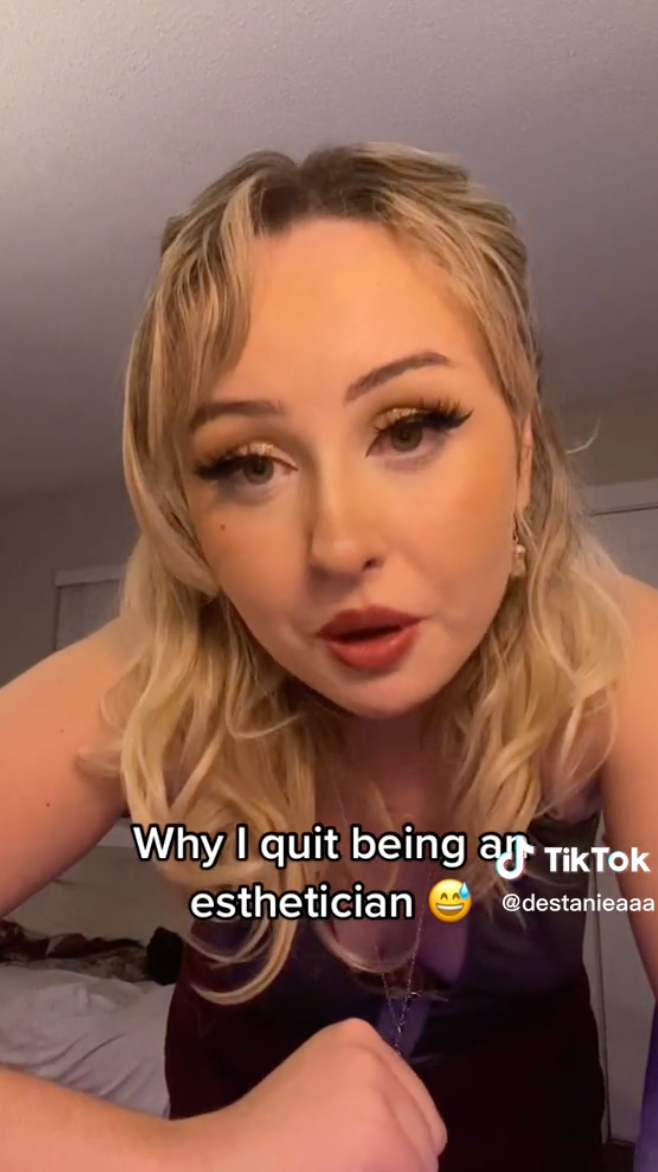 The 18-year-old informed the business that she didn't have a lot of money but was really insecure about her acne. The manager then tried to pressure Destanie into selling a $2,000 facial package that was primarily for anti-aging.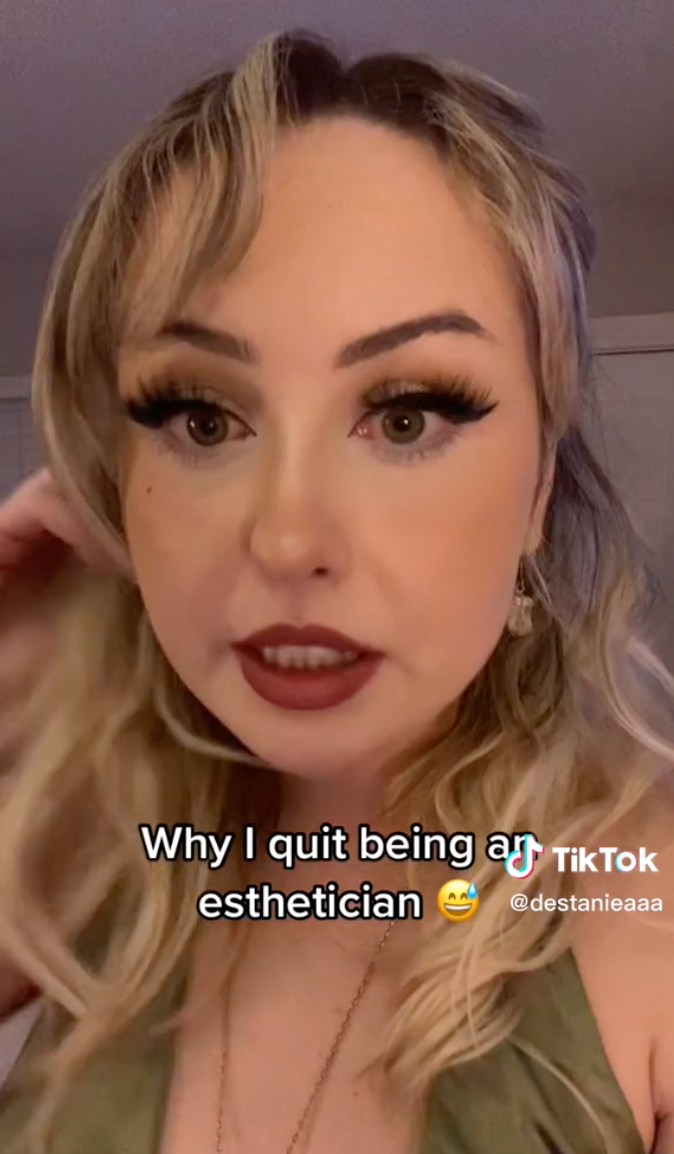 And Destanie said she thought in her head, "She doesn't need that. She's been washing her face with dish soap."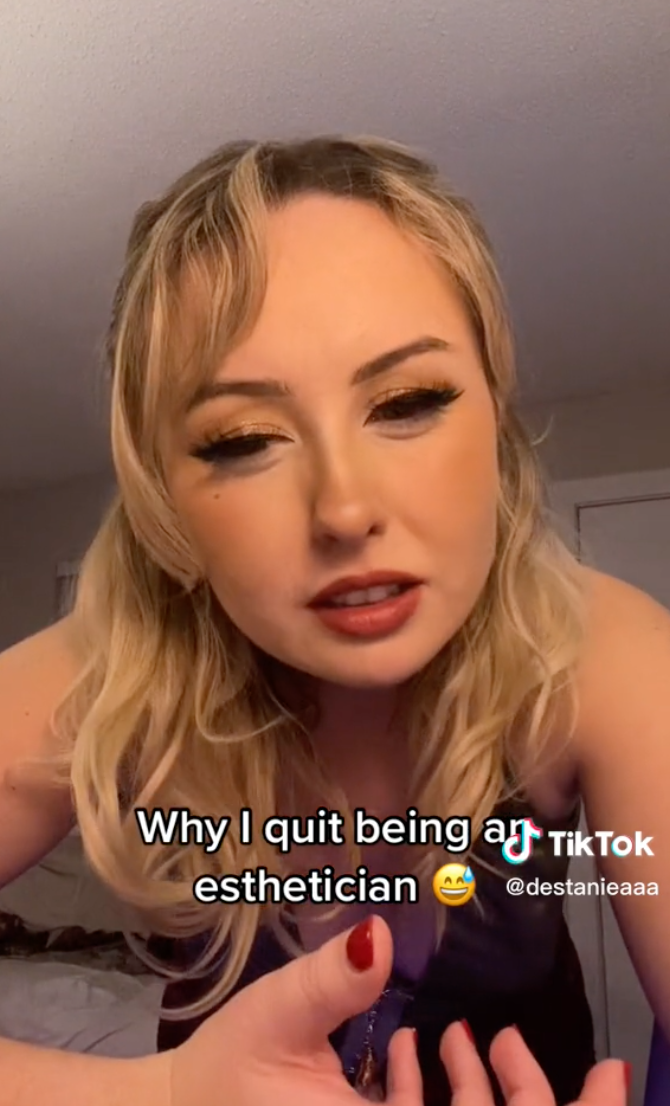 Destanie believed that the dish soap may have been a culprit causing the client's acne, so she ended up secretly telling the customer names of products from Target that she could use to wash her face, as well as affordable options that may help clear her acne.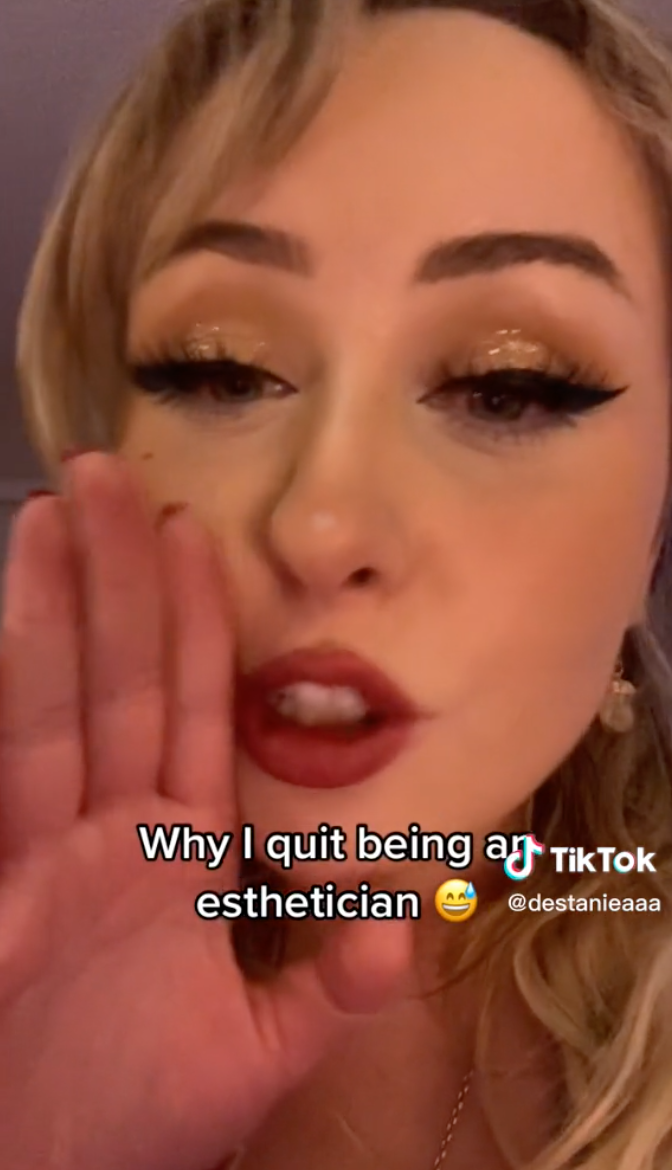 Another example Destanie shared was about brow services. She said a tint and wax can easily cost $50+ every two weeks. So, she would show customers how easy it can be to color their brows at home, depending on their situation, and the best brands to buy.
Many TikTokers started leaving comments about how the things Destanie addressed are the reasons why they stay away from spas altogether.

And people who work in the beauty industry started flocking to the comments to agree that it can be super toxic.
Some people who went into the profession to help people shared that they feel discouraged often because they find themselves working for businesses that prioritize profit over the actual wants/needs of their clients.

And the pressure to sell can be a huge aspect.
BuzzFeed spoke to Destanie, who said she always felt like being an esthetician was the perfect job for her. "Building up the confidence of my clients, making them feel pretty, and getting to connect with new people. Fresh out of school, I had so much hope for my future. Those who have graduated from beauty school know that it can be a rude awakening because the only places willing to hire newly graduated people with a lack of experience are places that pay minimum wage and low commission," she said.
"Working off of commission in the beauty industry was absolutely awful for me. I was working so hard for minimum wage, barely getting by, and being pressured to sell these super expensive packages to people who simply did not need them or could not afford them."

The worst part about working on commission for a spa like the one Destanie worked at is that the commission was her salary. "I had so many clients per day who were paying around $300–$400 for one treatment, yet I was barely making my rent," she said.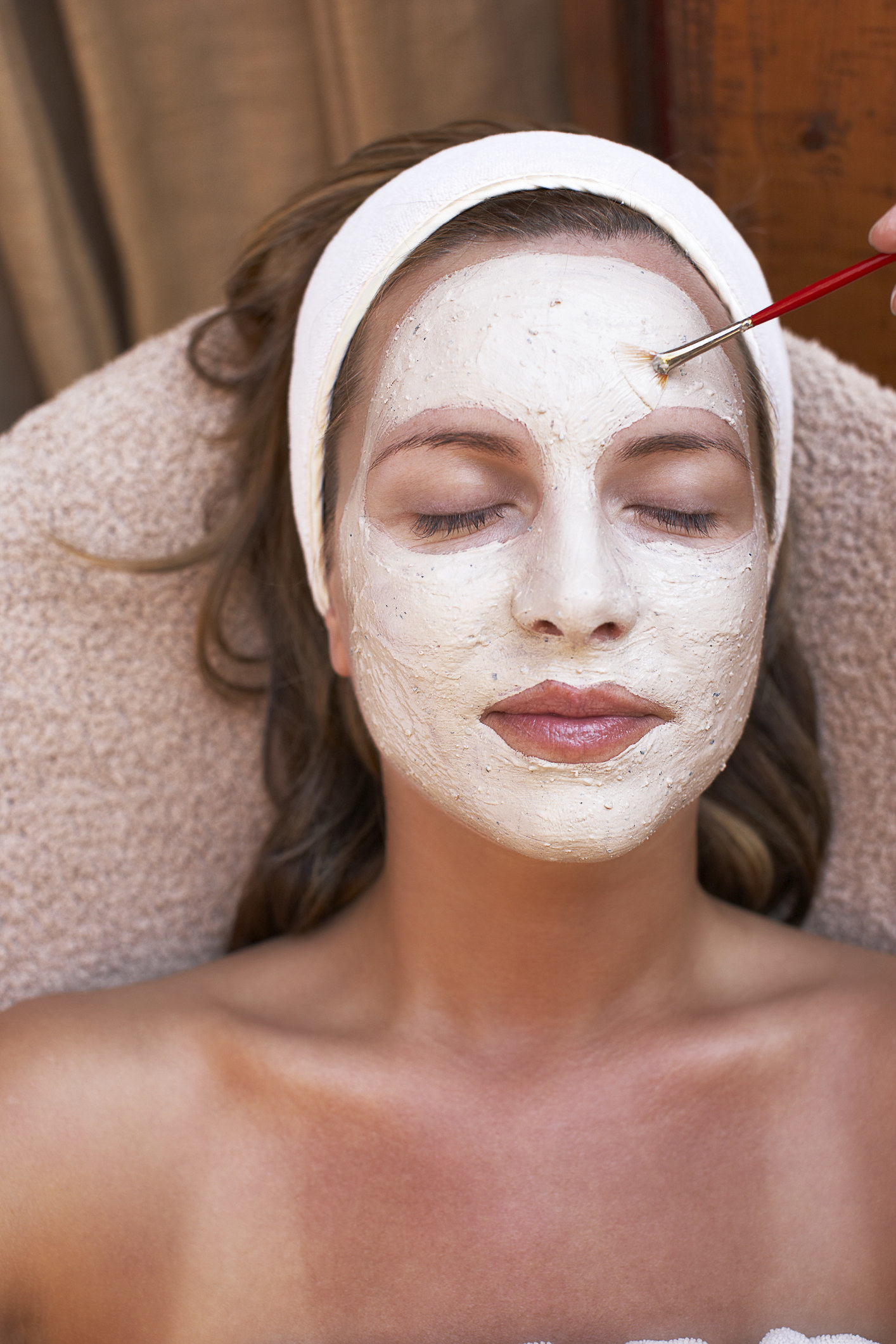 Destanie worked at several different spas over the years and for a big spa corporation. "They made me a bunch of false promises, worked me to the ground, paid me nearly nothing, and promoted monetizing off of the insecurities of clients, specifically women," she said.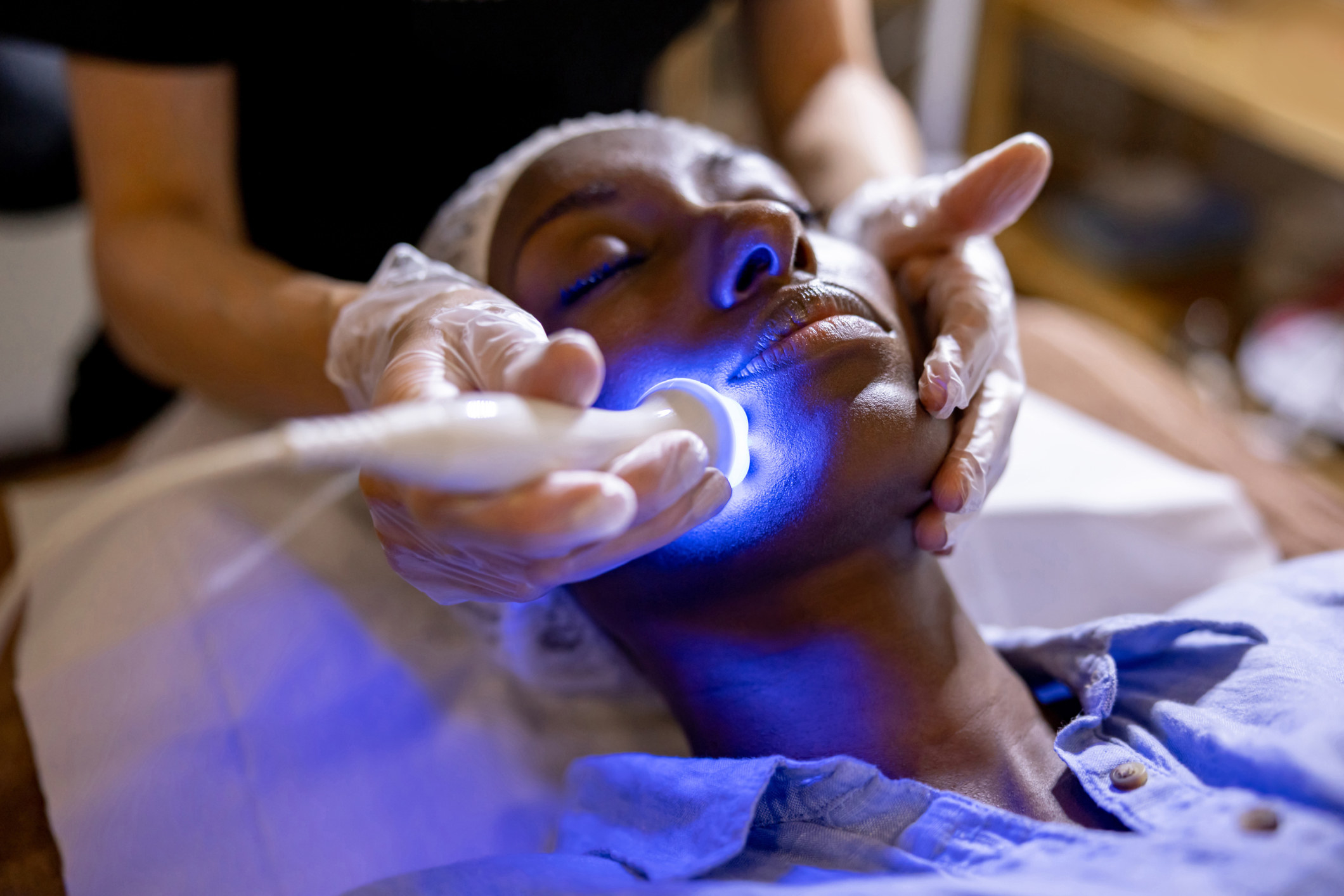 The final straw that made Destanie decide to leave the beauty industry was during a sales meeting for the company she was working for at the time. "A man came in to talk about our treatments. He started talking about how women buy based on emotion and not based on logic, so if you do things to trigger their emotions, you'll get yourself a sale."
"He then proceeded to recommend we question our clients by asking them things like, 'How does your weight/body/skin make you feel?' and 'What have you actually done to help yourself?' to try to trigger emotions out of women to make them commit to buying packages. I literally cried that day because as a woman we all struggle with insecurities and for someone to use that to make a sale is just evil."

Destanie doesn't think the corporate side of the beauty industry will ever change, but she hopes her video showed people that there are honest and compassionate beauty professionals out there who don't just want your money.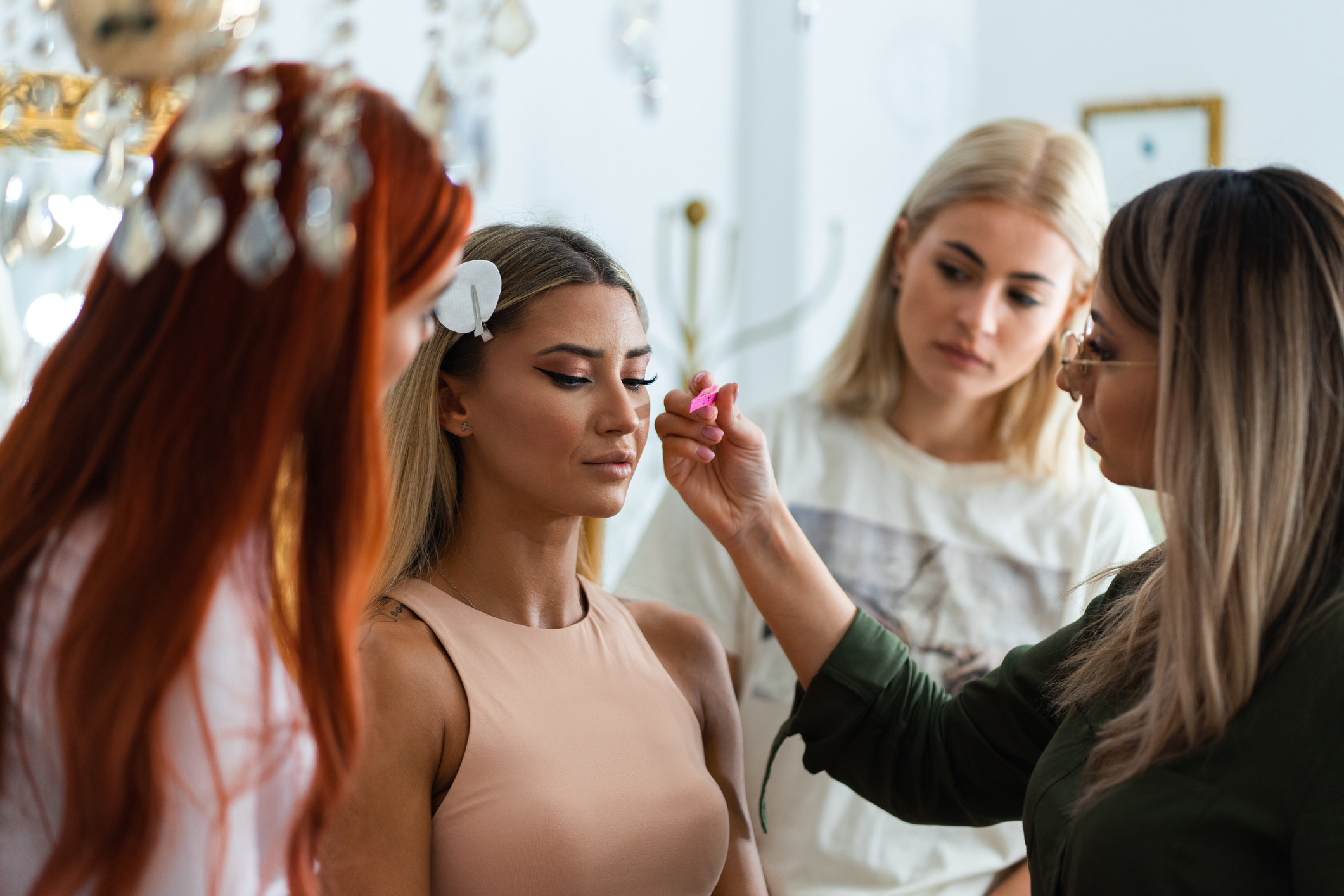 Small, local businesses are what Destanie considers "green flags" in the beauty industry. "There are so many amazing, honest estheticians and cosmetologists that left huge salons/spas because of these same exact frustrations. I have so many friends who are truly passionate about their craft and they love making women feel beautiful."
Destanie then shared some other important green flags people should know:
● A good beauty professional should recommend products based on what you can afford, not trying to push whatever is the most expensive.
● A good beauty professional creates a plan for you based on your goals, budget, and time restraints. If you can't afford to get facials every six weeks, then a great esthetician will help you find an at-home routine that allows for less frequent visits to the spa.
● A good beauty professional should have the desire to get to know you, create a connection with you, and remember you. "Energy is everything. They should feel open, warm, and inviting — never judgmental or pushy. It should be your safe space," Destanie said.

And even though Destanie is now embarking on a different career path, she said she still plans to keep her license...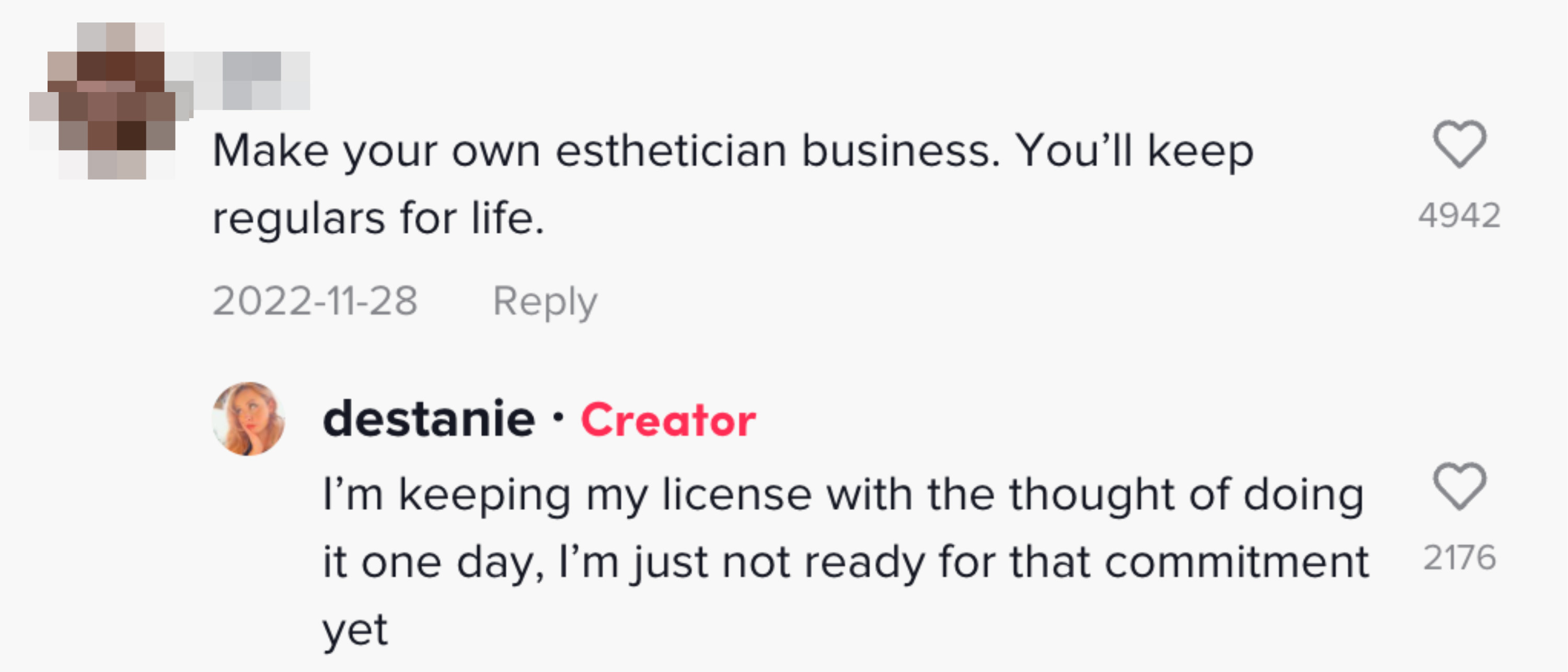 Just in case she does open her own spa one day, "There is no amount of money in the world I would take to make someone feel uncomfortable in my own practice like some estheticians made me feel when I have paid for services," she concluded.