This Tesco Employee Became Friends With A Homeless Man And Is Now Trying To Buy Him A Home
BuzzFeed News spoke to the woman, who was pictured having a coffee with the man in Dundee.
Last week, a photo of a Tesco Dundee employee enjoying a coffee with a homeless man was shared on Twitter.
The employee in the picture is Anna Loudon, an American student studying history and politics at Dundee University.
Loudon told BuzzFeed News the story behind the photo and her friendship with the man, whose name is Les Gordon.
"I work really early in the morning stocking shelves at Tesco – 6:30am to 10am," she said. "Which means by the time I get out of work I am craving a coffee, so I zombie walk down to Caffè Nero, which is super close.
"I met Les outside Caffè Nero in about February. It was cold and drizzly and as I walked towards him and the coffee I kept thinking that it wasn't a great weight for me to just buy this man a coffee. Two pound that's all it was, and he could have a warm drink. So I stopped by and asked him if I could buy him a coffee and he said yes. When I gave him his coffee he thanked me about a dozen more times and I headed home."
After buying Gordon coffee on numerous occasions, she eventually asked him what type of drink he actually wanted, leading to the pair becoming friends.
"Les has been homeless for going on 10 months now," she said, "and every time I get out of work if he's sitting outside Caffè Nero I will buy him a coffee and quite often sit out on the street with him. We've been having regular breakfast after I get off my shift for about four months now.
In April, Gordon was told he'd need open heart surgery, Loudon said. He's putting off the operation until he finds somewhere to stay, so she created a GoFundMe page to raise money to find him a home.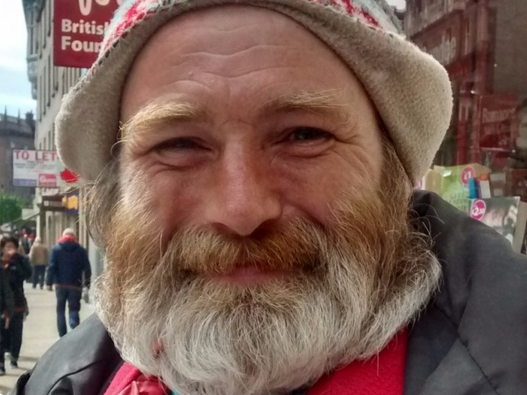 Loudon's ultimate aspiration is to throw a housewarming party for Gordon that will include – of course – lots of coffee, Tesco representative Tony McElroy told BuzzFeed News.