A 24-year-old from Glasgow, Scotland, has gone viral thanks to his perfect response to someone's tweet.

Twitter user @Butsay_, who preferred not to be named, told BuzzFeed News he'd noticed a "recurring theme" of "disgusting" tweets appearing on his timeline.
"This ignorant, Jurassic-brained lad mentality bursts through in light of the evil 'PC culture taking over' that they constantly fucking moan about, or in other words, 'general respect and common decency' for other people," he said. "Get a fucking grip, go outside, turn on the TV, play with your moldy Beyblades or something, mate."
Angered, @Butsay_ decided to reply to one tweet that particularly annoyed him. People loved it. It's since been retweeted over 32,000 times.
Some people found the tweet educational.
And others were a little confused by Scottish slang, so here's a translation.
@Butsay_ said this isn't the first time he's called out someone on an offensive tweet, but this one seemed to strike a chord with people.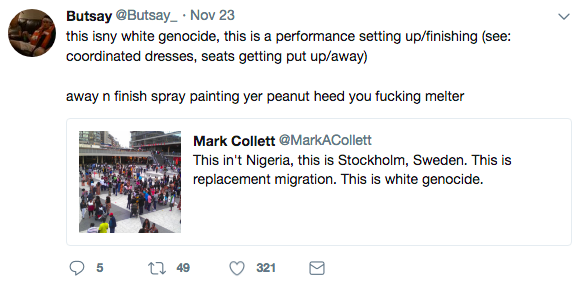 While he said the response has been huge, most responses have actually been confused Americans.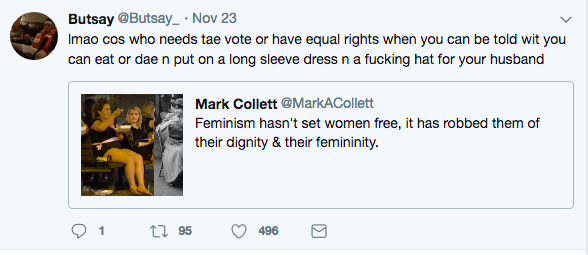 "I'd say more than half of the quote tweets I've got were along the lines of 'what language even is this', which is fair enough, 'cause it must look completely rabid from a different perspective," he said.
By the looks of his Twitter, confused Americans haven't put him off his mission to make Twitter a nicer place.